U.S., Russia and Iran Battle to Build Bases in Syria as ISIS Falls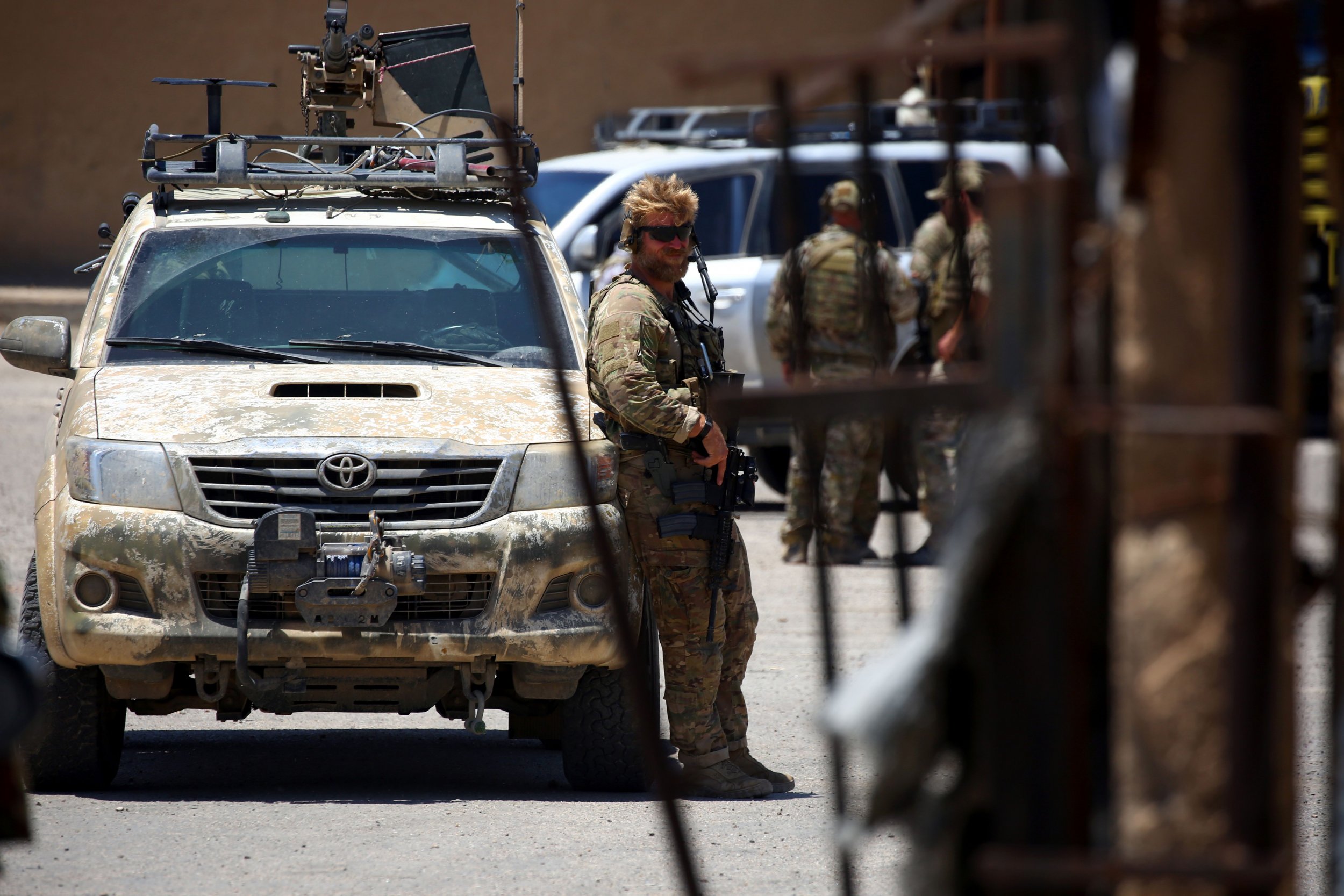 Three of the leading international powers involved in Syria's war—the U.S., Russia and Iran—are looking to expand and fortify their military presence in the country by building and upgrading foreign bases, with some already in the works.
U.S. special operations forces have been involved in Syria for years, and the U.S. appears to be broadening the platforms from which it operates. Earlier this month, satellite imagery showed what appeared to be the construction of a new airstrip near Syria's southern border with Jordan and Iraq, according to The Daily Beast. This base, along with other "temporary" installations, reportedly could be used to both battle the Islamic State militant group (ISIS) and bolster forces of the rebel Free Syrian Army in areas where fighters supportive of Syrian President Bashar al-Assad are poised to take over. Meanwhile, Assad allies Russia and Iran have announced plans to develop their own military presence in the country.
Related: Newest Russia threat? Military challenges U.S. and Europe by winning in Syria, entering Mediterranean
The Pentagon, however, has been hesitant to comment on its intentions to build new bases in Syria. The U.S.'s Florida-based Central Command told The Daily Beast last week it generally does not discuss such matters "for safety purposes," and its Kuwait-based, anti-ISIS operation called the Combined Joint Task Force-Operation Inherent Resolve gave Newsweek a similar response Tuesday.
"In order to ensure operational security and force protection, the Coalition will not announce or confirm information about the capabilities, force numbers, locations, or movement of forces in or out of Iraq and Syria," Central Command told Newsweek in an email.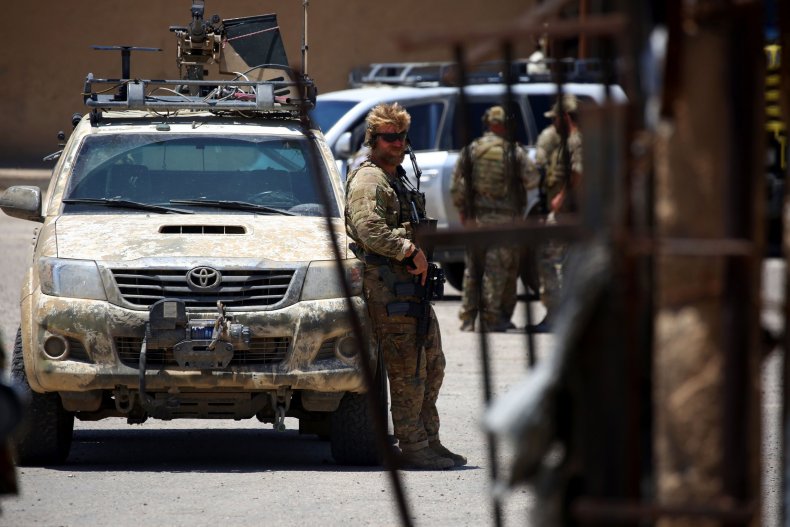 The U.S. has utilized temporary military installations to fight ISIS on two fronts. The primary theater supports the majority-Kurd Syrian Democratic Forces fighting ISIS in Raqqa in northern Syria. To support local fighters here, U.S. forces have used an air base located about 90 miles north, near the city of Kobane. Expansions took place here in April, according to Stars and Stripes. On the second U.S.-backed front in Syria, special operations forces are training and assisting insurgents opposed to both ISIS and the Syrian government in the country's southeast, where satellites reportedly caught new installations near an already established U.S. outpost situated near the Syrian border town of al-Tanf.
In a White House statement released last week, the Trump administration sought wider authorities for "temporary intermediate staging facilities, ammunition supply points, and assembly areas that have adequate force protection," suggesting there is a desire among top officials to expand the U.S. military presence in Syria. This move, which followed a series of U.S.-led coalition attacks on the Syrian military and its Iran-backed allies, could lead to a greater effort to establish a more solid U.S.-backed security infrastructure aimed at curbing both ISIS and Iranian influence, Al-Monitor reported last Friday.
The Syrian government considers the presence of U.S. forces in Syria illegal but has granted permission for bases to its foreign sponsors Russia and Iran, both of which have helped Syria's armed forces regain much of the territory lost to jihadis and insurgents since 2011. Damascus has leased two major military bases to Moscow for at least the next half a century, including an air base in Latakia and a naval base in Tartous. Both of the sites are set for major expansions and renovations, something that will likely strengthen not only Russia's foothold in western Syria but also in the eastern Mediterranean, not far from rival NATO forces.
Not far from the Russia-controlled Hmeymim airbase in Latakia, Assad may have also granted Iran its own naval military installation, according to a March report by the government-run Tass news agency. Iran announced last November it was considering establishing bases in Syria, Reuters reported.
Tehran is also believed to maintain a drone base not far from U.S. forces and their allies in al-Tanf, according to U.S. officials cited last month by NBC News. The alleged Iranian airstrip is reportedly the point of origin for unmanned aerial vehicles that the U.S. said breached its self-declared "deconfliction zone" surrounding its operations in al-Tanf, leading to airstrikes on pro-government forces.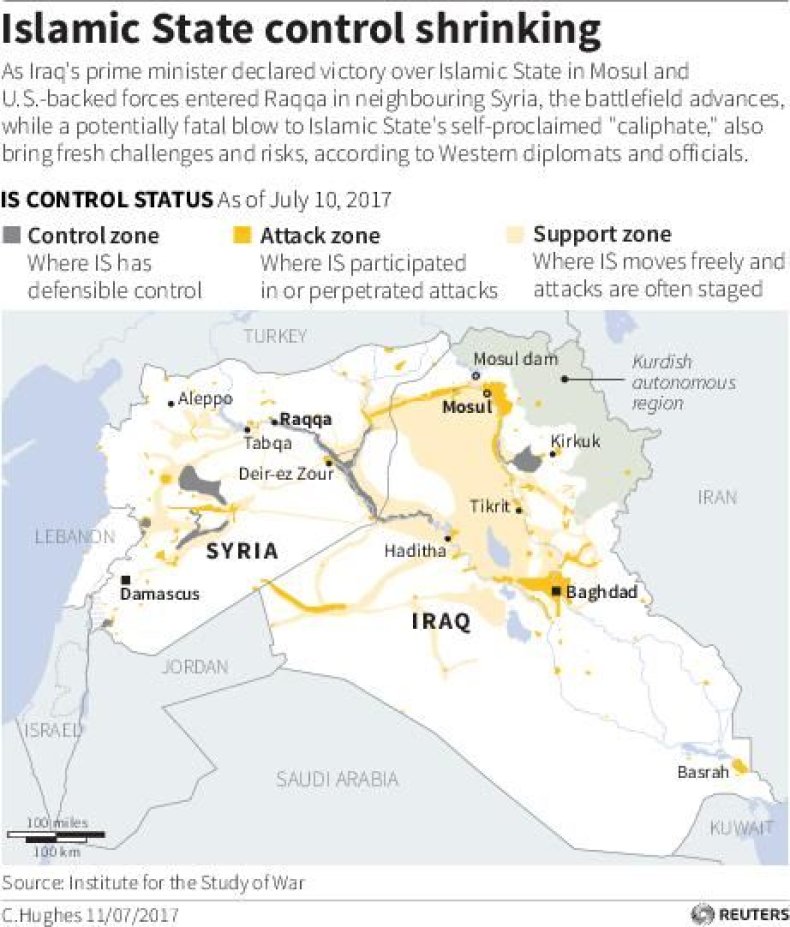 Israel has threatened to increase its level of engagement over the establishment of Iranian bases, which Israeli Prime Minister Benjamin Netanyahu publicly denounced Sunday during a press conference in France, according to The Jerusalem Post. Israel accuses Iran of using its allied militant groups, such as Hezbollah in Lebanon, to broaden its operations in Syria, threatening neighboring Israel's national security. Israel has conducted airstrikes against positions held by Hezbollah and the Syrian military.
ISIS, which claimed nearly half of Iraq and Syria at its height in 2014, has rapidly lost territory in recent years and has been effectively defeated in Iraq. Most of the remaining battle against ISIS focuses on its de facto capital of Raqqa and the eastern city of Deir el-Zour, which the jihadis wrested from rebels amid lightning gains in 2014.
In Raqqa, the U.S.-backed Syrian Democratic Forces have stormed the city, and the Syrian military and its allies have made major gains in the western countryside. The Syrian army and pro-government militias have also begun advancing toward Deir el-Zour, with U.S.-backed Kurdish and Arab forces stationed north of the besieged city.