With U.S. and Russia Stalemate at Ukraine Talks, Moment of Truth Nears
The United States and Russia are still worlds apart following their first rounds of discussions geared toward de-escalating the burgeoning crisis that has emerged on Ukraine's eastern border.
With no clear path to resolution and daily developments dragging the situation in Eastern Europe to the brink of conflict, officials from both sides have expressed to Newsweek that the decisive moment as to whether diplomacy will prevail will soon arrive.
"The coming days will provide a better indication of whether Russia is genuinely interested in diplomacy, if they are prepared to negotiate seriously in good faith, or whether they will use discussions as a pretext to claim that diplomacy couldn't address their interests," a State Department spokesperson told Newsweek following the series of talks in Europe this past week among representatives of the U.S., its NATO military alliance and Russia.
"We expect the Russian delegation will report back to President Putin after this week as they decide whether they want to engage seriously in these discussions or not," the spokesperson said.
"We are hopeful these talks will continue, but if Russia steps away from the table, it will become clear that they were never willing to engage," the spokesperson added. "Throughout it all, we will closely coordinate with our Allies and partners, which will continue in the days and weeks ahead."
Anatoly Antonov,Russia's ambassador to the U.S., shared his own assessment of the outcomes of the dialogue thus far.
"It must be admitted that the discussions held last week with the United States and NATO have not yet yielded any significant results," Antonov told Newsweek. "We expect written responses from Washington and Brussels to our draft agreements. Based on them, we will make a decision on the advisability of further joint work. We are also ready to discuss counter proposals."
The Russian envoy said that the main topic of the talks "was to preserve peace and stability in Europe by working out security guarantees on the basis of draft agreements proposed by Moscow."
The drafts came in the form of two proposed treaties sent to the U.S. and NATO, both of which scoffed at some of the Russian demands, such as a halt to the U.S.-led coalition's eastward expansion.
But Moscow sees this point and others as critical to achieving a lasting security consensus on the continent three decades after the end of the Cold War.
"After the collapse of the USSR, the security situation in Europe deteriorated sharply," Antonov said. "Five 'waves' of NATO expansion have brought the Alliance States forces closer to our borders. The continuing advance of the North Atlantic bloc to the east is one of the main threats to Russia's national security."
"As the bloc approaches our border proper, the flight time of NATO air and missile weapons to Moscow, St. Petersburg and other cities in the European part of the country is reduced," he added. "How would the U.S. Government react if Washington, New York or Los Angeles were 'under the bombsight'?"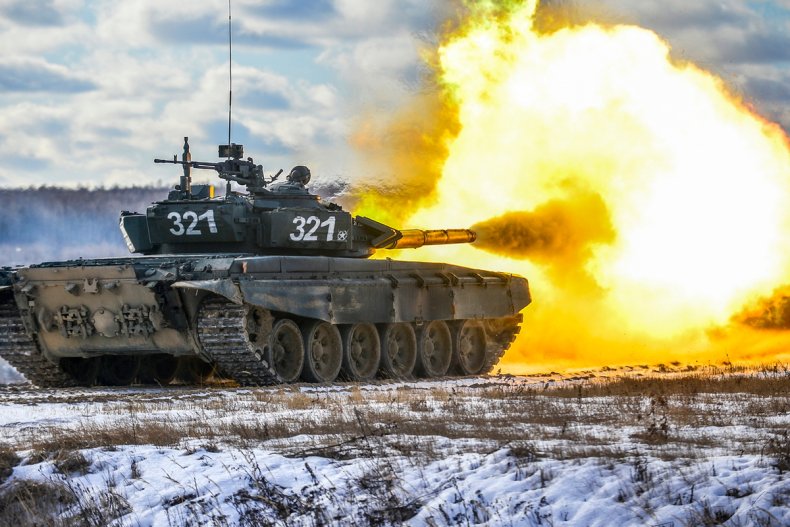 Geography has helped shield the U.S. from finding itself in the crosshairs of all but an intercontinental ballistic missile (ICBM) strike that would almost certainly bring with it doomsday-inducing nuclear devastation. Shorter-range missiles have not effectively threatened the U.S. mainland since the Cuban Missile Crisis that played out in the Caribbean six decades ago.
But comparisons are being made once again to that fateful flashpoint. Just last month, Russian Deputy Foreign Minister Sergey Ryabkov evoked the events of October 1962 alongside the standoff in Ukraine, warning, "if comrades on the other side fail to understand us and keep doing what they are doing, we might wake up at some point to see something similar, if that's what further developments will suggest."
Since then, the situation has only deteriorated further.
Ryabkov on Thursday did not rule out a modern Russian military deployment to Cuba and Venezuela. Again, he said it "all depends on the action by our U.S. counterparts."
What's more, the mid-range missiles that were banned for decades under the 1987 Intermediate-range Nuclear Forces (INF) Treaty are set to make a comeback as a result of former President Donald Trump scrapping the deal in 2020. Both sides accused one another of violating the treaty, and now the reemergence of such weapons in Eastern Europe threatens an even more serious conflagration if shots are fired.
NATO, for its part, has rejected the depiction that its own posture in Eastern Europe posed a threat to Russia. NATO officials consistently define the bloc as a "defensive alliance," one with no intention of waging war but rather preventing one.
NATO's Article 5 collective defense clause has been invoked only once in the alliance's half-century history, in response to the 9/11 attacks. NATO has conducted combat operations, including in Libya in 2011 and even earlier in Eastern Europe itself during the wars in the former Yugoslavia in the late 1990s, but has never moved against Russia, nor has it issued any public indications of plans to do so.
But Russia sees it differently.
"NATO is constantly building up its offensive potential, demonstrating military force along the perimeter of the Russian territory," Antonov said. "Every year, about 40 major exercises are held in the immediate vicinity of Russia's borders, including training cruise missile launches by strategic aviation and naval maneuvers in the Black and Baltic Seas."
He called such military moves in the former Soviet republics "unacceptable to us" and further evidence that a confrontation could erupt at any moment.
"This is fraught with the deployment of missile systems and other destabilizing weapons that directly threaten our country," Antonov said. "As a result, the risks of escalation and direct military clashes in the region and beyond will increase manifold. Everything has its limits. We are, in fact, on the edge of the precipice."
The U.S. has already begun to reveal its options should a conflict erupt. Notably, these do not include the deployment of U.S. forces to defend Ukraine itself, rather the plans include additional U.S. troops to further fortify nearby NATO nations, more military aid to Ukraine and unprecedented sanctions against Russia.
"The President made clear that if Russia chooses to pursue confrontation, the United States and our NATO Allies will impose significant and severe economic harm on the Russian economy," the State Department spokesperson said. "That includes strong economic measures, additional defensive material to Ukraine above and beyond what we are already providing, and fortifying our NATO's Eastern flank in response to such an escalation."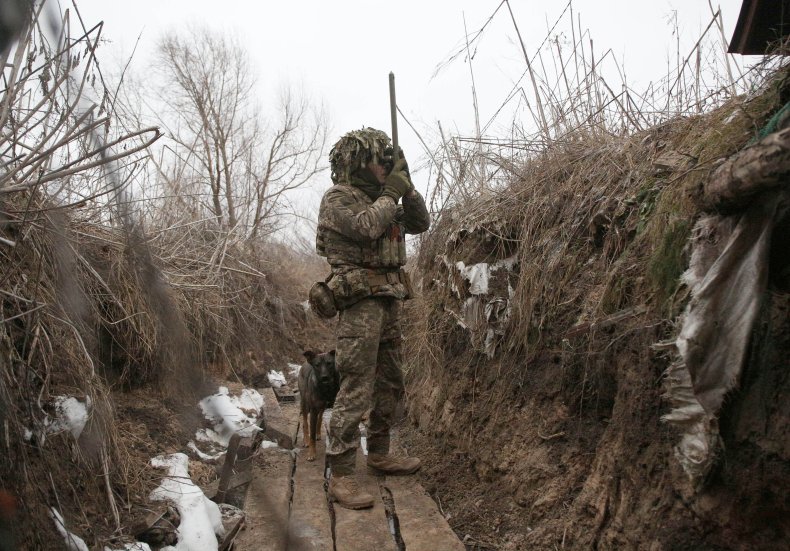 The U.S. has backed Ukraine since the onset of the country's conflict in 2014, when an uprising that put in power a pro-West government was shortly followed by an insurgency launched by pro-Moscow insurgents in the east and the annexation of the Crimean Peninsula in a referendum not recognized by Washington or its European partners, including Kyiv.
Ukraine and its supporters argue that Russia directly supported the rebellion and even sent troops of its own across the border. At that point the U.S. and its allies introduced sanctions and sent troops to Eastern European states that were members of the NATO alliance.
U.S. officials have made it clear that their response this time would go far beyond the previous reaction. In a preview of one such plan, a sanctions package unveiled by legislators of Biden's Democratic Party contained wide-ranging economic restrictions targeting top Russian institutions and even Putin himself, a rare measure against any head of state, much less that of Russia.
Officials in Moscow, from the Kremlin to the Foreign Ministry, have warned such actions may constitute a break in relations, severing a relationship born in 1933 and withstanding even the worse flare-ups thus far between the two-long time rivals.
"We are preparing for all contingencies, as we have been doing for weeks now," the State Department spokesperson said, "including preparing specific, robust responses to Russian escalation should they be required."
By Friday, the U.S. had accused Russia of planning false-flag attacks to serve as a pretext for a potentially imminent invasion. A sudden cyberattack appeared to grip Ukraine, affecting government agencies and even embassies, including that of the U.S.
While Washington has not yet attributed blame for the attack directly on Moscow, NATO has already stepped up with promises to reinforce Kyiv's cyberinfrastructure, signaling yet another front that may serve as a flashpoint leading to conflict.
White House Press Secretary Jen Psaki said the false-flag allegations in conjunction with the cyberattacks give "everyone a pretty clear picture of what we're seeing in terms of the preparations."
Asked about Biden's patience with the course of diplomacy thus far, Psaki said "it's not about that; it's about Russia deciding what path they're going to take."
But Russian Foreign Minister Sergey Lavrov spoke directly to this issue separately during a press conference in Moscow.
"Our patience has been exhausted," Lavrov told reporters. "We are very patient. You know what they say about how long Russians take to harness their horses? We harness them slowly but then it's time to ride. Now we are waiting for the coachman over there to give specific answers to our proposals."