U.S. and Russia Train Together in Arctic, Where They Both Want to Be Top Power
Forces from the United States and Russia trained side-by-side in the Arctic, one of the many regions of the world where the pair have been engaged in a competition for influence.
The Russian Federal Security Services' (FSB) patrol ship Sakhalin and the U.S. Coast Guard cutter Alex Haley conducted a joint patrol Tuesday in the icy waters of the Bering Sea that separates the two nations' territorial limits. The FSB's East Arctic directorate said the two enhanced their communication and kept an eye out for illegal maritime activities.
"Radio communications issues were worked out, including with a deck helicopter and a training session was conducted on the use of the International Code of Signals (ICS-65) when maneuvering together," the directorate's press service said.
It added that "no vessels were detected fishing for aquatic biological resources in the maritime boundary line of the two countries," a practice regulated by a 1996 agreement signed between Washington and Moscow.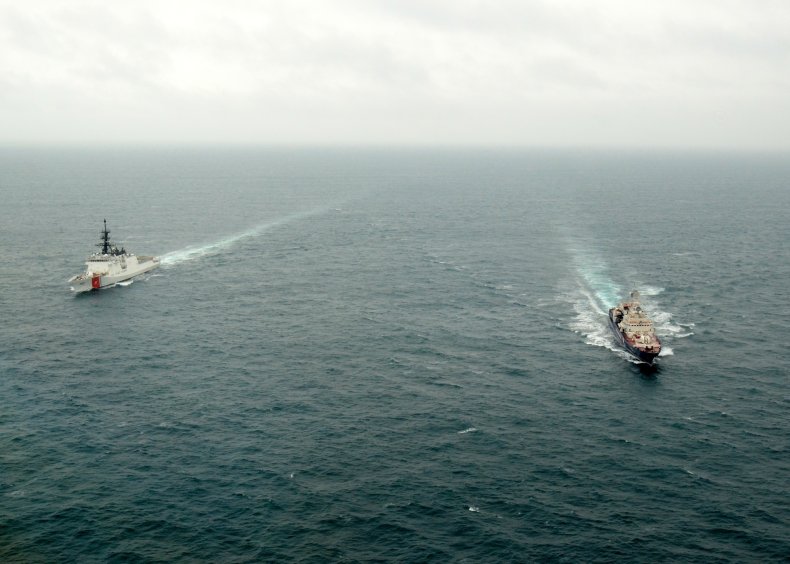 Cooperation in the Arctic is one of the few remaining fields in which the U.S. and Russia have managed to maintain communications as their brief post-Cold War detente has receded back into another geopolitical bout for global power. This duel has played out across various strategic venues around the world, and the Arctic has proved to be of particular interest in recent years.
Last month, the North American Aerospace Defense Command (NORAD) intercepted Russian fighter jets and bombers near Alaska's airspace in two incidents in as many days. Though such incidents were not unheard of, and Moscow too has scrambled jets to shadow Washington's own aircraft near Russia's own borders, the back-to-back interceptions came as both countries sought to expand their presence in the Arctic, where warming ocean temperatures have increasingly opened up lucrative trade routes.
Secretary of State Mike Pompeo caused a stir at a meeting of Arctic country ministers last month by not mentioning the phrase climate change once in his speech and only portraying melting ice caps as a new economic opportunity. While Moscow has also benefited from the opening of previously frozen passages, Russia has discussed the need to battle climate change and has already pioneered in navigating largely inaccessible stretches through its unparalleled fleet of nuclear-powered icebreakers.
It's not only civilian vessels that Russia has increasingly moved to the north. The country's growing fleet of nuclear-powered submarines operated out of a series of naval bases on the Kola Peninsula. Less than 40 miles away, the U.S. has begun installing a new secretive radar near a tiny Norwegian fishing village that Moscow suspects could be used for cross-border surveillance and a global missile system that Russian officials have repeatedly warned against.
Despite often backing opposing positions on leading international issues across the globe, including in each other's "near abroad," Moscow and Washington have found a few ways to work together in addition to their joint Arctic patrols.
Last month, Pompeo and Russian Foreign Minister Sergey Lavrov met in Sochi and discussed, among other things, successful cooperation on counterterrorism efforts. The two countries' intelligence agencies have been known to exchange information that both have publicly credited with thwarting potential attacks on one another's soil and, in spite of their opposing positions on Syria's eight-year war, the U.S. and Russia military have maintained regular lines of communication there.
Still, these channels fell far short of the major reset in relations promised by President Donald Trump when he came to office in January 2017. Initially seen as a political ally of Russian President Vladimir Putin and still widely accused by critics of securing the Kremlin's help in winning the 2016 U.S. elections, the two men have diverged significantly on most world issues.