Putin's Ukraine Peacekeepers 'Aren't Fooling Anyone,' US Warns
Amid reports of Russian peacekeeping units crossing into Ukraine's eastern Donbas region, a senior official in President Joe Biden's administration has said that Moscow has maintained a military presence in the region for eight years, reiterating that the White House has no plans to send U.S. troops to the crisis-stricken country.
Russian President Vladimir Putin declared Monday he would recognize the self-proclaimed Donetsk People's Republic and Luhansk People's Republic, two pro-Moscow breakaway states that have accused Kyiv of escalating tensions in what U.S. and Ukrainian officials have said was a manufactured pretext for Russian military intervention in the eight-year conflict.
Putin also announced the start of a peacekeeping operation, with reports from Russian state-run media broadcasting scenes of what appeared to be armored columns of Russian forces crossing into Donbas. The developments come a day after the Biden administration handed a letter to the United Nations Security Council alleging U.S. intelligence had unveiled Russian plans to conduct a campaign of "targeted killings, kidnappings/forced disappearances, unjust detentions, and the use of torture" against dissidents in Ukraine.
Asked if this would change Biden's calculus in not pursuing a direct military intervention in the worsening conflict, the senior administration official told reporters that such a scenario outlined in the letter would constitute "horrific crimes, war crimes" and that Washington had been "warning individuals and groups who we think could be targeted based on understanding and our knowledge of Russian plans to try to enable them to protect themselves or move to a place where they might be safer."
"But I have nothing to amend in what the president has already said," the senior administration official added, "which is he had no intention of sending American forces to fight inside Ukraine."
And in response to the commencement of the Russian peacekeeping operation, the senior administration official asserted that "Russia has occupied these regions since 2014."
"It is the Russian position that there are not Russian forces present in this part of Donbas," the senior administration official added. "The reality, as we pointed out on a number of occasions over these past years, has been quite different. There have been Russian forces present in these areas throughout and so we're going to be looking very closely at what they do over the coming hours and days and our response will be measured according, again, to their actions."
As such, the entrance of further Russian troops into Donbas "would not be a new step," according to the senior administration official.
The senior administration official also highlighted Biden's immediate response to the latest events in the form of an executive order issuing sanctions against the two breakaway states in eastern Ukraine, as well as "further action we'll take tomorrow."
The senior administration official linked the latest reports of peacekeepers to an alleged broader effort by Russia and its separatist allies to foster false pretenses for Moscow to send additional forces into Donbas.
"Just in the last hour, we've seen Russia order troops to deploy into the DPR and LPR for so-called peacekeeping functions," the senior administration official said. "We have seen a number of actions that are clear Russian-backed pretexts for further invasion, like explosions at eastern — at eastern Ukraine that just happen to have Russian state media covering them in the middle of the night, or videos of alleged emergency evacuation calls or so-called saboteurs whose metadata show clearly that they were created days before their release."
"These attempts at disinformation aren't fooling anyone," the senior administration official added.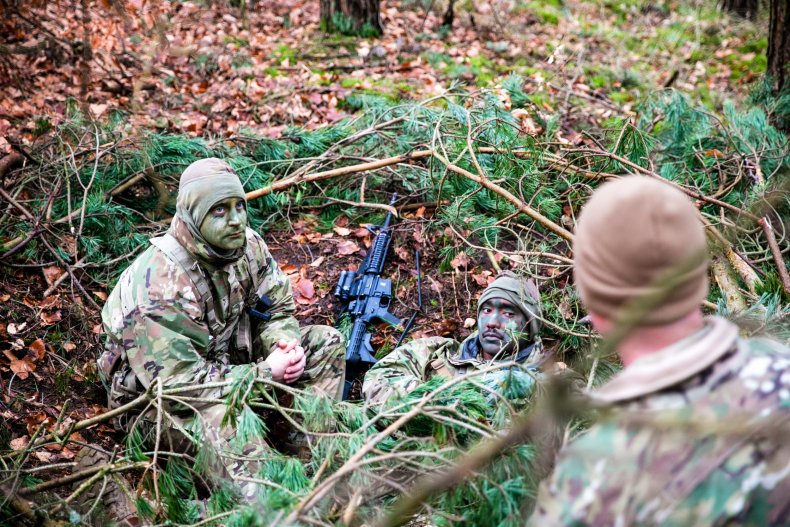 Moscow has strongly denied any pre-orchestrated plan to conduct military operations in Ukraine, where unrest first broke out in 2014 as a political uprising brought to power a pro-West government and the pro-Moscow insurgency erupted in Donbas.
Russian officials have claimed Ukrainian forces killed scores of civilians during clashes in the early stages of the conflict, with Washington's embassy in Moscow sharing with reporters gruesome photos purporting to show slain civilians and mass graves in the aftermath of such events.
Ukrainian officials have vehemently rejected such claims, which come weeks after the Biden administration alleged Russia would use fabricated evidence of massacres to justify a potential invasion of the neighboring country, which has received military support from Washington and its NATO allies.
Ukraine's own bid to join NATO has been at the center of the conflict as Putin has repeatedly condemned the eastward expansion of the now-30-state bloc consisting of much of the former Soviet Union's western flank. The Russian leader, who has been in power for two decades as president or prime minister, has considered this expansion a violation of assurances offered to Russian leadership in the 1990s.
"Today, one glance at the map is enough to see how Western countries have 'kept' their promise to prevent NATO from moving eastward. They just cheated," Putin said during a televised address following Monday's Security Council meeting. "We received five waves of NATO expansion one after another. In 1999, Poland, the Czech Republic, Hungary were admitted to the Alliance, in 2004, Bulgaria, Estonia, Latvia, Lithuania, Romania, Slovakia and Slovenia, in 2009, Albania and Croatia, in 2017, Montenegro, in 2020, North Macedonia."
"As a result, the Alliance, its military infrastructure came directly to the borders of Russia," he added. "This became one of the key causes of the European security crisis, it had the most negative impact on the entire system of international relations and led to the loss of mutual trust."
Washington and NATO entered into negotiations with Moscow late last year as an unprecedented number of Russian troops and equipment began to accumulate along Ukraine's borders. But Putin and his administration have so far expressed dissatisfaction with Western counterproposals, a sentiment most recently expressed in a reply letter sent to Washington's ambassador in Moscow and released Thursday by the Russian Foreign Ministry.
But as Russia's military posture around Ukraine intensified to include an extension of ongoing military exercises in Belarus and further units in Crimea, a territory annexed by Russia after an internationally disputed referendum as Ukraine's turmoil broke out in 2014, Secretary of State Antony Blinken agreed to meet with Russian Foreign Minister Sergey Lavrov this Thursday in the event that Russia had not already invaded Ukraine.
The White House later announced that Biden has also agreed to an "in-principle" meeting with Putin under similar conditions.
The senior administration official on Monday's call said the White House was still assessing if these talks would go forward.
"Our strong sense based on everything that we're seeing on the ground, in the areas around Ukraine to the north, to the east and the south is that Russia is continuing to prepare for military action that could take place in the coming hours or days," the senior administration official said, "and so [we] certainly can't commit to a meeting that has a predicate that Russia won't take military action when it looks imminently like they will."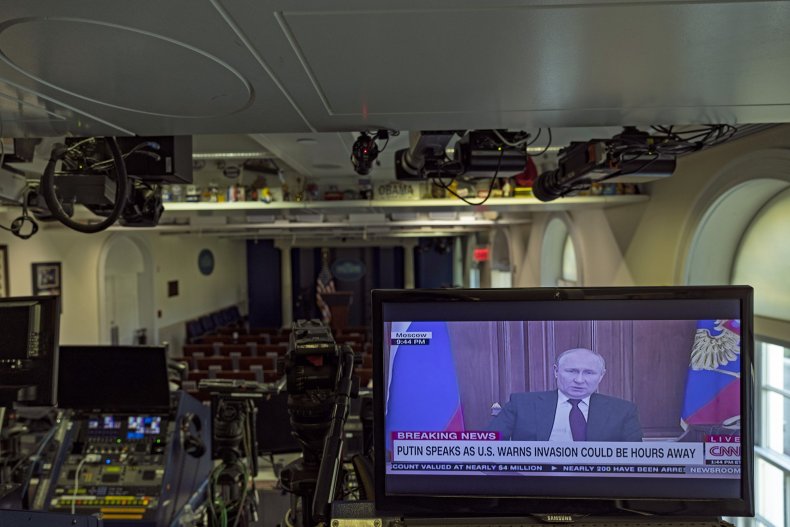 This is a developing news story. More information will be added as it becomes available.