U.S. Sanctions Against Myanmar Could Hurt More Than Help, U.N. Says
Less than two weeks into his administration, President Joe Biden has taken on a brand-new foreign policy challenge in one of the farthest corners of the world. In Myanmar, a military coup threatening a fragile democracy has prompted U.S. threats of economic retaliation. But the United Nations and leading experts warn that if not tailored correctly, such moves have the potential to do more harm than good.
"We have consistently criticised the application of broad sectoral sanctions, with wide economic impacts, as overbroad and with disproportionate human rights impacts on the wider population," U.N. High Commissioner for Human Rights Office spokesperson Ravina Shamdasani told Newsweek. "Already vulnerable groups are at particularly high risk in that regard."
Much of Myanmar was already at risk before this week's events. Divided across severe and sometimes hostile ethnic and religious lines, the Southeast Asian state has been economically devastated by the COVID-19 pandemic. Now, political unrest once again consumes Myanmar.
On Monday, State Counsellor Aung San Suu Kyi, President Win Myint and other elected members of the National League for Democracy (NLD) party were deposed and placed under house arrest by the Tatmadaw, the country's armed forces. Commander-in-Chief Senior General Min Aung Hlaing was named leader, and a one-year state of emergency was declared.
The military argues the move was justified by the allegations of widespread fraud during November elections that saw the NLD gain ground. Critics see it as an attempt to reinstate decades of junta rule, during which Suu Kyi was imprisoned, a move that drew international criticism and sanctions, before eventually being released and ascending to head of state. Only then were the international restrictions lifted.
In light of recent events, however, the country may once again be blacklisted.
"The United States removed sanctions on Burma over the past decade based on progress toward democracy," Biden said in a statement Monday. "The reversal of that progress will necessitate an immediate review of our sanction laws and authorities, followed by appropriate action."
He added a warning.
"The United States will stand up for democracy wherever it is under attack," Biden said.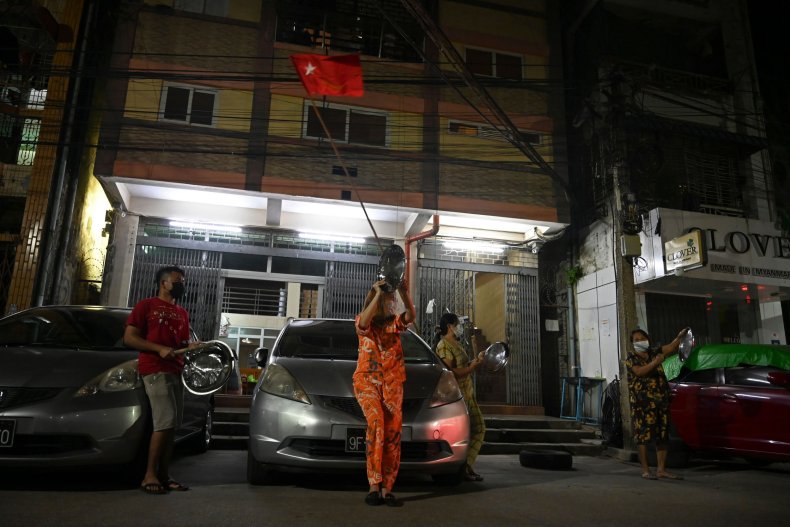 The use of specific sanctions has been welcomed by a number of critics of Myanmar's military, including the latest independent fact-finding mission dispatched to the country by the U.N. in August 2019.
The team's findings, sent to Newsweek, called for "targeted financial sanctions" against senior Tatmadaw officials, linked companies and institutions, and all others deemed to be involved in human rights abuses, "while respecting human rights and significantly mitigating any adverse socio-economic impact of sanctions." It particularly singled out as victims of those abuses the mostly Muslim Rohingya minority group,
Shamdasani shared her office's perspective, emphasizing a concern that such sanctions not deepen the crises faced by targeted countries.
"As the UN Human Rights Office, our general position on sanctions is that, as a complement to wider accountability measures, targeted sanctions against individuals credibly alleged to be responsible for serious human rights violations must be fairly applied and respect due process, and not otherwise impinge on wider human rights that are applicable," she said.
Shamdasani also referenced previous warnings about the negative effects that such widespread sanctions have had on countries such as Cuba, Iran, North Korea, Venezuela and Zimbabwe.
"It is vital to avoid the collapse of any country's medical system—given the explosive impact that will have on death, suffering and wider contagion," U.N. Human Rights High Commissioner Michelle Bachelet said in a March statement. "At this crucial time, both for global public health reasons, and to support the rights and lives of millions of people in these countries, sectoral sanctions should be eased or suspended."
With COVID-19 ravaging the globe, she warned that "impeding medical efforts in one country heightens the risk for all of us."
But even carefully tailored sanctions may be of little use to their intended targets in Myanmar, long known to the English-speaking world as Burma prior to a 1989 name change.
"Targeted sanctions on individuals are unlikely to have any political impact," Thant Myint-U, an award-winning Burmese writer and historian who authored "The Hidden History of Burma: Race, Capitalism, and the Crisis of Democracy in the 21st Century," told Newsweek.
Thant Myint-U, who formerly served in roles at the U.N. and as a government adviser in Myanmar, recalled how the country's long-standing insulation from the outside world has shielded its elite from such economic punitive measures.
"The Myanmar generals have few if any assets overseas, at least not in the West, and many have never even travelled outside the country," he said. "We have to remember that this is an army that over the 2000s lived through some of the toughest economic sanctions ever imposed on any country. The reforms that began in 2011 took place in spite of sanctions, not because of them, when Myanmar's generals felt confident enough to begin relaxing their grip on power."
Now, these same top generals appear to be reasserting their absolute authority. But despite their hold on the nation, much of Myanmar remains torn by a constant civil war among militias organized along ethnic and religious lines.
The compounding effects of this conflict and COVID-19 on its people makes them among the least-equipped to handle the kind of sanctions imposed on other nations that fell afoul of the U.S.
Gissou Nia, a human rights lawyer heading the Atlantic Council Strategic Litigation Project, urged for tighter but not broader restrictions that target relatives of the ruling elite and their family members, who may dodge sanctions by living abroad, without affecting the populace as a whole.
"Globally, we need stronger authorities extending to the activities of children of designated officials who use their parents' stolen assets to finance their activities abroad, and stronger enforcement mechanisms to curb this loophole," Nia told Newsweek. "And this does not only apply to Myanmar but to other countries such as Iran and Venezuela, where broad-based economic sanctions pose direct harm to civilians, but are also not terribly effective in targeting regime elites."
The misuse of more comprehensive sanctions may serve to only exacerbate pressure against Myanmar's fragile institutions and fuel existing tensions among warring factions. Thant Myint-U warned of a potential disaster, regardless of good intentions from abroad.
"Broader sanctions could easily do further damage to an economy that's been in a tailspin since the beginning of the pandemic, devastating the lives of tens of millions of ordinary people," Thant Myint-U said. "And an economic collapse could trigger widespread unrest in a country already riven by racial and religious divides, home to hundreds of ethnic-based armed organizations and militia."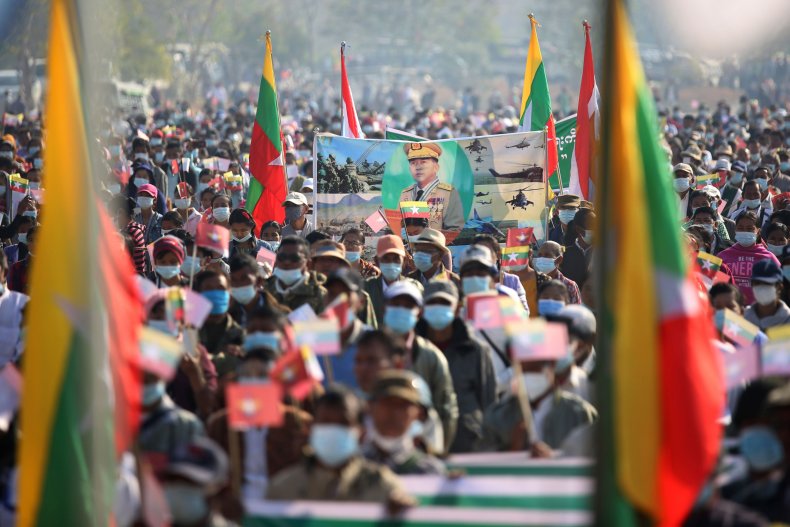 There's another major factor at play in Myanmar when it comes to Washington's foreign policy. The country's economy has been deeply integrated with neighboring China, the top rival of the U.S. on the world stage, increasingly seen by Washington as an adversary rather than merely a competitor.
In what many saw as a veiled reference to the People's Republic, Biden noted in his White House statement that the U.S. "is taking note of those who stand with the people of Burma in this difficult hour." State Department spokesperson Ned Price referenced this line Wednesday when asked whether he anticipated China to be part of the international response to the situation in Myanmar.
The Chinese side has had a vastly different reaction than that of the U.S., declining to use the term "coup" when discussing the military takeover of the government.
"As Myanmar's friendly neighbor, China hopes that parties in Myanmar will put the people's will and interests first and properly handle differences within the constitutional and legal framework through dialogue to safeguard political and social stability," Chinese Foreign Ministry spokesperson Wang Wenbin told a press conference Thursday.
He called on the international community to "foster an enabling external environment for the proper resolution of differences in Myanmar," and to take actions that "contribute to Myanmar's political and social stability, promote its peace and reconciliation, and avoid escalating the conflict and complicating the situation."
China has often displayed an adverseness to global unrest, especially in its own region. Myanmar is no exception.
"If Myanmar descends into anarchy, China will feel compelled to act, perhaps even intervene to impose stability, and this in turn would lead to a major regional crisis," Thant Myint-U told Newsweek. "Myanmar's already extremely reliant on trade with China. It's hard to see a scenario where a deterioration in economic ties with the rest of the world doesn't lead to even faster economic integration with China."
Despite viewing themselves as having a duty to intervene in global affairs, he said options for the U.S. and its allies in Myanmar were extremely limited.
"The sad truth is that Western governments likely have very little leverage in Myanmar," Thant Myint-U said, "and will certainly not determine what comes next."