U.S. Sanctions on Russia Hit McDonald's French Fries
U.S. sanctions have already shaken Russia's currency and markets but now the economic turmoil is set to engulf one of the American experiences most readily availble to Russians—eating at McDonald's.
The latest round of sanctions against Kremlin-friendly businesses caused turmoil on the Moscow stock exchange earlier this month and tanked the ruble, in a drop resembling the start of Russia's economic crisis in 2014. One unintended casualty of sanctions may be the supply of french fries in McDonald's restaurants across Russia, who all import potatoes from abroad, as local ones have never been up to scratch.
"There was no potato which would suit us in terms of quality—color, taste, size—these are all the details that are important for us," Khamzat Khasbulatov, chairman of McDonald's Russia, told Reuters.
The fast food chain has been operating in Russia since 1990, and has repeatedly moved to substitute some ingredients with local produce, but with potatoes this has proven exceptionally difficult. A project to grow and use local potatoes started in 2011. but after Russia's annexation of Crimea in 2014, European funding for the programme fell through.
Newsweek subscription offers >
Read More: Russia's deputy prime minister warned to prepare for the end of sanctions soon
What's more, ruble volatility makes longterm import-export calculations complicated. Producing ingredients locally, where everyone deals in rubles, can help.
"The ruble's volatility was one of the major components of our interest in localization," Khasbulatov said. The corporation has sough to contain the fallout by striking a deal to use frozen potatoes from local farms to produce the fries for 651 outlets across Russia.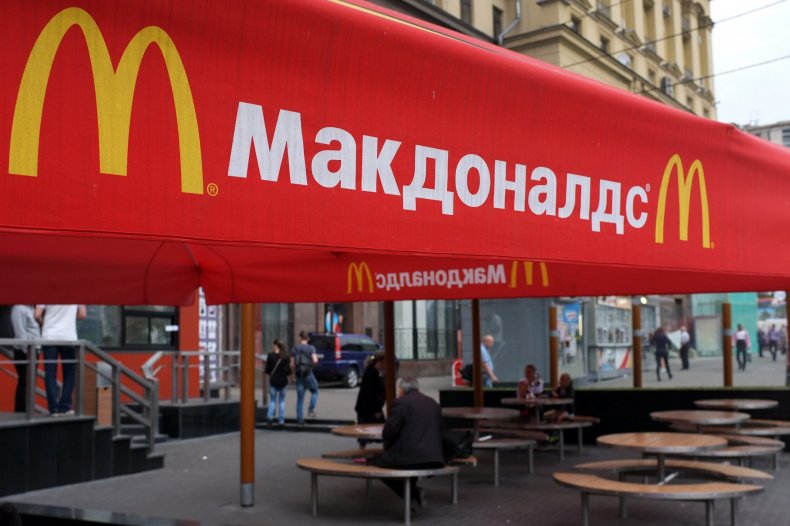 Newsweek subscription offers >
"This gives us the possibility to continue our development in a more stable way," Khasbulatov said. "It minimizes the risks connected to customs and administrative decisions, and guarantees stable, predictable prices in rubles." The deal centres on a new plant near Lipetsk, some 280 miles from Moscow, which is capable of processing 200,000 tonnes of potatos a year.
Russia's top pro-government businesses are under sanctions either for their support of Russia's annexation of Crimea and military intervention in Ukraine's east in 2014 or for supporting Moscow's pro-regime campaign in Syria.
Since 2014 the Kremlin opted to push back against sanctions by banning foreign importers from delivering food stuff to Russia in a dubious move that has driven up consumer prices but given Russian producers a bigger market share.
In a bid to reduce reliance on imports that may be embargoed, McDonald's said last year that it aims to source all ingredients locally by the end of 2018.
U.S. Sanctions on Russia Hit McDonald's French Fries | World