U.S., Saudi Arabia and France Talk Military Action in Syria as Russia, China and Iran Warn Against It
U.S. allies France and Saudi Arabia may be joining President Donald Trump in an upcoming attack on Syria, defying Russia, China and Iran, which support Syrian President Bashar al-Assad and question his role in a recent chemical weapons attack.
It has been a full day since Trump vowed to respond "forcefully" within "the next 24 to 48 hours" after reports emerged that the Syrian military released toxic gas Saturday in the rebel-held town of Douma outside of Damascus. The statement has reportedly prompted a mobilization of those fighting on behalf of Assad as White House Press Secretary Sarah Huckabee Sanders confirmed Trump had already reached out to leaders in France and the U.K.
Related: Russia Responds to Trump's Military Threats in Syria, Puts Forces on High Alert
"We're going to continue to work with a number of our partners and allies as we determine what the next best steps are," Sanders told reporters at a press briefing.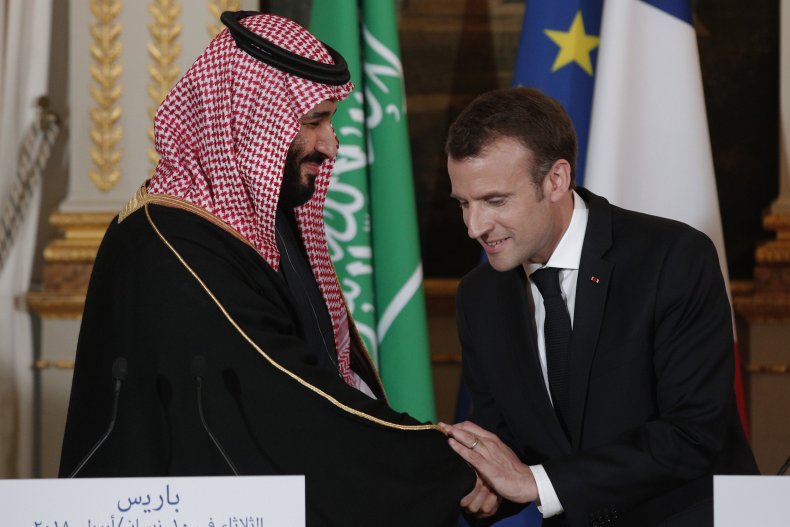 Trump and Defense Secretary James Mattis canceled travel plans Tuesday as speculation grew over what action the president may decide to do in Syria, where the Pentagon's stated mission was limited to the defeat of the Islamic State militant group (ISIS), and the U.S. military's presence has been declared illegal by Assad's government. The U.S., Saudi Arabia and France supported the 2011 uprising against Assad's government, and have once again sought an opportunity to challenge him amid recent reports of his chemical weapons use.
During a phone call Monday, French President Emmanuel Macron and Trump urged a "strong response from the international community" to the alleged chemical attack in Douma. Macron said Tuesday he would make a decision "in the coming days," and even discussed potential targets.
"Our decision will not target allies of the regime or attack anyone but rather attack the regime's chemical capabilities," Macron said, emphasizing that he did "not want an escalation," according to the Agence France-Presse.
The U.S. and France had previously discussed conducting joint airstrikes against the Syrian government in 2013, after allegations that its armed forces used sarin gas in the Damascus suburb of eastern Ghouta, near Saturday's suspected attack. The operation was called off after Russia helped mediate a deal in which the Syrian government agreed to hand over its chemical arsenal. However, some Western governments and their allies suspect Assad still has access to such weapons.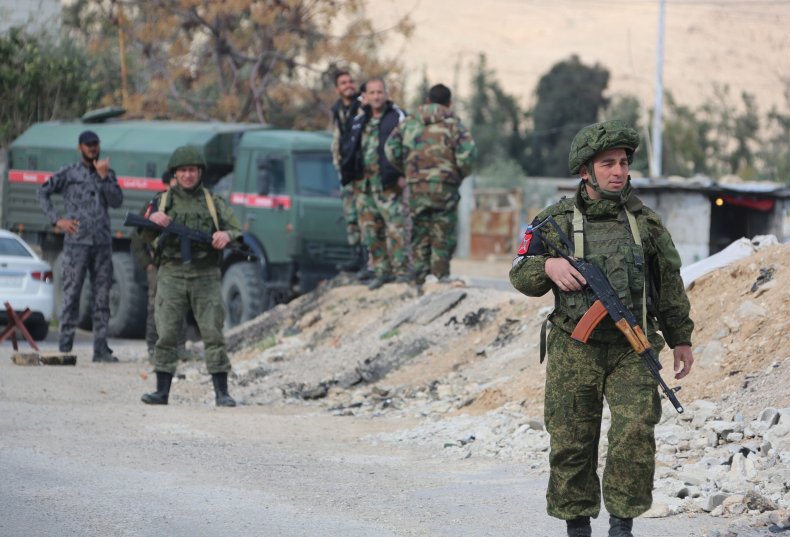 Saudi Arabian Crown Prince Mohammed bin Salman also discussed the possibility of taking part in an attack on Syria during a joint press conference with Macron. The young, powerful royal serves as his kingdom's minister of defense and deputy prime minister, and has railed against the growing regional influence of Iran, a close supporter of Assad and a leading rival to Riyadh.
"If our alliance with our partners requires it, we will be present," Prince Mohammed said, echoing Saudi Foreign Minister Adel al-Jubeir, who earlier said "that those responsible have to be held accountable and brought to justice," as Reuters reported.
Russia and Iran have joined their Syrian ally in denying the chemical weapons accusations, viewing them as a pretext for foreign intervention against Assad. Top Moscow military officials have already threatened to strike back against any attack on Syria that threatened Russian personnel, who often operate alongside Syrian security forces, and senior Russian legislator Vladimir Shamanov urged his country Tuesday to make good on that warning should the U.S. choose to attack.
Iranian Foreign Minister Mohammed Javad Zarif slammed Trump on Twitter Tuesday, accusing him of "helping extremists" by threatening to attack Syria, whose armed forces were also battling ISIS along with other jihadis and rebels. Ali Akbar Velayati, a senior adviser to Iranian supreme leader Ayatollah Ali Khamenei, condemned Israel for an airstrike Monday that killed up to seven Iranians at the T-4 air base in central Homs province.
"The crimes will not remain unanswered," he said during a trip to Damascus, according to the official Islamic Republic News Agency.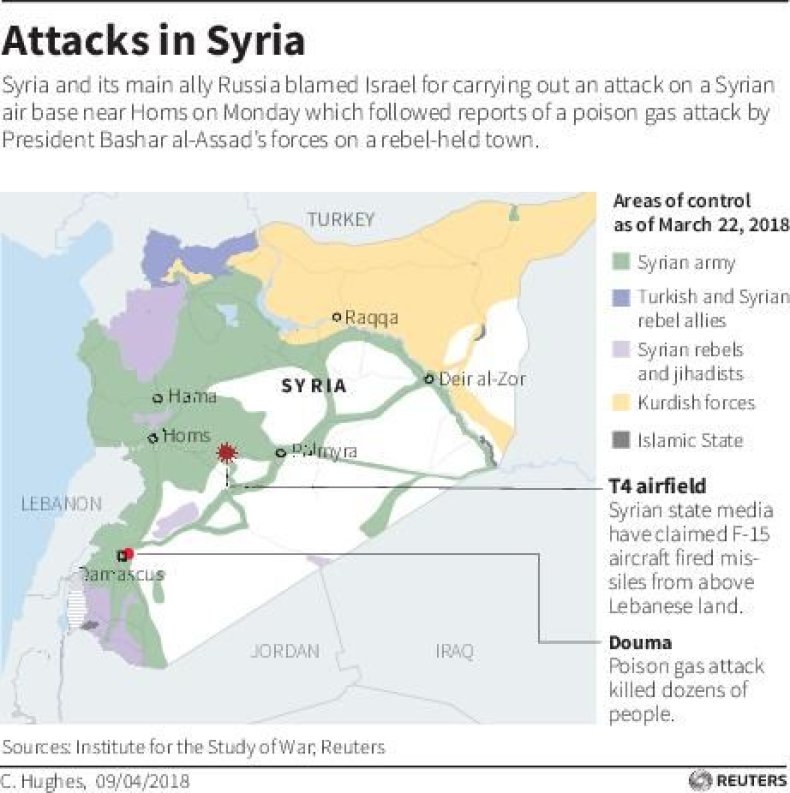 Russian, Iranian, Syrian and Lebanese officials have blamed Israel, which has not yet claimed responsibility, for the airstrike. Like Saudi Arabia, Israel has been a vocal opponent of Iranian influence, especially via its Lebanese Shiite Muslim ally, Hezbollah. As Trump broke with his Western allies in threatening to scrap a landmark 2015 nuclear deal with Iran, the revolutionary Shiite Muslim power has developed closer ties to Russia and China, who also signed the agreement. China was set to host a seminar Wednesday on the benefits of staying in the Iran deal, according to Iran's semi-official Mehr News Agency.
Like Russia and Iran, China was also a supporter of the Syrian government, but has limited its intervention to investment in reconstruction as Assad reclaimed most of the country. China and Russia, who have sought closer military cooperation in recent years, have used their privilege as permanent United Nations Security Council members to block resolution targeting Assad. Russia vetoed and China abstained on the latest resolution calling for an inquiry into Assad's potential role in a chemical weapons attack Tuesday. The Chinese Foreign Ministry urged nations to wait for a comprehensive investigation and respect Syrian sovereignty.
"The Syrian issue now stands at a crucial crossroads. Political settlement is the only viable way out and military means will lead to nowhere," ministry spokesman Geng Shuang told reporters at a regular press conference.
"China always stays committed to peacefully resolving disputes, opposes the wanton use of or threat of use of force in international relations and advocates acting in accordance with the U.N. Charter," he added.