U.S. Says Iran Must Leave Syria, Russia Can Stay, But Allies Keep the Oil
The United States is defending its policy in Syria amid heated criticisms, with the State Department calling for the removal of Iranian and Iran-backed forces, but not a Russian withdrawal, as the Pentagon continues to back a mostly Kurdish partnered militia that battles ISIS and secures the oil and gas reserves.
With President Donald Trump most recently describing the U.S. mission in Syria as being purely about oil, detractors in the Middle Eastern country and abroad have accused the White House of yet another mission creep in a nearly decade-long conflict with no clear end in sight.
Newsweek reported Thursday on the debate on the U.S. campaign in Syria, where a U.S.-led coalition has battled ISIS for six years, while Washington also supported an insurgency against the Syrian government under the prior administration. As the president now shifts the focus to oil, however, his officials argue his plan has been consistent.
The State Department says nothing has changed.
"We have been very clear regarding our overall policy goals in Syria," a spokesperson told Newsweek. "The United States' policy objectives for Syria have been consistent and remain the same: the enduring defeat of ISIS and Al-Qaeda, an irreversible political solution to the Syrian conflict in line with UNSCR 2254, and the removal of all Iranian-supported forces."
"These three overarching goals are interrelated as all three are necessary to achieve a sustainable peace for the Syrian people," the spokesperson added.
But this mission statement is rejected by Moscow and Damascus. In a joint statement Thursday, they condemned the "illegal presence of the United States of America and its allies on the territories of the sovereign Syrian state."
The statement pointed to the Office of Foreign Asset Control's recent licensing of a U.S. oil company to operate in northeastern Syria. The two governments said such agreements "violate the rules of international law and violate Syria's sovereignty and territorial integrity."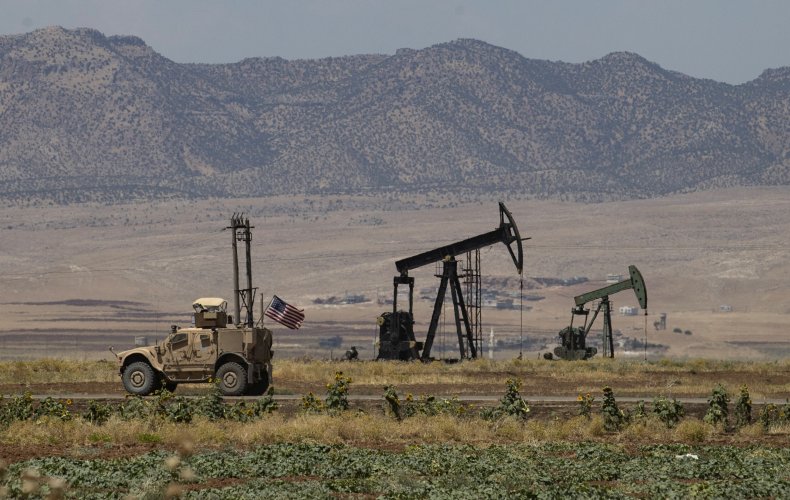 These remarks came as Russian Foreign Minister Sergey Lavrov called on U.N. special envoy for Syria Geir Pedersen to support efforts "to mitigate unilateral sanctions" imposed by Washington on Damascus, which many Western powers consider complicit in war crimes.
The Russian and Syrian governments have separately expressed to Newsweek that it was the U.S. that was responsible for worsening the humanitarian situation in Syria.
"Besides the clear violation of international law, American presence in Syria has an undeniable negative impact on the lives of Syrians," Nikolay Lakhonin, a spokesperson for the Russian embassy in Washington, recently told Newsweek. "By occupying major oil and gas reserves in the Northeast, the U.S. deprives the people of Syria from its own vital resources."
In remarks earlier sent to Newsweek by Syria's mission to the United Nations, Damascus' permanent representative to the U.N. Bashar al-Jaafari said the U.S. and the Syrian Democratic Forces were "stealing Syrian oil and depriving the Syrian state and Syrian people of the basic revenues necessary to improve the humanitarian situation, provide for livelihood needs and reconstruction."
ISIS, officially the Islamic State, once profited from these oil and gas fields before being beaten back in separate campaigns by the U.S.-backed Syrian Democratic Forces and pro-Syrian government forces supported by Russia, Iran and allied militias. Now, the State Department ties guarding these sites to the defeat-ISIS campaign.
"We have also been clear that ISIS remains a threat to Syria and the region, and the sole purpose of the Coalition's military presence in northeast Syria remains the same as it has been when we first began our operations in 2014—to enable the enduring defeat of ISIS," the spokesperson told Newsweek. "This includes denying ISIS access to critical resources and revenue that could allow it to regain strength."
The spokesperson said this meant ensuring the Syrian Democratic Forces were suited to defend these resources, which would be used to sustain the local population.
"We are continuing the vital mission of assisting our SDF partners in securing oil fields in northeast Syria once occupied and used by ISIS to generate revenue," the State Department spokesperson added. "Syrian oil is for the Syrian people. The United States government does not own, control, or manage oil resources in Syria. The population in areas liberated from ISIS make their own decisions on local resources."
While Trump has claimed as recently as Thursday that his administration "took over 100 percent of the ISIS caliphate in Iraq and Syria," conflict is far from over in the region, especially in northeastern Syria. Here, local and international forces with vastly different interests operate shoulder-to-shoulder, sometimes on joint patrols, and in other instances simply passing through checkpoints in tense encounters that at times turn violent.
Late last month, a sudden clash erupted that reportedly left one Syrian soldier dead and two wounded as a U.S.-led coalition convoy passed a security stop in Al-Hasakah province. Several U.S. troops were injured a week later in a high-speed confrontation with Russian forces in this same crowded corner of Syria.
Despite rival interests with those of Moscow, the State Department acknowledged that Washington did not seek an end to the longstanding Russian defense ties with Syria, where the Kremlin has approved deals to expand major west-coast air and navy bases.
"Russian military forces were in Syria prior to the beginning of the Syrian Conflict in 2011, and thus we do not advocate for the removal of those forces," the spokesperson added.
Upon coming to office in 2017, Trump had sought to bolster bilateral cooperation with his Russian counterpart Vladimir Putin, including on Syria, but these efforts were overshadowed by diverging interests of Washington and Moscow. as well as persistent investigations into alleged ties between Trump's presidential campaign and the Kremlin.
Even after the U.S. ceded bases to Russia during last October's repositioning in northeast Syria, the two forces remain linked only by a hotline to avoid accidents.
"The Coalition does not coordinate or share intelligence with Russia in Syria," Pentagon spokesperson Navy Commander Jessica McNulty recently told Newsweek. "From time-to-time we are incidentally apprised of planned Russian strikes on ISIS targets West of the Euphrates River, as part of our routine de-confliction communications."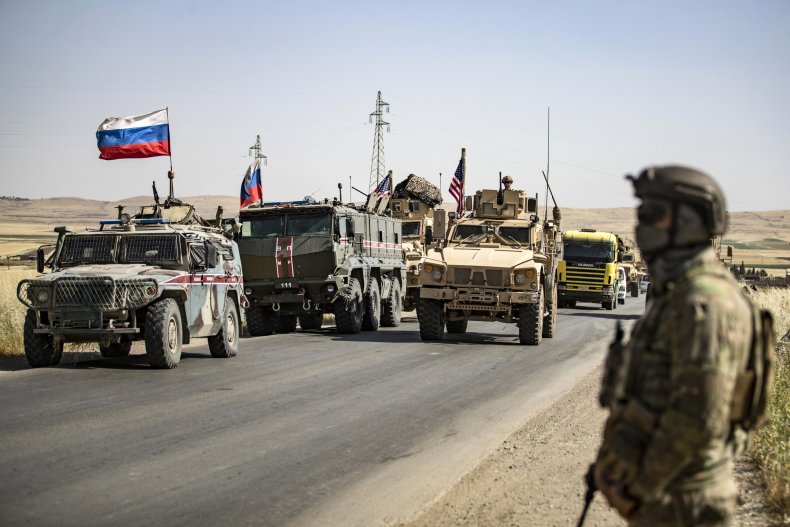 But Iran, the target of a Trump administration "maximum pressure" campaign of military, political economic pressure, has also established a lasting presence in support of its closest Arab ally despite U.S. wishes.
Washington and Tehran's regional feud worsened significantly after Trump's decision to pull out of a 2015 nuclear deal and impose sanctions on the Islamic Republic, a move followed by growing unrest in Iraq and the Persian Gulf. It was the U.S. killing of elite Iranian Major General Qassem Soleimani in Baghdad, however, that incited Iranian calls to force the U.S. out of the Middle East, including Syria, where Israeli attacks regularly target suspected Iranian and Iran-linked forces.
"Iran's role in Syria is merely to help the Syrian people and their government to fight terrorism and restore stability and security," Iranian mission to the United Nations spokesperson Alireza Miryousefi told Newsweek.
Such Israeli strikes have been condemned by a trilateral group largely seen as the top power broker in Syria. As Washington pursues its three-pronged policy, leadership from Russia, Iran and pro-Syrian opposition Turkey have formed a pact to chart out a peace process for the conflict-ravaged nation.
"The only effective mechanism for Syria in the past nine years has been the Astana process, which includes the cooperation between Iran, Syria, Russia and Turkey," Miryousefi added.
He echoed the stances of Moscow and Damascus in calling the U.S. an "uninvited intruder in the region and in Syria," accusing it of having "done nothing but increase insecurity and impose more suffering on the Syrian people" by supporting Islamist militant groups attempting to topple Assad and imposing sanctions.
"The U.S. and its allies have openly supported extremist groups in Syria, from al-Nusra to Ahrar al-Sham and other terrorist groups for years, and most recently, imposed new sanctions, called 'Caesar', on the war-weary Syrian people," Miryousefi said.
"These acts undermine the U.S.' crocodile tears for the Syrian people," he added.
He summarized Tehran's mission.
"Iran and Syria have been strategic partners for more than four decades and this alliance has been the main obstacle to foreign aggression in the region," Miryousefi told Newsweek. "Iran proudly continues its help for the Syrian government in order to maintain its territorial integrity and protect its people from terrorist groups."
Concerned about the future of the U.S. strategy in Syria, the Syrian Democratic Forces' political wing has also called on Moscow to broker talks, in hopes of resuming reconciliation efforts with the Damascus government and military that Washington opposes.
"In our contacts with the U.S. officials," Lakhonin told Newsweek, "we urge them to end this illegal occupation, and let the Syrian government restore control over its legally recognized territories."
This article has been updated to include a statement by Iranian mission to the United Nations Alireza Miryousefi.