US Says Iran Nuclear Deal Can Be Revived 'in Coming Days' Despite Setbacks
The United States is on the brink of returning to the 2015 nuclear deal with Iran and other major powers, and an agreement to do so could be reached within days in spite of recent setbacks, a State Department spokesperson has told Newsweek.
"There has been significant progress and we are close to a possible deal," the spokesperson told Newsweek. "These are complex negotiations, and we are still working through a number of difficult issues."
Yet understanding appears to be within reach to bring the U.S. back into compliance with the Joint Comprehensive Plan of Action (JCPOA) struck with Iran as well as China, France, Germany, Russia and the United Kingdom. The accord was reached nearly seven years ago under former President Barack Obama, along with his then-vice president, Joe Biden, but subsequently abandoned in 2018 by then-President Donald Trump.
"We can and should reach an understanding on mutual return to full implementation of the JCPOA in the coming days," the spokesperson added, "but there is very little time remaining to reach a deal given the pace of Iran's nuclear advances."
Both the U.S. and Iran, who are negotiating indirectly through fellow JCPOA signatories, have emphasized that no artificial deadlines exist, while also warning that time is of the essence. Talks have played out in the Austrian capital of Vienna over the course of nine rounds that have dragged on for nearly a year.
The Biden administration has sought to reinstate U.S. participation in the accord, as well as secure Iran's return to adherence to the limits of nuclear production contained in the agreement. Iran has increased has walked away from uranium enrichment caps and other measures in recent years following the abandonment of the treaty by the U.S. and its reapplication of sanctions.
The latest round of discussions held last month appeared to have borne the most fruit as parties indicated that a deal was closer than ever before. But Russia's war against Ukraine provided a new geopolitical shock, an act which led the Biden administration to rally a broad wave of international sanctions against Moscow.
Russia, for its part, has sought assurances from the U.S. that its return to the JCPOA would not interfere with Moscow's bilateral trade with Tehran, whose top diplomat Foreign Minister Hossein Amir-Abdollahian traveled to the Russian capital on Tuesday to discuss the issue. The demand was followed by a sudden deadlock that brought a sudden pause to negotiations.
The U.S. has rejected any bilateral promises outside the deal, with the State Department spokesperson telling Newsweek that "new Russia-related sanctions are unrelated to the JCPOA and should not have any impact on its implementation."
"We continue to engage with Russia on a return to full implementation of the JCPOA," the spokesperson said. "As Secretary [of State Antony] Blinken said last week, 'Russia continues to be engaged in those efforts, and it has its own interests in ensuring that Iran is not able to acquire a nuclear weapon.'"
Amid fears that the last-minute dispute could derail the process, the State Department spokesperson said the U.S. would ensure that the issues were compartmentalized.
"The United States will take actions as necessary to ensure that U.S. sanctions do not apply to the implementation of such JCPOA nuclear-related projects and activities by non-U.S. individuals and entities," the spokesperson said. "We would of course not sanction Russian participation in nuclear projects that are part of resuming full implementation of the JCPOA."
"We cannot provide assurances beyond that to Russia," the spokesperson added. "While we do not have a specific deadline for resolving the external factors impacting talks, we should know in the near future whether there is a path forward."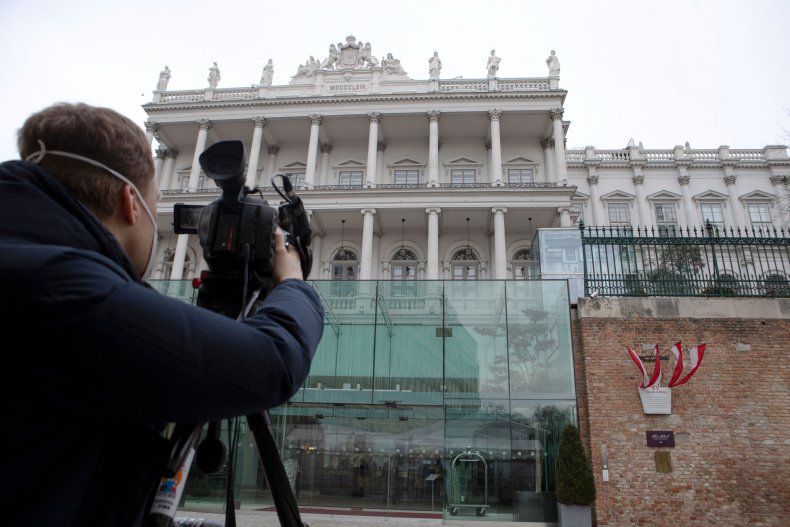 But since this latest issue emerged, more potential positive have signs indicating progress have been observed as well.
A day after Amir-Abdollahian's trip to Moscow, two dual U.K.-Iranian nationals at the center of a years-long diplomatic dispute between London and Tehran were released by Iranian authorities. Charity worker Nazanin Zaghari-Ratcliffe and businessman Anousheh Ashouri were accused of espionage and conspiring against the Islamic Republic and, while the issues of prisoners were not directly a part of the JCPOA itself, their release was welcomed by the State Department spokesperson with whom Newsweek spoke.
Their release has been widely seen as a sign that a deal may be imminent.
"We are treating the issue of detainees independently from the discussions on the JCPOA," the State Department spokesperson said. "It is really a matter of utmost urgency to get the detainees home, and we want it to be resolved immediately."
Those detainees include four Iranian-Americans: businessman Siamak Namazi, his father, former UNICEF official Baquer Namazi, dual U.K.-U.S. entrepreneur Morad Tahbaz and businessman Emad Shargi.
"We continue to work night and day to secure the release and bring home our wrongfully detained citizens, including U.S.-UK citizen Morad Tahbaz," the State Department spokesperson said.
"Iran is unjustly detaining innocent Americans and others and should release them immediately. Securing their release is one of our utmost priorities," the State Department spokesperson added. "We call upon Iran to make urgent progress toward the release of wrongfully detained U.S. citizens."
The release of Tahbaz and perhaps the other three U.S. nationals in Iranian custody would potentially be an even clearer indication that a deal is at hand.
"While the discussions on detainees remain separate from the JCPOA talks," the State Department spokesperson said, "as Special Envoy [Robert] Malley reiterated recently, 'it is very hard for us to imagine getting back into the nuclear deal while four innocent Americans are being held hostage by Iran.'"
Iran too has sought to separate the issues of the JCPOA return and detained foreign nationals, or London's recent decision to transfer half a billion dollars to Tehran as part of a longstanding dispute over a failed arms deal dating back to the reign of Iran's West-backed shah, who was deposed in the 1979 Islamic Revolution.
On Thursday, Iranian Foreign Ministry spokesperson Saeed Khatibzadeh told reporters that, "from the viewpoint of Iran, there is no relationship between Britain's payback of its debt to the Islamic Republic and the freedom of these prisoners, as Iran and the U.K. reached an agreement on the settlement of London's debt to Tehran last summer, and they signed a document to this end, which unfortunately, the U.K. government refused to abide by the agreement."
That same day, Amir-Abdollahian spoke with his U.K. counterpart Liz Truss to discuss "issues pertaining to bilateral ties and international developments," according to the Iranian Foreign Ministry.
"We are close to the final point of a deal more than any time before," Amir-Abdollahian as quoted as saying, "but what can make a good and lasting agreement certain is realistic behavior by the U.S. and its decline to make new and false demands."
The words appeared to reinforce the growing belief among observers that an agreement may be around the corner, even as tensions stemming from the Trump era continued to plague relations. Last week, the Revolutionary Guard fired missiles against what it claimed to be an Israeli spy facility in northern Iraq, the first time the elite group had struck targets in the neighboring country in such a fashion since a January 2020 assault on U.S. military positions in response to the killing of Quds Force commander Major General Qassem Soleimani.
The iconic general's slaying and Trump's earlier decision to designate the Revolutionary Guard as a terrorist organization continues to loom over efforts to bring Washington and Tehran together to renew their pact.
And yet common ground appeared within grasp.
Reached for comment by Newsweek, Khatibzadeh confirmed that the U.S. and Iran were closer than ever to resolving their dispute and that only a few critical obstacles stood in the way.
"We have never been so close to an agreement in the last 11 months," he said. "We are waiting for the United States to respond to a few key issues."
This story has been updated to include comment from Iranian Foreign Ministry spokesperson Saeed Khatibzadeh.