U.S. Says Killing ISIS Figure in Somalia Shows How Group Is Still Spreading
Senior officials in President Joe Biden's administration have argued that the U.S. military's recent killing of a key Islamic State militant group (ISIS) figure in Somalia showed the extent to which the jihadi group has continued to spread despite international efforts.
U.S. Africa Command published a statement Tuesday announcing that "the U.S. military conducted a successful counterterrorism operation in Somalia," with "additional details" to "be provided in the coming days."
"Given the remote location of the operation, the assessment is that no civilians were injured or killed," the statement said. "Protecting civilians remains a vital part of the command's operations to promote greater security for all Africans."
Speaking to reporters Thursday, senior administration officials confirmed that the "precision operation" took place and "resulted in the death of Bilal-Sudani, a key operative and facilitator for ISIS' global network," as well as "approximately 10 of Sudani's ISIS associates."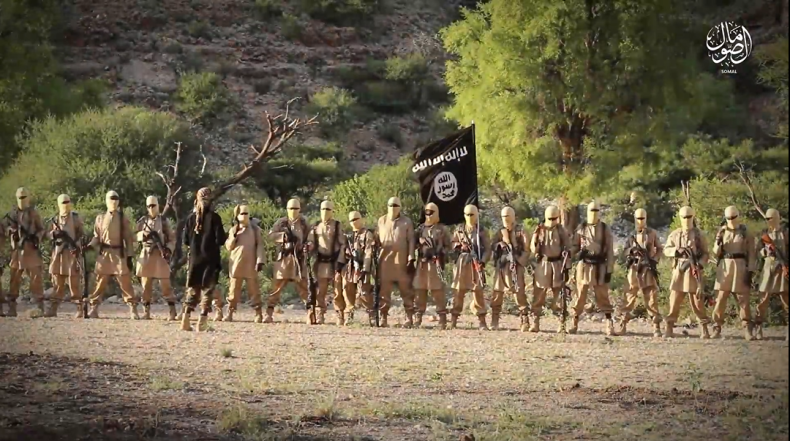 This official said that the U.S. forces "had prepared for the possibility of capturing Sudani," given the potential intelligence value of detaining him, "but the hostile forces' response to the operation resulted in his death." The official also confirmed no casualties among personnel or civilians, save for "a dog bite by one of our own canines on one of our own service members."
A second senior administration official discussed how "the operation reflects key ways in which the Biden administration's approach to addressing international terrorist threats such as the threats posed by ISIS and Al-Qaeda have evolved over the past two years."
"Our approach starts from fundamental recognition that the terrorism threat today is more diffuse, ideologically diverse and geographically dispersed than it was 20 or so years ago," the second official said. "That means, as you've heard us say before, that we could not afford to allocate our troops globally, in a way that reflected the threat landscape of September 2001, rather than the threat landscape we actually face today.
"Instead, we needed to have a combination of light footprints, operational agility and intelligence inside to determine where threats to Americans arise from now," the official added, "including, as we have been saying for the past few years from Somalia, where Al-Shabab as well as ISIS take advantage of ungoverned spaces to operate with too much freedom and impunity."
Al-Shabab is a powerful jihadi militant group aligned with Al-Qaeda and engaged in a long-running insurgency against the Somali government. Earlier this month, Al-Shabab stormed a military base north of the capital Mogadishu, killing at least seven Somali soldiers.
Though often overshadowed by Al-Shabab, ISIS has sought to demonstrate its own presence in Somalia and the U.S. operation came just days after official ISIS media released a video showing off the group's presence and capabilities in the Horn of Africa nation.
The 14-minute clip, titled "God is the Guardian of the Believers," included footage purported to show ISIS fighters training and carrying out operations against Somali security forces, including graphic killings carried out in Somali cities such as Mogadishu and a battle with the Puntland Security Force said to have lasted "six hours."
While the roots of ISIS could be traced to a hardline splinter from Al-Qaeda in Iraq before also taking significant territory in Syria, the group went on to spread to a number of countries, including Afghanistan, Egypt and Libya. As regional and international powers such as the U.S., Russia and Iran backed campaigns that largely defeated the group in the Middle East, ISIS factions continued to spread in Africa.
In addition to maintaining a stronghold in Egypt's Sinai Peninsula, ISIS factions have gained ground beyond the Sahara in places like the Sahel, Lake Chad and Congo regions as well as in the Central African Republic, Mozambique and Somalia, with lower-level activity in Libya and Tunisia.
"The Islamic State organization has placed an increasing amount of emphasis on its successes and activities throughout Africa—especially since the 2019 fall of Baghuz, the last stronghold of the caliphate, in Iraq and Syria," Lucas Webber, co-founder of the Militant Wire research network, told Newsweek.
"IS has been releasing a number of editorials, videos, and photosets about the rise of the Islamic State in Africa," he added, "and, likewise, unofficial IS media groups have been consistently pumping out propaganda content in support of this promotional campaign."
Among ISIS' affiliates in the continent, Webber said "these groups range in size and operational capacity with IS West Africa Province being most powerful and IS in Somalia being on the lower end."
"IS has exploited power vacuums, areas of weak governments, ethnic divides, and has been able to effectively secure access to many different types of weaponry and generate income through taxation, smuggling, and other means," he added. "IS seeks to tap into local grievances and build ties with various linguistic/ethnic groups and tribes throughout the continent to recruit and grow."
In fact, Webber pointed out that recent ISIS publications have appeared in both Arabic and Amharic, suggesting that the group's Somalia faction, though not as powerful as other affiliates in Africa, "seeks to build appeal with and recruit from Ethiopians, Somalians, and Eritreans located on the border with Ethiopia who speak the Amharic language."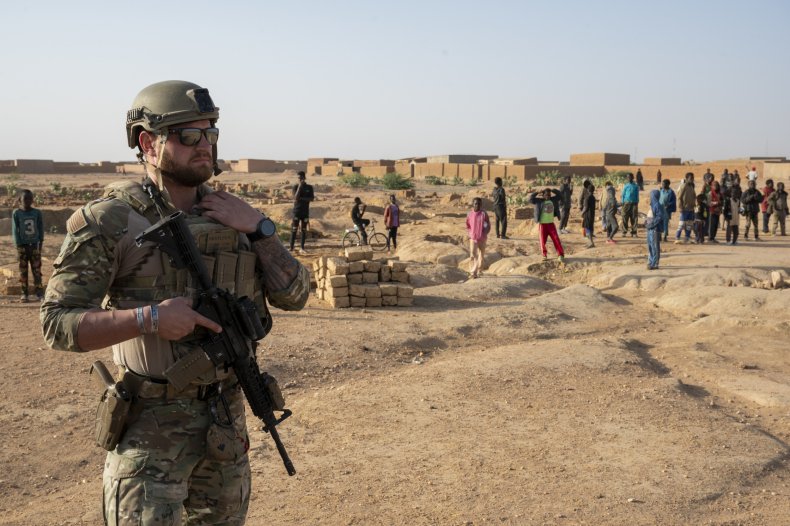 Despite pivoting to a greater focus on over-the-horizon capabilities, the Pentagon has continued to maintain a sprawling military presence in Africa, with the last publicly available AFRICOM theater posture plan in October 2019 showing around 25 U.S. military sites located in Ascension Island, Burkina Faso, Chad, Djibouti, Gabon, Ghana, Kenya, Libya, Mali, Niger, Senegal, Somalia, Tunisia and Uganda.
Last May, Biden ordered the deployment of under 500 soldiers to Somalia, reversing a drawdown conducted under his predecessor, former President Donald Trump. The number of U.S. troops in Niger has also increased to just over 1,000, according to Biden's letter last month to Senate and House of Representatives leadership in line the War Powers Resolution.
Thousands more U.S. troops are stationed at Camp Lemonnier in Djibouti, a major hub of U.S. military operations on the continent.
Newsweek has reached out to the Somali Embassy in Washington, D.C., the Somali Defense Ministry, the Somali Ministry of Foreign Affairs and U.S. Africa Command for comment.
Update 1/26/23, 5:03 p.m. ET: This story was updated with comment from researcher Lucas Webber.