North Korea Should Not Receive More Oil Products, U.S. Tells the U.N.
The United States accused Pyongyang of illegally importing oil products on Thursday and asked the United Nations Security Council to demand countries halt future deliveries to North Korea.
News outlet Agence France-Presse (AFP) reported that the U.S. sent a report to the U.N. sanctions committee stating that at least 759,793 barrels of oil products had been delivered to North Korea from January 1 to May 30. Under U.N. sanctions, North Korea is allowed to import 500,000 barrels of oil products only and 4 million barrels of crude oil each year. U.N. experts say that North Korea needs oil products to develop ballistic missiles and nuclear weapons, according to AFP.
The report claims that North Korea could have imported up to 1.3 million barrels of refined supplies, which were obtained through ship-to-ship transfers at least 89 times. The U.S. filing blamed Russia and China for selling oil products to Pyongyang.
The committee has one week to evaluate the request, but U.N Security Council permanent members China or Russia—which have previously rejected proposals to strengthen sanctions—could block Washington's request.
Despite the U.S. request to the U.N., there have been some signs of a diplomatic thaw between Pyongyang and Washington. On Thursday, President Donald Trump tweeted a laudatory letter North Korean leader Kim Jong Un sent on July 6. "A very nice note from Chairman Kim of North Korea. Great progress being made," he wrote. Despite Trump's claims that progress has been made on a denuclearization agreement, no concrete framework has been established between the two leaders to reconcile policy disagreements.
Thursday's developments follow Secretary of State Mike Pompeo's visit to Pyongyang last week, which was intended to make progress on a denuclearization agreement with North Korea. Pompeo did not meet with Kim, who reportedly was visiting a potato farm.
When Pompeo left, the North Korean foreign ministry accused the secretary of state of promoting a "unilateral and gangster-like demand for denuclearization."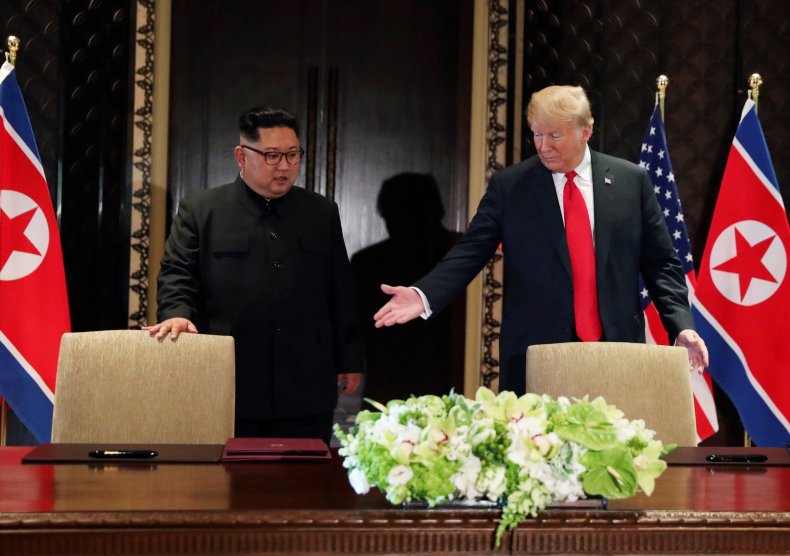 Three days ago, Trump expressed his belief that his administration could reach an agreement with Pyongyang. "I have confidence that Kim Jong Un will honor the contract we signed &, even more importantly, our handshake. We agreed to the denuclearization of North Korea," the president tweeted.
Last month, Trump met the North Korean leader in a historic summit in Singapore. "Mr. Chairman, it's a great honor to be with you, and I know we'll have tremendous success together and we'll solve a big problem—a big dilemma—that until this point has been unable to be solved, and working together we'll get it taken care of," the president said during the meeting.