The U.S. envoy for the conflict in Syria discussed on Wednesday the dubious allegiances of militant groups fighting to overthrow the war-torn country's government for seven years, a task for which a number of them once received Washington's backing.
James F. Jeffrey, who was appointed as special representative for Syrian engagement in August, painted a "relatively positive picture" of a ceasefire deal reached between Turkey and Russia in Syria's northwestern Idlib province, the last region to be held by an Islamist-led insurgency against Syrian President Bashar al-Assad. The former U.S. ambassador to Iraq and Turkey hailed reports that rebels and jihadis had removed heavy weapons as part of the agreement, but noted there were still tens of thousands of fighters there.
"Most of them are part of the opposition that we used to work with and the Turks still do. Some number between, oh, anywhere between 7 and 8,000 and somewhat over 10,000 are named terrorist organizations, mainly Hayat Tahrir al-Sham, which is the offshoot of al-Nusrah [Front], which is an offshoot of Al-Qaeda, some ISIS, and then some other offshoots of the Al-Qaeda movement," Jeffrey told reporters at Esenboga Airport in Ankara.
"There is some question as to whether everybody from HTS has left," he added. "This is a problem we have everywhere with terrorist organizations who this week are a brigade working for a friendly organization, next week they've joined up with one or another terrorist organization. But there has been some withdrawal of the terrorists as well from that zone."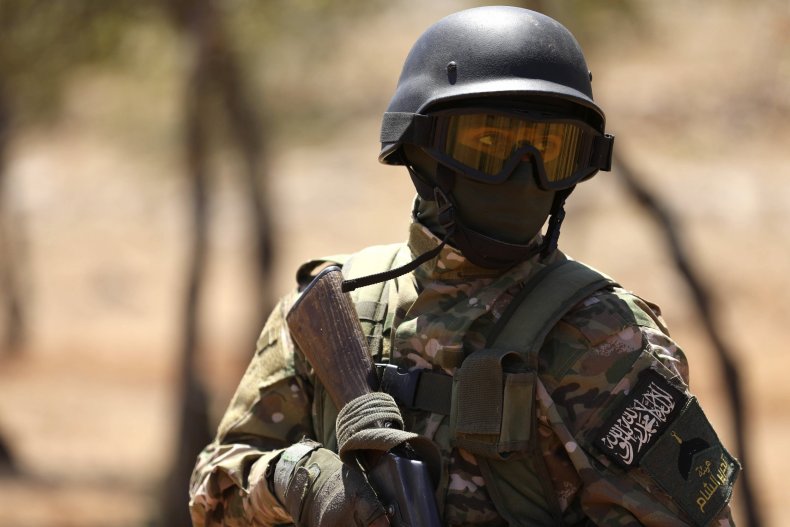 The U.S. joined regional allies including Turkey and Saudi Arabia in supporting the 2011 uprising against Assad, who they accused of human rights abuses. The revolt grew increasingly Sunni Islamist in nature, however, and opposition groups were soon overshadowed by jihadi movements such as Al-Qaeda—formed amid the 1980s U.S.-backed mujahideen resistance against Soviet intervention in Afghanistan—and ISIS—which spawned from Al-Qaeda and other hardcore Sunni Muslim insurgents that became active following the U.S. invasion of Iraq in 2003.
By 2014, ISIS had taken over half of Iraq and Syria and a U.S.-led coalition began bombing the group in both countries. The Pentagon began to withdraw assistance for Syrian rebels in favor of a largely Kurdish alliance known as the Syrian Democratic Forces. While this group has proved more effective at tackling ISIS, its People's Protection Units (YPG) faction is considered a terrorist organization by U.S. ally Turkey due to alleged ties to a Kurdish insurgency at home.
With ISIS mostly confined to pockets in the south and east, the Syrian armed forces and its Russian and Iran-backed allies retook remaining pockets held by rebels and other militant groups, leaving only Idlib. The province now claims an inflated population of some 3 million people, including Turkey-backed rebels—such as the once-CIA-backed Free Syrian Army that has battled both Syrian troops and YPG forces—and the dominant Hayat Tahrir al-Sham and other jihadi groups.
Fearing an all-out pro-Syrian government assault and amid threats of U.S.-led intervention, Turkey struck a deal with Russia last month to establish a de-escalation zone in Idlib with two major conditions. Local forces appeared to have withdrawn heavy weapons a day ahead of schedule last week, but a deadline for the evacuation of banned militant groups expired Monday with no clear results.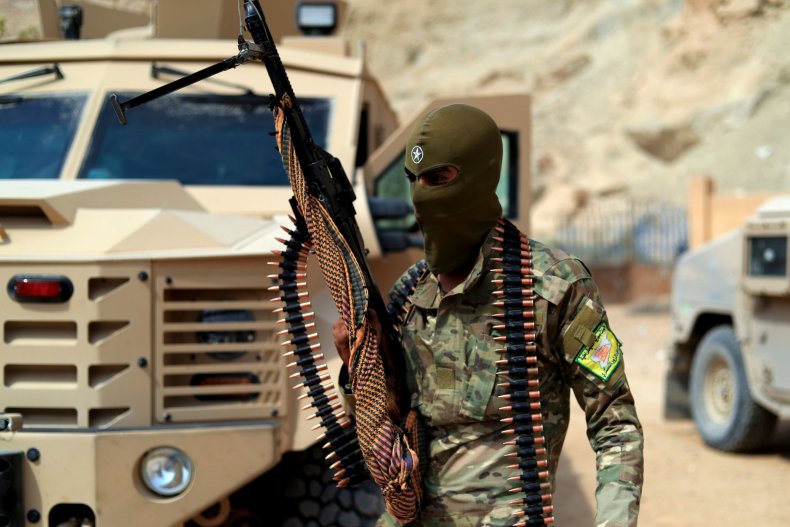 Amid sweeping government gains last year, Turkey agreed to work with Assad allies Russia and Iran to quell bloodshed and seek a political solution to the conflict. The U.S. has not endorsed this peace process, based in the Kazakh capital of Astana and the Russian Black Sea city of Sochi, due to Washington's opposition to the Syrian government and the presence of Iranian and Iran-backed, mostly Shiite Muslim forces in Syria.
The U.S. and Iran have accused one another of supporting designated terrorist organizations, and Tehran has joined Damascus and Moscow in calling for the withdrawal of all foreign forces not invited to Syria by Assad. Though the Pentagon's stated mission in Syria officially remains limited to defeating ISIS, President Donald Trump's administration's top officials have recently said that the removal of Iran-backed forces was an additional goal.
Russia, Iran and Syria have also criticized the West's role in other conflicts across the region, including in Libya—where the U.S.-led NATO alliance helped insurgents overthrow Libyan leader Muammar al-Qaddafi in 2011, the same year unrest began in Syria—and in Yemen, where the U.S. backs Saudi Arabia and allies in a war against a Shiite Muslim rebel group known as Ansar Allah, or the Houthis. ISIS and Al-Qaeda also have a presence in these countries, though various forces and U.S. airstrikes have targeted them.