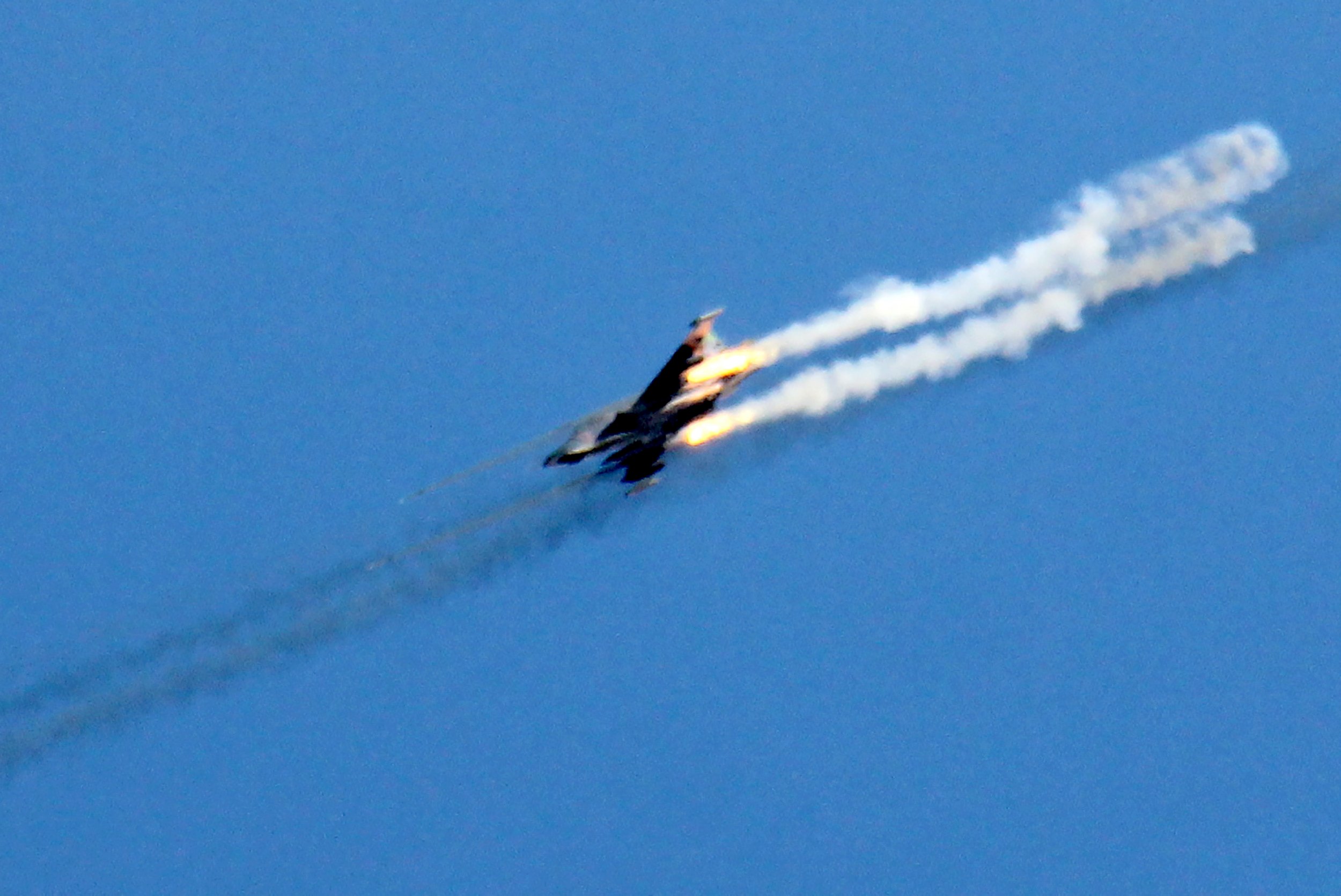 A public war of words between Washington and Moscow continued late Monday as the U.S. said it had a "right to self defense" in Syria near the eastern city of Raqqa after Russia warned it would treat U.S. coalition aircraft as targets and condemned the downing of a Syrian jet.
U.S. military shot down the Bashar Al-Assad regime warplane after accusing it of attacking forces Washington is supporting in its bid to oust the Islamic State militant group (ISIS) from its de-facto Syrian capital. The White House pledged to "protect our interests" in Syria.
"The escalation of hostilities among the many factions that are operating in this region doesn't help anybody. And the Syrian regime and others in the regime need to understand that we will retain the right of self-defense, of coalition forces aligned against ISIS," White House spokesman Sean Spicer said.
The U.S.'s first downing of a manned aircraft since May 1999 led to Russia to cancel an agreement with Washington to avoid conflict in the country.
Russia is a key ally of Assad and has backed his forces with air power and advisers to wrestle back control of strategic pockets of territory such as the northern city of Aleppo. It says it has a legitimate presence in Syria because Assad requested their help in the six-year-long civil war that has cost more than 300,000 lives.
Read more: How Russia became the Middle East's new power broker
The U.S.-led coalition is supporting a Kurdish and Arab alliance in northern Syria that is besieging ISIS's stronghold in Raqqa. When a Syrian regime jet threatened these forces, the U.S. said it shot down the plane in "collective self-defense."
The military said it had contacted the Russians by telephone on the "de-confliction line to de-escalate the situation and stop the firing," a claim denied by Moscow. The U.S. said it would work to relaunch the line of communication, which was established in 2015.
The war of words threatens to take tensions between Washington and Moscow from the negotiating table to the battlefield afters years of diplomatic stalemate in attempting to solve the war.
The increased tensions are affecting the operations of other nations in the fight against ISIS. Australia's military said Tuesday it was postponing air raid missions over Syria in reaction to the incident.
"As a precautionary measure, Australian Defence Force (ADF) strike operations into Syria have temporarily ceased," a defense spokeswoman said in a statement.
"ADF personnel are closely monitoring the air situation in Syria and a decision on the resumption of ADF air operations in Syria will be made in due course," the spokeswoman added.