U.S. Says Ukraine 'Diagnostic, Biodefense' Labs Have No 'Biological Weapons'
A State Department spokesperson has clarified the nature of biological research facilities in Ukraine at the center of dueling accusations between U.S. and Russian officials.
Moscow has alleged to have uncovered a plot by Kyiv to unleash biological or chemical weapons as a pretext for blaming Russia and drawing in further support for Ukraine's efforts to resist a military incursion from the neighboring nation.
Asked by Florida Senator Marco Rubio whether Ukraine had biological or chemical weapons, U.S. Under Secretary of State for Political Affairs Victoria Nuland testified Tuesday that "Ukraine has biological research facilities, which, in fact, we are quite concerned that Russian troops, Russian forces may be seeking to gain control of."
"So we are working with the Ukrainians on how they can prevent any of those research materials from falling into the hands of Russian forces should they approach," she told lawmakers.
Rubio then cited what he called Russian "propaganda" claims that Ukraine was planning a biological or chemical false flag attack and asked Nuland if she had any doubt, should such an attack occur, that Russia was actually behind it.
"There is no doubt in my mind, Senator," Nuland said, "and it is a classic Russian technique to blame on the other guy what they are planning to do themselves."
Nuland's confirmation of "biological research facilities" in Ukraine, however, only emboldened Russia to double down on its claims on Wednesday.
But a State Department spokesperson defended Washington's position, telling Newsweek that "Under Secretary Nuland was referring to Ukrainian diagnostic and biodefense laboratories during her testimony, which are not biological weapons facilities."
"These institutions counter biological threats throughout the country," the spokesperson said.
The spokesperson also reinforced Nuland's dismissal of the allegations and her concerns over what Russia itself may be planning.
"Throughout this crisis, Russia has baselessly alleged it is under threat – including from Ukraine and from NATO, and has alleged Ukraine plans to use chemical and biological weapons," the spokesperson said. "As we've said all along, Russia is continuing to invent false pretexts to justify their horrific actions in Ukraine."
"Neither the United States nor NATO has any desire or intention for conflict with Russia," the spokesperson said. "We are unwavering in our commitment to extended deterrence and confident in our ability to defend ourselves, our Allies, and our partners."
The spokesperson also stated that "Ukraine is in compliance with the Biological Weapons Convention (BWC)," while "the same cannot be said for Russia, which has an active biological weapons program and is in violation of the BWC."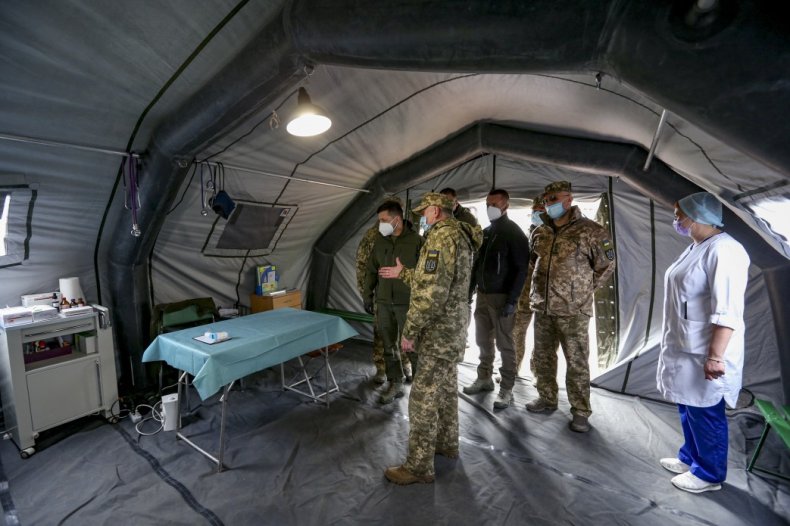 The White House also weighed in on the affair Wednesday as Press Secretary Jen Psaki addressed the claims directly in a series of tweets.
"We took note of Russia's false claims about alleged U.S. biological weapons labs and chemical weapons development in Ukraine. We've also seen Chinese officials echo these conspiracy theories," Psaki wrote. "This is preposterous. It's the kind of disinformation operation we've seen repeatedly from the Russians over the years in Ukraine and in other countries, which have been debunked, and an example of the types of false pretexts we have been warning the Russians would invent."
She said the U.S. too "is in full compliance with its obligations under the Chemical Weapons Convention and the Biological Weapons Convention and does not develop or possess such weapons anywhere."
And like the State Department spokesperson with whom Newsweek spoke, she said it was "Russia that has a long and well-documented track record of using chemical weapons, including in attempted assassinations and poisoning of Putin's political enemies like Alexey Navalny."
Navalny, an opposition leader in Russia, was hospitalized in August after being purportedly poisoned by a substance that German officials later determined to be the Novichok nerve agent. The same substance was implicated in the poisoning of former Russian double agent Sergei Skripal and his daughter Yulia in the U.K in 2018, the same year the Russian Defense Ministry issued claims that the U.S. was running a secret biological weapons program at the Richard G. Lugar Center for Public Health Research in Tbilisi, Georgia, another former Soviet state with a history of conflict with Russia and facing Moscow-aligned separatists along the border.
"This is all an obvious ploy by Russia to try...to justify its further premeditated, unprovoked, and unjustified attack on Ukraine," Psaki wrote. "Now that Russia has made these false claims, and China has seemingly endorsed this propaganda, we should all be on the lookout for Russia to possibly use chemical or biological weapons in Ukraine, or to create a false flag operation using them. It's a clear pattern."
Pentagon Press Secretary John Kirby also called the claims "classic Russian propaganda" and "in the words of my Irish Catholic grandfather, a bunch of malarkey," during a press briefing Wednesday.
But Russian officials have pointed to the discussion of the previously lesser-known biological facilities in Ukraine as further evidence to prove their claims.
The head of the Russian delegation at the Vienna Negotiations on Military Security and Arms Control, Konstantin Gavrilov, described the reactions of the U.S., U.K. and Ukrainian officials to Russia's allegations as "amazing," saying he had seen nothing like it in his 30-year diplomatic career during an interview Wednesday with the Rossiya-24 outlet.
Referring to representatives of the Organization of Security and Cooperation in Europe (OSCE), of which all four countries are a part, Gavrilov said "they have done everything to evade the issue in their speeches, emphasizing that Russia is conducting a war, aggression, twisting the facts and everything like that. Both in the media and here."
"Nothing new. But they are avoiding this topic in every possible way," he added. "We raised it proactively and generated a flurry of reactions."
Even after Nuland's testimony, he argued, "they simply do not hear."
Russian Foreign Ministry spokesperson Maria Zakharova also addressed Nuland's testimony during a press conference earlier Wednesday, telling reporters that the remarks "do not leave Washington the opportunity to remain silent this time."
In a veiled reference to the 2003 U.S. invasion of Iraq that was predicated on the false accusation that Iraq possessed weapons of mass destruction, Zakharova said that "we remember how many years and with what bloody efficiency they searched for various types of weapons: chemical, biological, bacteriological all over the world, occupying and killing people."
"They were looking in the wrong place, we have found them instead of you," Zakharova added. "We have your biological material that was developed primarily for military purposes. As it turns out, it was all happening in Ukraine. What were you doing there?"
She alleged that Russian forces, operating as part of what President Vladimir Putin has deemed a "special military operation" to pursue the "demilitarization" and "denazification" of Ukraine, had come into possession of intelligence uncovering "an emergency attempt to erase evidence of military biological programs" and demanded Washington disclose such activities to Moscow and the international community.
On Tuesday, Beijing too called for answers on U.S. biological work conducted in Ukraine.
During a daily press conference, Chinese Foreign Ministry spokesperson Zhao Lijian cited unnamed reports suggesting that "a large quantity of dangerous viruses are stored in these facilities" and said "Russia has found during its military operations that the U.S. uses these facilities to conduct bio-military plans."
"According to data released by the U.S., it has 26 bio-labs and other related facilities in Ukraine, over which the U.S. Department of Defense has absolute control," Zhao said. "All dangerous pathogens in Ukraine must be stored in these labs and all research activities are led by the U.S. side. Without U.S. approval, no information shall be released to the public."
The Pentagon and the Ukrainian Health Ministry signed an agreement back in 2005 "Concerning Cooperation in the Area of Prevention of Proliferation of Technology, Pathogens and Expertise that could be Used in the Development of Biological Weapons." The treaty included instructions regarding "sensitive" information from the U.S. that "should be withheld from public disclosure by the government of Ukraine."
The stated purpose of the collaboration, however, was to prevent the proliferation of such dangerous substances, part of the Pentagon's Biological Threat Reduction Program launched in the 1990s after the fall of the Soviet Union, which had amassed major biological and chemical arsenals.
Both Washington and Kyiv have especially sought to dispell speculation about the nature of their partnership since 2020 when the global outbreak of COVID-19 gave rise to an array of medical conspiracy theories.
But as Zhao appealed for the safety of such sites in Ukraine, he also urged the U.S. to divulge information about the work being conducted at such facilities.
"Under current circumstances, for the sake of the health and safety of people in Ukraine, neighboring regions and beyond, we call on relevant sides to ensure the safety of these labs," he added. "The U.S., in particular, as the party that knows the labs the best, should disclose specific information as soon as possible, including which viruses are stored and what research has been conducted."
Zhao also suggested that these facilities were "just the tip of the iceberg" as China has long accused the U.S. of conducting nontransparent biological work across the globe. The allegation especially arose as Washington in 2020 began to investigate whether COVID-19 may have originated from a leak at the Wuhan Institute of Virology, a probe that has produced inconclusive results.
"Using such pretexts as cooperating to reduce biological safety risks and strengthening global public health, the U.S. has 336 biological labs in 30 countries under its control. 336, you heard me right," Zhao said. "It also conducted many biological military activities at the Fort Detrick base at home."
The Maryland base was once home to the Pentagon's biological weapons program but was repurposed decades ago as a biodefense facility. In 2019, however, containment breaches led to the suspension of research involving deadly pathogens, though U.S. officials have said no substances leaked to the outside world.
"What is the true intention of the U.S.? What has it done specifically?" Zhao asked on Tuesday. "The international community has long-held doubts. However, the U.S. has kept stonewalling, and even dismissing the international community's doubts as spreading disinformation."
"Besides," he added, "the U.S. has been standing alone in obstructing the establishment of a Biological Weapons Convention verification mechanism and refusing verification of its biological facilities at home and abroad for the past two decades."
Such a position, Zhao said, "has led to deeper concern of the international community."
"Once again we urge the U.S. to give a full account of its biological military activities at home and abroad and subject itself to multilateral verification," he added.