U.S. Says Wuhan Researchers Fell Ill in Fall of 2019, Calls for Transparency
U.S. Secretary of State Mike Pompeo has urged the World Health Organization (WHO) to pressure China into greater transparency surrounding the pandemic, alleging that the Wuhan Institute of Virology (WIV) saw illnesses similar to COVID-19 among staff in the fall of 2019.
A WHO team landed in Wuhan, China on Thursday to begin their probe into the origins of the coronavirus following months of delays. According to the Associated Press, there are about 10 people in the "global team of researchers," including members from America, Australia, Germany, Japan and Russia.
On Friday, Pomepo issued a statement to "assist their vital work" and address "the activities inside China's government laboratories in 2019."
"The United States government has reason to believe that several researchers inside the WIV became sick in autumn 2019, before the first identified case of the outbreak, with symptoms consistent with both COVID-19 and common seasonal illnesses," the top U.S. diplomat said.
"This raises questions about the credibility of WIV senior researcher Shi Zhengli's public claim that there was 'zero infection' among the WIV's staff and students of SARS-CoV-2 or SARS-related viruses."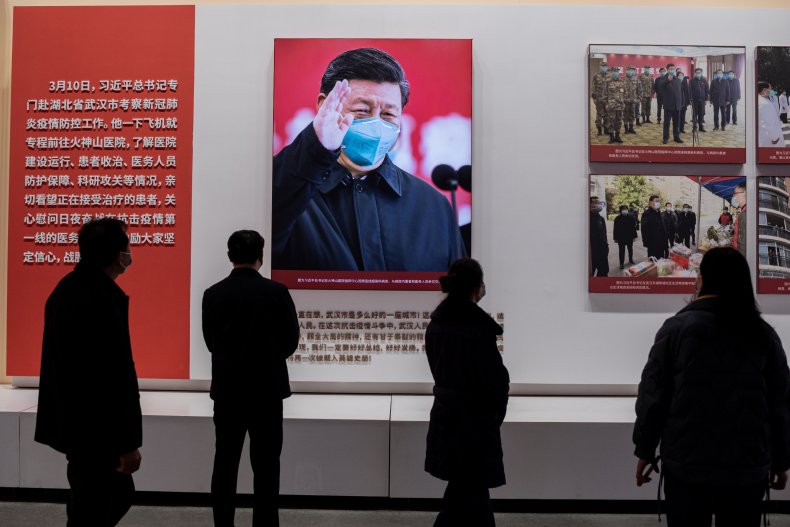 Newsweek reached out to the office of Chinese Ambassador to the United States Cui Tiankai via email for comment. This story will be updated with any response.
Beijing's aggressive containment methods have drastically slowed the virus domestically, but many people, including U.S. politicians, have accused the country of misinformation and downplaying the severity of the outbreak in the early stages.
The COVID-19 outbreak was first identified in Wuhan, Hubei, in December 2019, before it quickly spread around the world, killing more than 2 million people globally as of Saturday evening.
Chinese authorities initially believed that the pandemic started at a local wet market, but the country's Centre for Disease Control and Prevention (CCDC) ruled out the location as the origin in May. "It now turns out that the market is one of the victims," CCDC Director Gao Fu told domestic state media.
At the time, President Donald Trump insisted that he had seen evidence that gave him a high degree of confidence that the virus originated from the Wuhan Institute of Virology. Pompeo quickly echoed the president's remarks, saying there's "enormous evidence" that COVID-19 originated in a lab.
"Look, the best experts so far seem to think it was man-made. I have no reason to disbelieve that at this point," Pompeo told This Week host Martha Raddatz in May.
Dr. Anthony Fauci disputed Pompeo's claim in an interview with National Geographic. "The best evidence shows the virus behind the pandemic was not made in a lab in China," said the government's top infectious disease specialist. "Everything about the stepwise evolution over time strongly indicates that [this virus] evolved in nature and then jumped species."