U.S. Schools Face Shortage of 5 Million Laptops as Kids Return to Classes This Fall Amid Pandemic
With the move to distance learning due to COVID-19, and the upcoming start of the new school year, educators are having trouble sourcing much-needed laptops for students.
U.S. schools are facing a shortage of about 5 million laptops, according to an exclusive report from The Associated Press. The shortage stems from increased demand combined with sanctions levied by the U.S. against Chinese companies that are believed to use forced labor, or be involved with the human rights abuses against China's Uighur population, a minority Muslim group in Northwest China.
Tom Baumgarten, superintendent of the Morongo County School District in California, told the AP he tried to order 5,000 Chromebooks from the company Lenovo in July. Instead, he said, the vendor told him that the computers were being "stopped by a government agency because of a component from China that's not allowed here."
He then tried to order the computers from a different vendor, who initially told him the required laptops would be there by the start of school—but then repeatedly delayed the delivery date. The district is currently due to receive their computers in October, over a month after the first day of school, August 26.
"This is going to be like asking an artist to paint a picture without paint. You can't have a kid do distance learning without a computer," Baumgarten told the AP.
Though the Lenovo vendor told Baumgarten that a government agency had stopped the devices, U.S. Customs and Border Protection told the AP that the agency did not have any record of detained laptops. Lenovo declined to comment to the news service.
The Department of Commerce confirmed to the AP that the sanctions did not apply to Chromebooks.
"We should all agree that American school children should not be using computers from China that were produced from forced labor," the department added in a statement to the AP.
The Department of Education told Newsweek in a statement that it was working towards "closing the digital gap."
"The Secretary is especially interested in closing the gap because broadband and education technology open up possibilities for innovation and new schooling models. The Secretary this spring pushed states and districts to move to remote learning so all students could continue learning. That included making sure every student had the connectivity and technology they needed," U.S. Department of Education Press Secretary Angela Morabito said.
"She made more than $13 billion in CARES Act funding quickly available to districts so that they could close the digital divide. She also provided them with unprecedented flexibility over other federal resources so that local districts could close the digital gap and ensure that every child benefits from remote learning," Morobito added.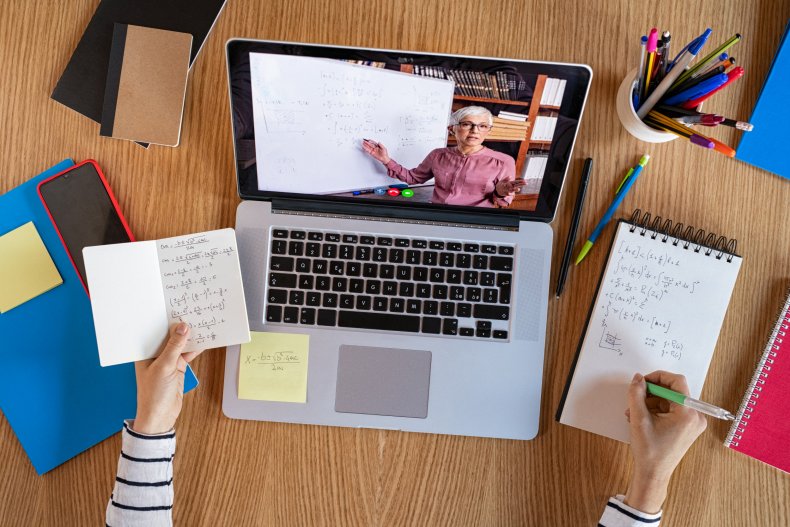 It's not just educational laptops that have been in short supply. Laptops have been harder to find since the beginning of the pandemic, according to a March 18 Wall Street Journal article. The shutting down of many Chinese companies at the start of the pandemic led to shortages of essential components.
However, the Journal reports, microprocessor manufacturers like Intel had been struggling to keep up with demand for over a year. Prior to the pandemic, the strong demand for personal computers was only part of the issue. Intel had also seen the demand for cloud storage lead to increased orders for advanced processors for data centers.
While many people working from home has caused a spike in demand for new laptops, many buyers are also looking for improved machines to entertain themselves as they stay at home.
"A lot of people use their computers to watch Netflix or other kinds of streaming services," Stephen Baker, vice president and industry advisor at market research firm the NPD Group, told The Verge in June. "If you have an old computer you might not want to watch those things on an old screen with a slow processor. We're seeing people upgrade to the extent they can on those kinds of features."
Update (8/25/2020, 11:30 p.m.): This article has been updated to include comment from the Department of Education.