U.S. Made Secret Deal With ISIS to Let Thousands of Fighters Flee Raqqa to Battle Assad in Syria, Former Ally Says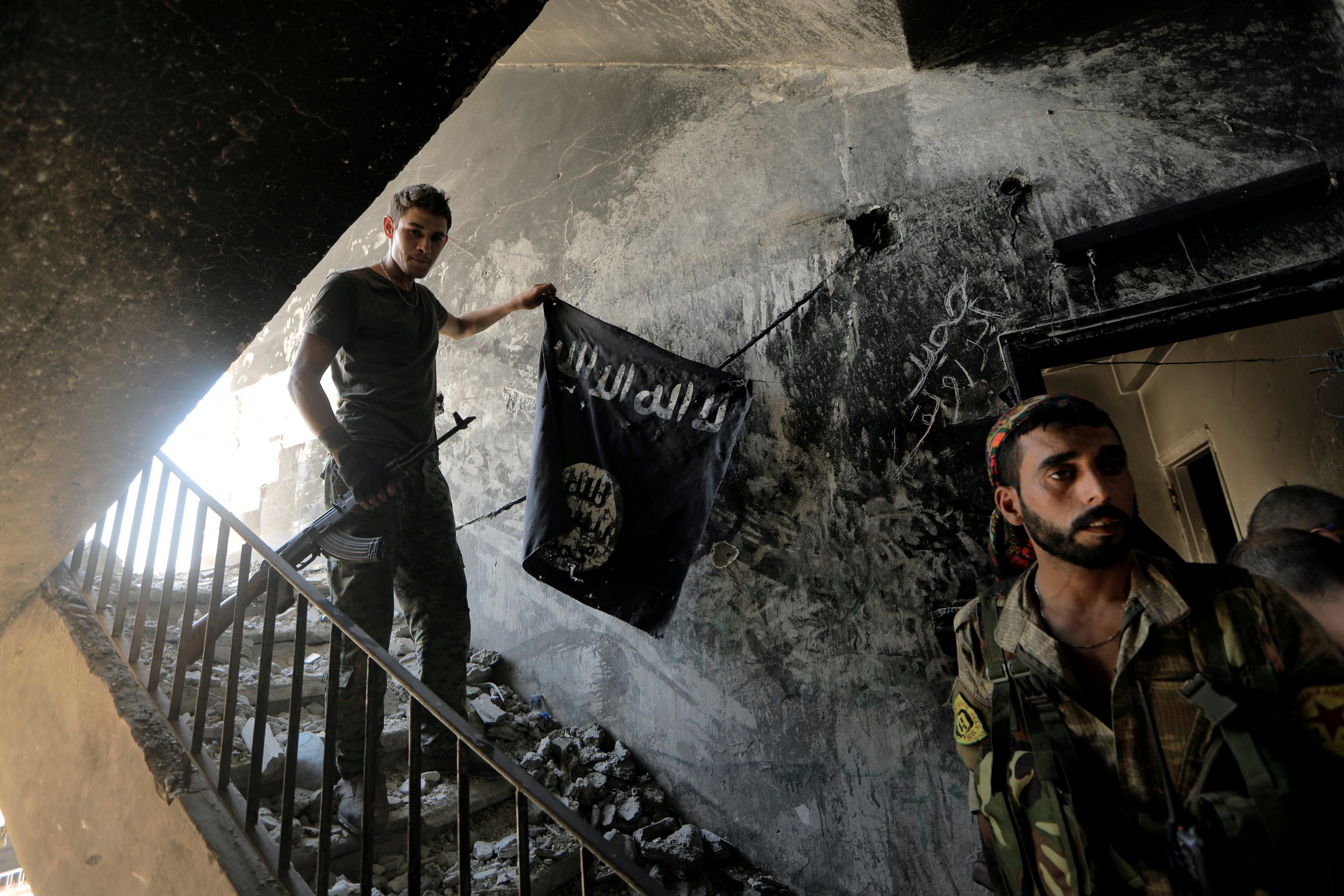 Updated | The U.S. military allowed thousands of Islamic State militant group (ISIS) fighters to flee from their de facto capital of Raqqa, Syria, in a secret deal that boosted the U.S. fight against the forces of Syrian President Bashar al-Assad, according to a former Pentagon-backed commander, who has since switched his allegiance to Turkey and who spoke to Reuters.
As the spokesperson for the Syrian Democratic Forces, a mostly Kurdish coalition of Arabs and ethnic minorities, Brigadier General Talal Silo acted as the face and the voice of the U.S.'s leading partner against ISIS in Syria. The U.S.-backed group successfully ousted ISIS from Raqqa in October. Weeks later, in mid-November, Silo handed himself over to Turkey, an enemy of Kurdish efforts in northern Syria. For the first time since his switch, the senior commander has spoken out and claimed that the U.S.-led coalition let significantly more fighters out of the embattled city than it previously admitted to.
Related: Russian military wants to help Trump destroy ISIS in Iraq
"[An] agreement was reached for the terrorists to leave, about 4,000 people, them and their families," Silo told Reuters Friday, claiming that all but about 500 who fled were ISIS fighters.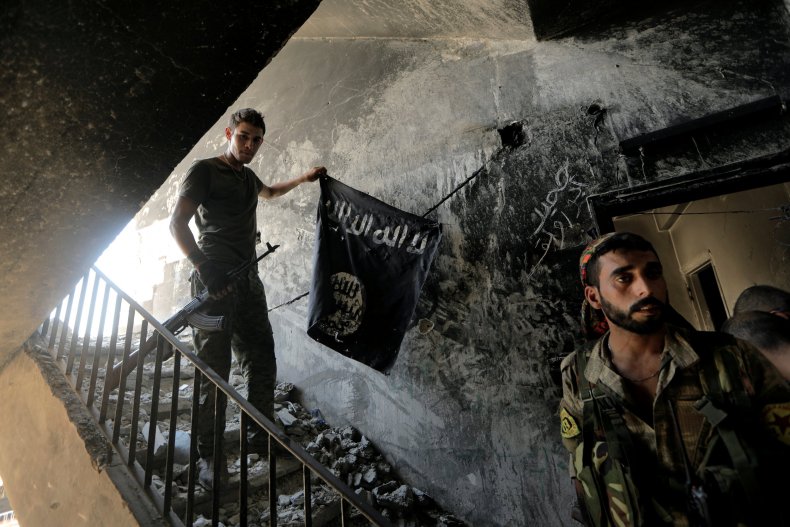 News of a covert agreement between the Syrian Democratic Forces and ISIS was first leaked last month after a BBC News investigation. The U.S.-led coalition denied being a party to any agreements, telling Newsweek it does not "make deals with terrorists," but acknowledging that its partner had let convoys depart the city allegedly on humanitarian grounds. The BBC investigation, citing an unnamed "Western officer" who claimed he or she was present during the discussions, said 250 ISIS fighters left along with 3,500 family members, some of whom may have fled the country into neighboring Turkey.
Silo, who has not given any reason for his defection, said that his forces blocked all travel to Raqqa for three days in October, claiming ongoing clashes made movement too dangerous. In reality, he said, they were covering up the exit of thousands of ISIS fighters and hundreds of their family members.
"It was all theater," Silo told Reuters.
"The announcement was cover for those who left for Deir Ezzor," he added.
At the time, the eastern Syrian city was the venue for a vicious battle between ISIS and another major foe—the Syrian military. Syria's armed forces and allied militias, including Iran-backed Shiite Muslim fighters, have been tackling a widespread uprising by insurgents—who received Western, Turkish and Arab Gulf support—and jihadis since 2011. In 2014, the Russian military intervened at Assad's request, giving Syrian troops and their partners the momentum to retake most of the country.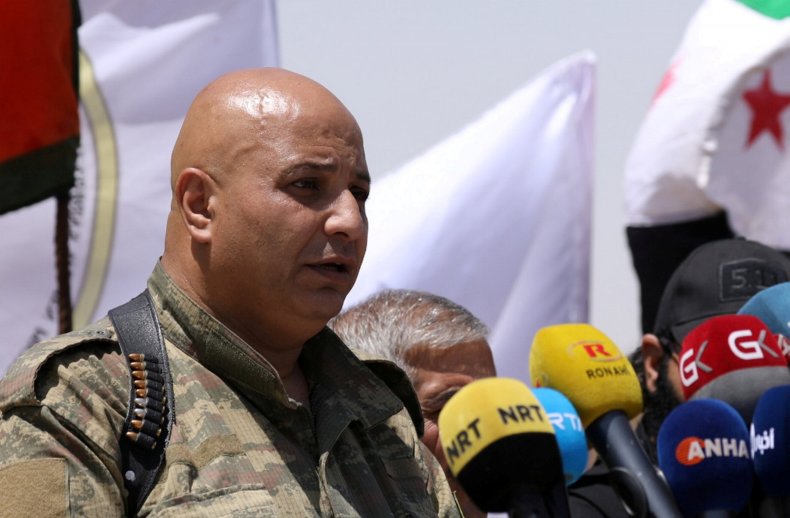 As the U.S. dropped support for rebels and focused on its Kurdish partners in the Syrian Democratic Forces trying to take Raqqa, the Syrian military swept across the country toward Deir Ezzor, where a detachment of Syrian soldiers had been trapped behind ISIS lines for three years. Syrian troops, with Russian and Iranian support, broke the siege in early September and ultimately retook the entire city, the last major population center under ISIS control, in early November.
Russia has long accused the U.S. of being ineffective against and even supportive of ISIS and other jihadi groups in Syria. The U.S. has fiercely denied these claims and has charged Russia and its allies with committing human rights abuses in their campaign to defeat both ISIS and rebel groups across the war-torn country.
With ISIS having been defeated almost entirely in Iraq and Syria, both the U.S. and Russia-backed campaigns have begun closing in on what's left of its once-expansive, self-styled caliphate. The Syrian government has managed to secure the majority of the territory it previously lost, but it still faces swaths of Kurdish control in the north and small pockets of rebel control in the northwest and southwest. In recent months, Russia has taken the lead in overseeing negotiations between Assad, the Kurds and the rebels.
This story has been updated to reflect the fact that, while the Syrian Democratic Forces is a majority-Kurd coalition, Talal Silo himself is not Kurdish. He is Turkmen, another ethnic minority of Syria.