U.S. Secretary of Defense Breaks With Trump, Says He Doesn't Support Invoking Insurrection Act
U.S. Department of Defense Secretary Mark Esper took a stance in opposition to President Donald Trump Wednesday, saying he does not support invoking the Insurrection Act, which would allow the president to use military presence to contain protests for George Floyd.
"I've always believed and continue to believe that the National Guard is best suited for performing domestic support to civil authorities in these situations in support of local law enforcement," Esper said during a press conference.
"I say this not only as Secretary of Defense but also as a former soldier and a former member of the National Guard, the option to use active-duty forces in a law enforcement role should only be used as a matter of last resort and only in the most urgent and dire of situations," he added. "We are not in one of those situations now. I do not support invoking the Insurrection Act."
Esper's comments come shortly after Trump suggested Monday he would invoke the act if states could not contain the ongoing protests themselves.
"I am mobilizing all available federal resources, civilian and military, to stop the rioting and looting, to end the destruction and arson and to protect the rights of law-abiding Americans, including your Second Amendment rights," Trump said. "If a city or state refuses to take the actions necessary to defend the life and property of their residents, then I will deploy the United States military and quickly solve the problem for them."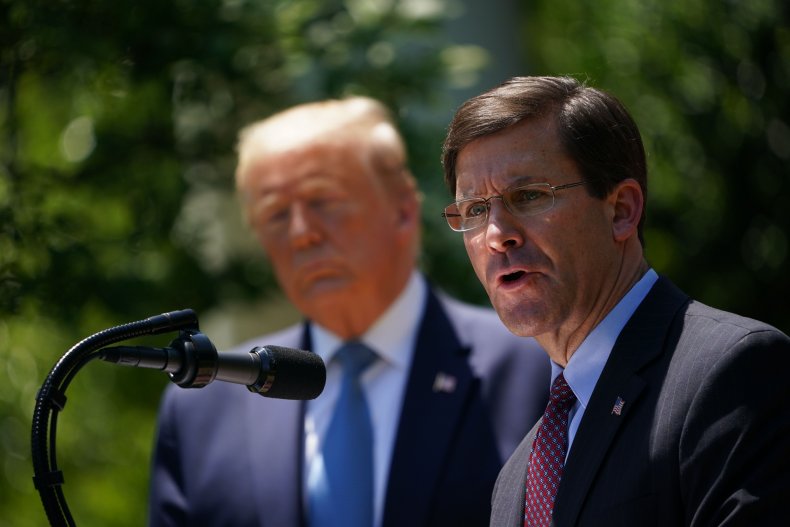 In addition to Esper, several governors across the country have taken similar stances and denied the need for a military presence during the protests. Governors in Texas, New York, Massachusetts, Oregon, Michigan, Illinois, Washington, Nevada, and California have all stated that local law enforcement and the National Guard can contain the protests and calling in the military is unnecessary.
The protests were sparked by the recent death of Floyd, a 46-year-old black man who died in police custody on May 25. Floyd was arrested by Minneapolis police officers for alleged use of forged documents at a local Cup Foods supermarket. During his arrest, police officer Derek Chauvin kneeled on Floyd's neck. In a number of videos showing the arrest, Floyd can be heard repeatedly saying that he cannot breathe.
Chauvin was taken into police custody and charged with third-degree murder shortly after the incident, but many people are asking for further action to be taken and for police brutality against black Americans to stop. Chauvin and the three other officers involved in Floyd's arrest were fired from their jobs on May 26, but the other officers have not been charged with any crime.
Newsweek reached out to both the White House and the Department of Defense for comment.