U.S. Secretary of Defense Lloyd Austin Calls Climate Change 'An Existential Threat'
Secretary of Defense Lloyd Austin has said that "climate change is making the world more unsafe and we need to act."
At the Leaders Summit on Climate convened by President Joe Biden on Earth Day, April 22, Austin told a virtual gathering of the worlds leaders, including Russia's Vladimir Putin and China's Xi Jinping, that climate change is a national security threat not just for his nation, but for all nations.
"Today, no nation can find lasting security without addressing the climate crisis," he said. "We face all kinds of threats in our line of work, but few of them truly deserve to be called existential. The climate crisis does."
Though climate change is often viewed as a political issue in the U.S., the Department of Defense (DOD) has acknowledged the threats posed by climate change for several years. In a 2015 report assessing the national security risks caused by extreme weather events, such as hurricanes, the DOD wrote that it "recognizes the reality of climate change and the significant risk it poses to U.S. interests globally."
Climate change has already directly impacted the military in the U.S.
Efforts to renovate Camp Lejeune in Jacksonville, North Carolina, as well as nearby Marine Corps air stations New River and Cherry Point, began last month, according to the U.S. Marine Corps. The facilities suffered serious damage during Hurricane Florence, which started as a Category 4 Hurricane in late August of 2018 and moved slowly along the southeast coast of the U.S. until mid-September of that year.
Military officials told the Associated Press in late 2018 that moving sand to reconstruct part of a beach that vanished as a result of Hurricane Florence required "extraordinary" effort. Also in need of repair at Camp Lejeune were buildings, hangars and nearby roads, all of which the AP reported were impacted by the estimated 30 or more inches of flooding Hurricane Florence caused.
General Robert Neller, then the commandant of the Marine Corps, told lawmakers in December of 2018 that he estimated it would cost $3.6 or $3.7 billion to make the necessary repairs.
Rebuilding efforts began in earnest last month with $1.7 billion designated for "facilities sustainment, restoration and modernization," according to the U.S. Marine Corps. The renovations will focus on replacing 45 buildings, moving power lines underground and updating hangars, among other planned improvements.
In an April news release, U.S. Navy Capt. Miguel Dieguez, assistant chief of staff for Facilities and Environment, MCIEAST-MCB Camp Lejeune, said the renovation efforts sought to meet "more robust structural requirements."
"You'll see more metal roofs on buildings than we've ever had," Dieguez said in the release. "Hangars will no longer have vertical lift fabric doors. They've got to be metal doors so the multi-million dollar aircraft we're putting inside it will be there when the hurricane passes."
The renovations at Camp Lejeune, New River and Cherry Point are expected to take five years to complete, according to the U.S. Marine Corps.
"Following the 2018 hurricane season, the Department of Defense came away with a lot of lessons learned," Dieguez said in the release. "We've changed our building standards to sustain what are more common extreme destructive weather events."
Experts say the reconstruction efforts reflect the seriousness with which the military takes climate change.
With the U.S. Department of Defense officially recognizing climate change as an "existential threat," adaptive changes to military bases with climate-related vulnerabilities will require location- and objective-based assessments, experts with The Center for Climate and Security (CCS), a nonpartisan institute, and the Union of Concerned Scientists (UCS), a nonprofit, told Newsweek.
"For them, it is a pragmatic, non-political issue," CCS Director John Conger, a former comptroller and principal deputy under secretary of defense, told Newsweek. "It is about protecting their ability to defend the country."
"Making these improvements will definitely improve the resilience of [Camp Lejeune], without question," Conger said. "Every base is different; every base has different dependencies. And so, therefore, every base has different vulnerabilities and different responses."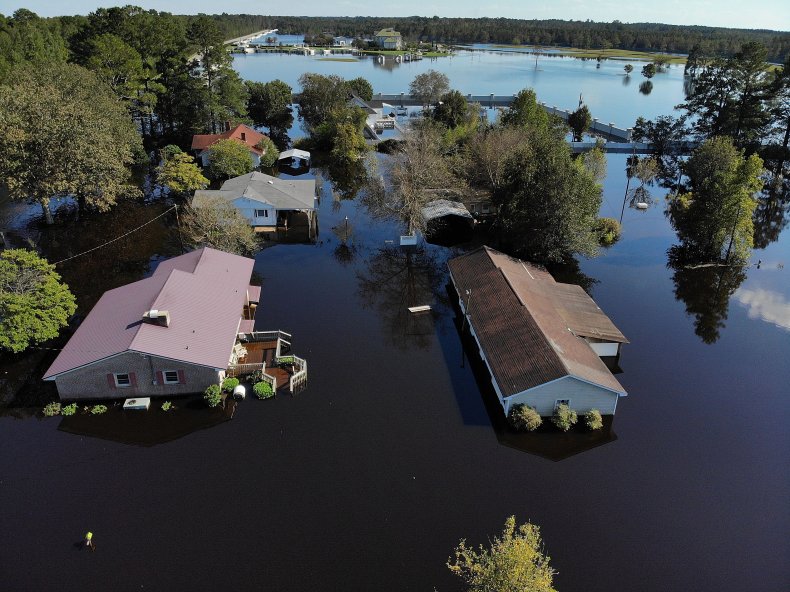 Conger said that while the planned renovations outlined for Camp Lejeune will help the base navigate future extreme weather events, he recommended special attention also be paid to transportation routes to and from the base, as well as its electric infrastructure. But different bases will need to make different climate change-related renovations depending on their locations and primary objectives.
"It's going to be location- and mission-specific," he said.
Shana Udvardy, a climate resilience analyst at the UCS, also said strategizing renovations by base locations will be "super important" because each base's needs will be dependent upon whether it faces flooding, rising sea levels, tornadoes or extreme heat.
According to a 2016 UCS report, sea levels near Camp Lejeune are expected to rise "between 3.7 and 6.1 feet" before 2100. The report said at the time that if no steps were taken to address the risk of flooding, areas at Camp Lejeune that tend to flood would likely be "underwater nearly 90 percent of the time by 2100."
Udvardy told Newsweek taking steps to reduce emissions now could have "real impacts" on the base in the coming decades.
In the meantime, Udvardy pointed to a strategy the DOD recently said it was using to "project the effects of climate change on almost 1,400 locations" as a valuable way to predict needed renovations. The strategy, which is officially called the DOD Climate Assessment Tool, was created by the U.S. Army Corps of Engineers.
Udvardy said the tool "can help these different installations and commanders prioritize how to reduce vulnerability and increase resilience."
The DOD Climate Assessment Tool and efforts to make renovations at bases directly impacted by extreme weather events suggest that addressing climate change is a priority for the Defense Department.
Lloyd Austin said that addressing it will require international cooperation.
"None of us can tackle this problem alone," he told the Leaders Summit on Climate Change. "We share this planet, and shared threats demand shared solutions."