U.S. authorities have confiscated approximately $90,000 from Utah man John Earle Sullivan, who gained that money by selling footage of a woman being shot and killed during the January 6 attack on the Capitol, Reuters reported.
Sullivan, 26, who characterized himself as an independent journalist, entered the Capitol and recorded videos of the insurrection. Through the confrontation in front of the U.S. House of Representatives chamber, Sullivan caught the shooting of protester Ashli Babbitt on camera.
The New Yorker reported that after Babbitt fell to the ground, Sullivan yelled: "Dude, this s*** is gonna go viral."
According to a seizure warrant, Sullivan sold the video footage to several news outlets that remain unnamed for $90,000. It is reported that he also bragged about his footage being "worth like a million of dollars, millions of dollars" to an unnamed witness.
The New Yorker also reported that Sullivan licensed parts of the video to The Washington Post and NBC.
Sullivan is facing eight criminal charges related to the riot, including weapons charges, violent entry, and disorderly conduct on Capitol grounds. An FBI affidavit said that his journalist title had no supporting press credentials, reported Rolling Stone.
Sullivan uploaded other videos after January 6, where he spoke directly to the camera about the riot. In one video, he said: "I was not there to be a participant. I was there to record."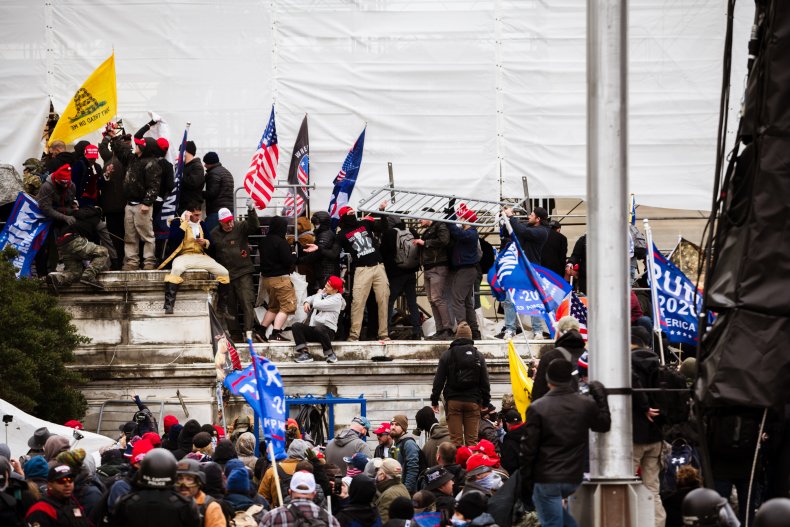 However, an affidavit against him accused him of using a microphone and encouraging people around him to "burn this s*** down."
Sullivan does not ally himself with antifa or Trump supporters, and Reuters reported he was a participant in many Black Lives Matter protests last year. However, BLM activists in Utah who know him have "disavowed him."
Babbitt was one of five people who died in the January 6 insurrection. A 35-year-old Air Force veteran, she was shot and killed as she tried to climb through a broken door into the Speaker's Lobby.
According to Associated Press, the police officer who fatally shot Babbitt was cleared of any charges and the investigation of Babbitt's death was officially closed April 14. The U.S. Attorney's Office and U.S. Department of Justice said in an official statement: "The investigation revealed no evidence to establish that, at the time the officer fired a single shot at Ms. Babbitt, the officer did not reasonably believe that it was necessary to do so in self-defense or in defense of the Members of Congress and others evacuating the House Chamber."
Newsweek reached out to the FBI for comment.