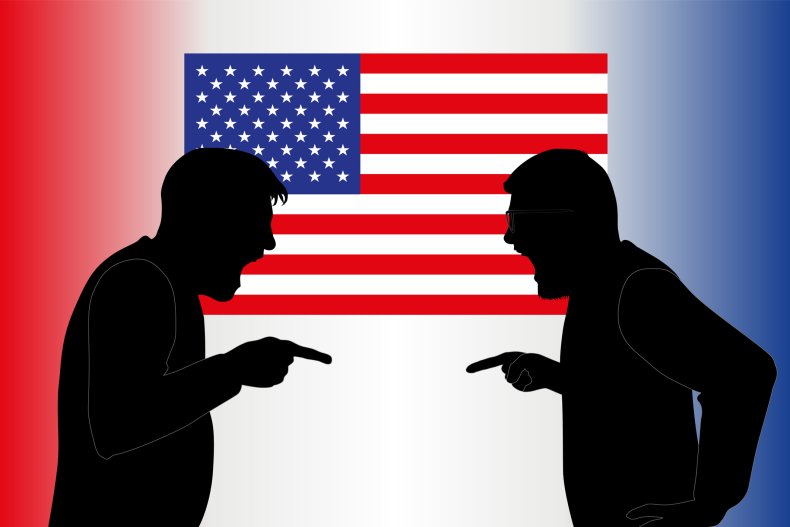 Two Republican candidates vying for an Ohio U.S. Senate seat engaged in an onstage confrontation that nearly became physical.
Republican candidates Mike Gibbons and Josh Mandel went toe to toe during a debate organized by the conservative group FreedomWorks in Gahanna, Ohio, on Friday. Recent polling indicates that Mandel, a former Ohio state treasurer who was an early frontrunner for the GOP nomination, has recently been overtaken by Gibbons, an investment banker who vied for the state's other Senate seat in 2018.
The confrontation began when Mandel, who was seated as Gibbons walked across the stage while speaking, accused the frontrunner of making "millions of dollars" from questionable investments in China.
Gibbons angrily denied the accusation and said that Mandel "may not understand" because he had "never been in the private sector." Mandel became visibly upset and rose to his feet to approach Gibbons, coming within inches of his face.
"I've worked! I've done two tours in Iraq! Don't tell me I haven't worked," Mandel said while pointing a finger at his rival.
"You don't know squat!" replied Gibbons.
The debate moderator then approached the two men and attempted to separate them. Mandel briefly backed off before again approaching Gibbons and repeating his history of military service.
"Back off, buddy," Gibbons said. "Or you're gonna end up [unintelligible]."
"You back off!" snapped Mandel.
Gibbons responded by saying "never that'll happen." The crowd began to boo as the men remained within inches of each other.
"You're dealing with the wrong guy," Mandel threatened. "You watch what happens, p**sy."
The heated exchange ended when the moderator finally convinced Mandel to return to his seat.
Fellow GOP candidate and Hillbilly Elegy author J.D. Vance could be seen smirking while seated as his opponents nearly came to blows.
"Guys, sit down," Vance said after briefly rising from his seat. "Come on. Goddamn, this is ridiculous."
Last month, Mandel was featured in a viral video that showed him arguing with an audience member about "Black Lives Matter" activists at a different debate.
A Fox News poll released earlier this month showed Gibbons with a 2 point lead over Mandel, while Gibbons had a 7 point lead in a poll from The Hill and Emerson College late last month. A RealClearPolitics average shows Gibbons with a narrow 1.3 percent lead.
The Republicans facing off for the Senate seat have nearly all attempted to win primary voters by painting themselves as strong supporters of former President Donald Trump, who has yet to endorse any candidate in the race.
"I like almost all of them, and it's hard not to," Trump told The Washington Examiner this week. "Every one of them likes Trump, and I like a lot of those guys. My hardest thing is to endorse people over others when they all like you."
Newsweek reached out to the Gibbons and Mandel campaigns for comment.