U.S. Senate Voted Down Voting Rights Legislation; What Happens Now?
The U.S. Senate has again shot down a chance at bolstering voting rights laws and with tension escalating between Democrats and Republicans, it's unclear how the legislation—a priority of President Joe Biden—moves ahead.
Senate Majority Leader Chuck Schumer, a New York Democrat, forged ahead with a vote this week, though it was already viewed as a long-shot for passage.
"It's ludicrous—ludicrous—for Republicans to pretend that the federal government has no role to play in defense of our liberties. Of course it does. They should read the Constitution," Schumer said from the U.S. Senate floor on Thursday, just hours after Republicans blocked the latest attempt to move forward with considering the measure, dubbed the "Freedom to Vote Act."
Schumer had tried to convince lawmakers to allow the bill to advance to an actual vote on its merits after a debate, but Republicans unanimously agreed in stonewalling the bill.
"Voting 'yes' does not mean signing on to any policy or bill text; it is rather an invitation for Senators to come to the table to debate, to deliberate and compromise, just as the Senate was meant to do," Schumer said from the Senate floor ahead of the vote.
The Senate shot down the latest attempt at overhauling the nation's voting rights laws in a party-line vote. Because of the Senate's procedural filibuster rule, it would have needed 60 votes to move ahead with the debate over the measure. Democrats hold a narrow majority of just 50 members, plus a vote from Vice President Kamala Harris when there is a tie.
The move comes as several states, largely those governed by Republicans, have put new restrictions on voting access.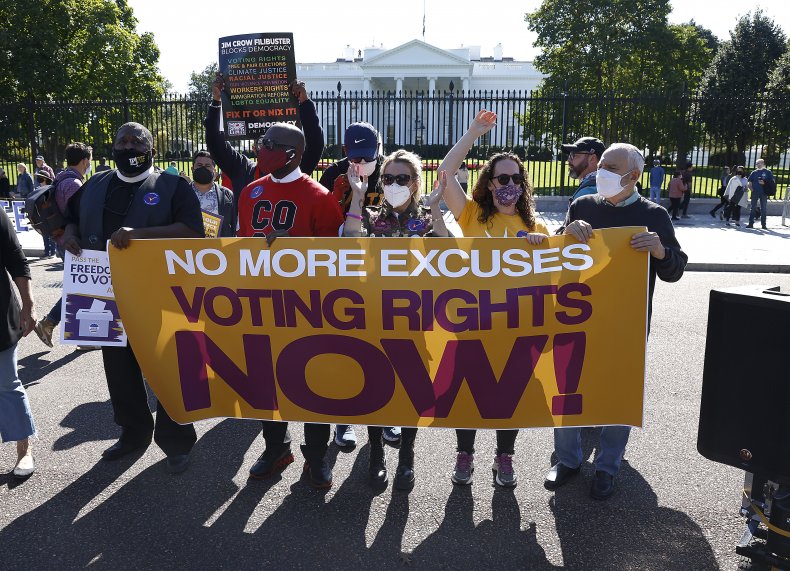 The Senate vote this week was the third time this year that Republicans have managed to block efforts on voting rights expansion legislation—the latest of which would outline nationwide early voting and mail-in voting laws and would make election day a national holiday.
Senator Joe Manchin, a conservative Democrat from West Virginia who has been a key member navigating the Senate Democrats' razor-thin margin, had told leaders he thought he could get a compromise bill in front of lawmakers.
That didn't happen.
Democrats haven't outlined what their next step could be though. Manchin had told reporters a month ago that he was negotiating in good faith with Republicans to reach a deal.
"We'll see what happens," Manchin told reporters at the time.
Biden has resisted efforts to sidestep the filibuster threshold for passing legislation, requiring a bipartisan vote.
"We know Senate Democrats...have worked hard to draft legislation that includes traditionally bipartisan provisions," White House press secretary Jen Psaki told reporters this week. "It's something that should get support from Republicans and Democrats across the spectrum, and that if Republicans cannot come forward and stop standing in the way, if they can't support strengthening, protecting the fundamental right to vote, then Democrats are going to have to determine an alternative path forward."