U.S. Senator Calls to Name Plaza by Russian Embassy After Kremlin Critic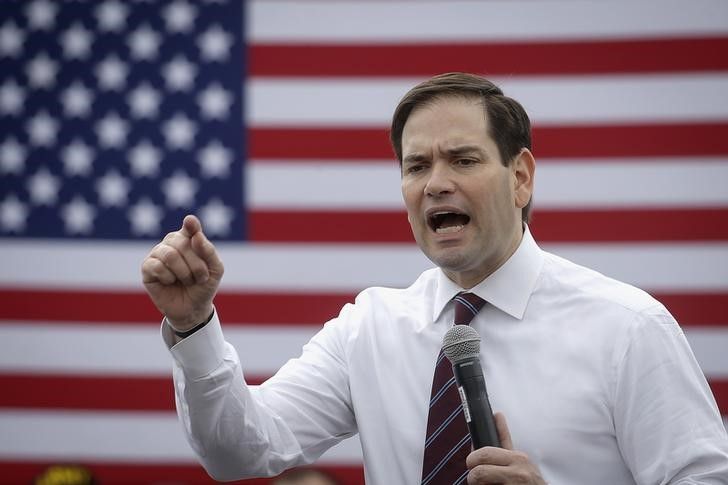 U.S. Senator Marco Rubio is pushing to honor killed Russian opposition leader Boris Nemtsov by naming the street in front of the Russian Embassy in Washington, D.C. after him.
Rubio submitted the draft proposal on Monday, on the eve of the anniversary of Nemtsov's suspicious death in central Moscow. The five men who allegedly carried out the killing have been in police custody for two years. All of them come from Russia's Chechen Republic, ruled by a hardline, strongman support of Vladimir Putin—Ramzan Kadyrov, who even employed one of the men in his interior defense forces.
Rubio, who attracted attention during the U.S. cabinet confirmation hearings last month with his hard line on Putin's domestic and foreign policy, backed the formation of Boris Nemtsov Plaza, near the Russian Embassy.
According to the draft legislation, Rubio is calling on authorities to rename the area between the intersections of Wisconsin Avenue, Northwest and Davis Street, Northwest and Wisconsin Avenue, Northwest and Edmunds Street, Northwest in Washington, District of Columbia, as "Boris Nemtsov Plaza".
A member of Rubio's staff attended a vigil in front of the Russian Embassy on Monday, reading out a statement of solidarity for the killed Putin critic.
"Two years ago, Boris Nemtsov was murdered on a Moscow bridge within view of the Kremlin, and no one has been held accountable," wrote Rubio. "He was just one of Vladimir Putin's critics who have wound up dead or hospitalized as the regime cracks down on any opposition and rules Russia with an iron fist."
"The creation of Boris Nemtsov Plaza would permanently remind Putin's regime and the Russian people that these dissidents' voices live on, and that defenders of liberty will not be silenced. It will also help raise awareness among the American people about the ongoing abuses in Putin's Russia," added Rubio. "Whether it is looking at a street sign or thousands of pieces of correspondence addressed '1 Boris Nemtsov Plaza', it will be abundantly clear to the Kremlin that the intimidation and murder of opposition figures does not go unnoticed."
The capitals of Ukraine and Lithuania have already pledged to rename a street after Nemtsov, however, in Russia, his supporters and friends have had less luck convincing authorities to do the same. Currently, friends and supporters frequently lay flowers near a small tablet with his name in the place where he was shot dead. However, the flowers are quickly cleared and the tablet has been repeatedly vandalized.
U.S. Senator Calls to Name Plaza by Russian Embassy After Kremlin Critic | U.S.