U.S. Sending Senior FBI, DHS Officers to Assist Haiti in Aftermath of Moïse Assassination
The United States will send a law enforcement delegation to Haiti in the aftermath of the assassination of President Jovenel Moïse, the White House announced Friday.
Senior officials with the FBI and Department of Homeland Security (DHS) will go to the nation as soon as possible after receiving a request from Haitian authorities for security and investigative assistance.
White House press secretary Jen Psaki said the objective of the delegation is to support law enforcement efforts on the ground and provide resources in terms of womanpower and manpower, in addition to financial assistance.
Moïse was shot dead in his private residence in the hills above Port-au-Prince around 1 a.m. Wednesday. The attack also wounded his wife, Martine Moïse, who was transported to a hospital in Florida for treatment.
Four people suspected of being involved in Moïse's assassination were killed by police in a shootout. Haitian authorities have arrested 17 suspects and are searching for eight more believed to be involved in the slaying.
"We are going to bring them to justice," National Police Chief Léon Charles said at a news conference Thursday. During the briefing, the 17 suspects sat handcuffed on the floor.
Two U.S. citizens of Haitian descent were among those arrested, investigative Judge Clément Noël told French newspaper Le Nouvelliste. Noël said the two Haitian Americans were acting as translators for a group of attackers that originally planned to arrest, not kill, Moïse.
The American suspects have been identified as James Solages, 35, and Joseph Vincent, 55.
Psaki said Friday that the ongoing investigation into the assassination, including the arrest of two U.S. citizens, is "not going to impact the assistance we are providing to the people of Haiti."
"Our assistance is to help the people of Haiti and to help them get through what is a very challenging time and has long been, even before the assassination of the president," Psaki told reporters.
Newsweek reached out to the FBI and DHS for comment on the law enforcement delegation but didn't receive a response before publication.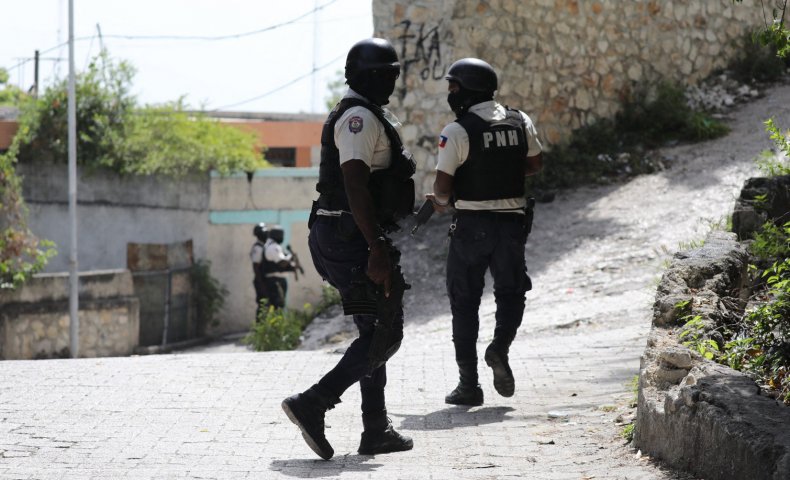 The White House also announced Friday that Haiti is one of the countries that will receive COVID-19 vaccines from the United States. Psaki didn't provide the number of vaccines that will be shipped but said the administration is preparing to deliver them as early as next week.
Haiti has recorded more than 19,000 cases of the coronavirus and 467 deaths, according to a tracker at Johns Hopkins University.
Haiti is one of five nations yet to start a vaccination campaign, the World Health Organization has reported. Haitian health authorities have said they're still waiting to receive roughly 756,000 doses of the AstraZeneca vaccine as part of the United Nations' COVAX program.