U.S. Sending Warship to Vietnam for First Time in Decades, Which Could Really Piss Off China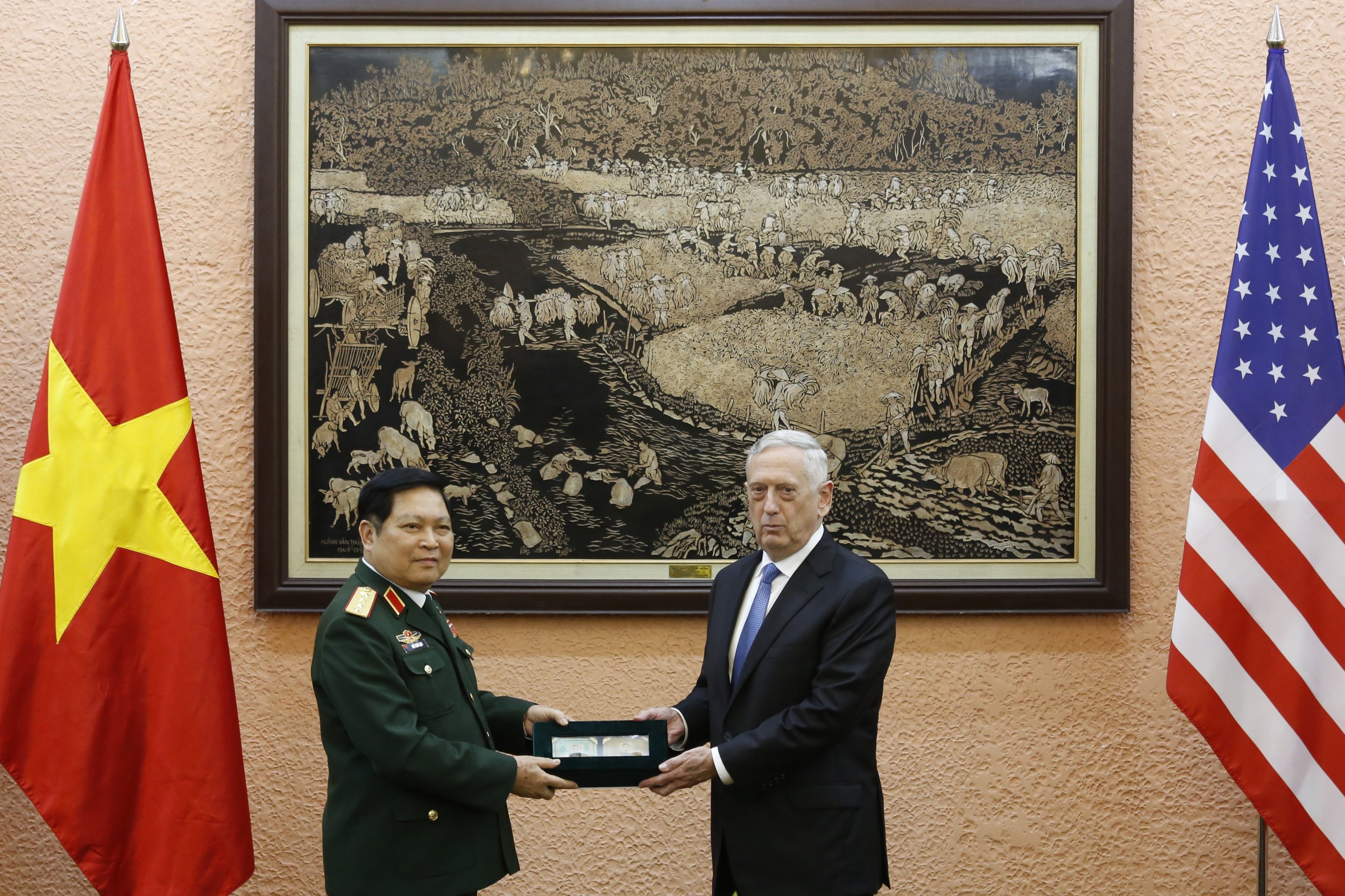 The U.S. is set to send an aircraft carrier to Vietnam in March, Defense Secretary James Mattis said Thursday, a move that could draw ire from Beijing.
This development came as Mattis visited Vietnam Thursday and met with Nguyen Phu Trong, the general secretary of the ruling Communist Party of Vietnam. "Thank you for the increasing partnership, with our aircraft carrier coming into Danang here in March," Mattis said at the time.
Though the plan to send the aircraft carrier is not set in stone, a spokesman for the U.S. military said it's expected to be approved, Reuters reported. The proposed visit would occur at the port of Danang and would make the largest presence of U.S. troops in Vietnam since the Vietnam War ended in 1975.
The aircraft carrier's visit could spur complaints from China, which frequently decries U.S. military buildup in the region. On Monday, China condemned the U.S. after the U.S. Navy sailed a guided-missile destroyer––the USS Hopper––near the disputed Huangyan Island without Beijing's permission. The vessel came within around 12 miles of the island, also known as Scarborough Shoal.
The state-run newspaper People's Daily decried the move and accused Washington of militarizing the South China Sea in a commentary.
"Against this backdrop of peace and cooperation, a U.S. ship wantonly provoking trouble is single-minded to the point of recklessness," the paper said.
"If the relevant party once more makes trouble out of nothing and causes tensions, then it will only cause China to reach this conclusion: in order to earnestly protect peace in the South China Sea, China must strengthen and speed up the building of its abilities there," it added.
Meanwhile, the U.S. military has made similar complaints about China. Last week, U.S. Pacific Commander Admiral Harry Harris characterized China as a "disruptive transitional force in the Indo-Pacific" following meetings in New Delhi with Japanese and Indian military leaders.