U.S. Set to Execute Only Native American on Federal Death Row Despite Tribe's Objections
Against the wishes of tribal officials, the only Native American on federal death row is set to be executed in August, the U.S. government announced.
Lezmond Mitchell, 38, a Navajo, is scheduled to be put to death on August 26 at the federal penitentiary in Terre Haute, Indiana, Attorney General William Barr announced on Wednesday.
He was among the inmates who had been originally been set to be put to death in December last year when the Trump administration restored federal executions, ending an informal moratorium that lasted 17 years.
Mitchell was convicted of murder over the 2001 slayings of Alyce Slim, a 63-year-old Navajo woman, and her 9-year-old granddaughter.
Prosecutors said Mitchell, who was 20 at the time, and an accomplice abducted Slim and the girl as part of a carjacking in October 2001.
The pair stabbed Slim 33 times and dumped her body in the backseat of her pickup. The girl was forced to sit beside her dead grandmother as they drove to the mountains, where they ordered her to "lay down a die," slit her throat before crushing her head with rocks.
Their beheaded and dismembered bodies were found on the Navajo Nation in Arizona. Mitchell later confessed.
But despite the gruesome nature of the crime, the tribe and members of the victims' family oppose Mitchell's execution.
Mitchell's attorneys say the federal government exploited a legal loophole to seek the death penalty in the case.
"The federal government's announcement that it now plans to execute Lezmond Mitchell demonstrates the ultimate disrespect for the Navajo Nation's values and sovereignty," Mitchell's attorneys, Jonathan Aminoff and Celeste Bacchi, said in a statement provided to Newsweek.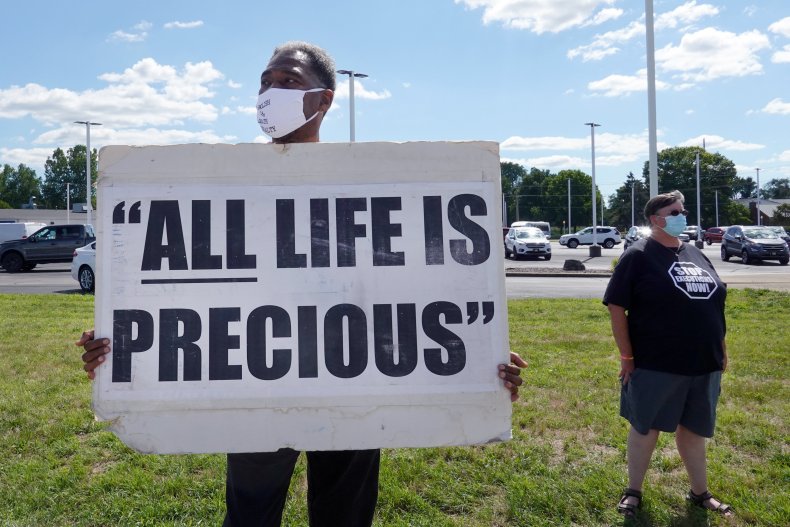 Native American tribes have long been able to tell federal prosecutors if they want a death sentence sought for certain crimes committed on their land, but almost all reject it.
The Navajo Nation has steadfastly objected to the use of the death penalty, including in Mitchell's case. The U.S. Attorney's Office in Arizona also recommended to the Department of Justice that capital punishment not be sought.
But while a death sentence could handed to Mitchell for murder, he was also convicted of carjacking resulting in death—a federal crime that can be punished with the death penalty regardless of where it takes place.
Navajo Nation Council Delegate Carl Slater told the Associated Press that if Mitchell's execution goes ahead, it will show that the federal government has no issue with infringing on his tribe's sovereignty.
"This completely conflicts with our values," said Slater, whose grandparents testified against capital punishment in Mitchell's trial. "The government has an obligation to express our values and reflect them. That's not just to our citizens, that's to other sovereigns that have these relationships."
Aminoff and Bacchi added: "With the enactment of the Federal Death Penalty Act, Congress made a commitment to the Native American peoples that no Native American would be subjected to the death penalty for a crime committed against a fellow Native American on Native American land unless the tribe consented.
"In what the Ninth Circuit Court of Appeals referred to as a 'betrayal of a promise made to the Navajo Nation,' the Department of Justice exploited a legal loophole and sought the death penalty against Mr. Mitchell for the federal crime of carjacking over the objection of the Navajo Nation, the victims' family, and the local United States Attorney's Office."
Mitchell was temporarily spared by the Nine Circuit Court of Appeals after his attorneys argued they should be able to interview the jury in Mitchell's trial—which comprised of 11 white jurors and one Navajo—for potential racial bias.
Although the bid was lost in April, the case hasn't formally been closed meaning a stay of execution remains in place.
"When the Ninth Circuit stay formally concludes, no legal impediments will bar the execution, and it can occur without further delay," Barr's office said Wednesday.
But Mitchell's attorneys have said they will continue to pursue avenues for relief from his "unconstitutional" convictions and death sentence.
They have alleged the federal government committed misconduct by detaining Mitchell in a tribal jail and questioning him for almost a month without an attorney.
"The Government's contravention of tribal autonomy did not end with the decision to pursue a death sentence against Mr. Mitchell," they said. "In addition to the charging decision, the Government committed misconduct in the course of this prosecution by confining Mr. Mitchell in a tribal jail where they continually interrogated him over the course of 25 days without providing him an attorney.
"Furthermore, the Government systematically excluded Navajos from serving on Mr. Mitchell's jury, resulting in a jury composed of 11 white people and only one Navajo," they said.
"Unfortunately, we have been barred from investigating concerns of juror bias amongst Mr. Mitchell's jury. Under these circumstances, allowing Mr. Mitchell's execution to go forward would be a grave injustice and an unprecedented affront to tribal sovereignty, and it should not be permitted to proceed."
Mitchell's attorneys also noted he had no history of violence and that his co-defendant, Johnny Orsinger, was the primary aggressor in the killings, yet received a life sentence.
Orsinger was also convicted of an unrelated double murder that was committed on Native American land—but because he had been a juvenile at the time of all four murders, he was handed multiple life sentences and avoided the death penalty.
Mitchell's attorneys claimed he was presented in his trial as a "privileged, albeit somewhat neglected, child." But they say this portrayal ignored the "traumatic and abusive upbringing" Mitchell actually had, which led to his suffering from post-traumatic stress disorder for much of his life.
On the day of the murders, Mitchell had been awake for several days binging on drugs and alcohol, they said. A board-certified psychiatrist said he was "psychotic" at the time "The jury that sentenced Mitchell to death knew none of this," they wrote in a court document.
But Barr's office noted that courts repeatedly have ruled against Mitchell. "His convictions and sentence were affirmed on appeal, and his claims for collateral relief were denied by every court that considered them," a statement said.
Mitchell's execution is due to take place in the same week as Keith Nelson. Earlier this month, three other federal inmates were put to death—Daniel Lewis Lee, Wesley Purkey and Dustin Honken.