U.S. Sets Record for Overdose Deaths During Pandemic
From the time Kat entered high school, addiction presented a challenge to her. Alcohol and marijuana were common fixtures in her lower-class Maryland community, and being an academically gifted student, Kat could use without paying the price.
Her struggles caught up to her by the time she entered community college. Before Kat's 21st birthday, she was pulled over by the police and issued a DUI. She thinks the judge wanted to "scare her straight," because even though it was her first offense, Kat was sent to jail.
Though she wasn't in for long, she experienced a number of traumatic events while behind bars. She said these experiences caused her to use more upon release, eventually leading to more encounters with the police and multiple stints in and out of rehab. Though, she's now six years sober, a mother, and an employee at a drug treatment center, the pandemic has stirred old urges.
"If I hadn't had all the foundational work before this, I don't know if I would still be in recovery right now," she told Newsweek.
The Coronavirus pandemic has earned the United States a new record for annual drug overdose deaths at 81,000, the Centers for Disease Control reported this week. During this same period, law enforcement seizures of marijuana and methamphetamine also increased, according to a news release Tuesday by the National Institute of Health.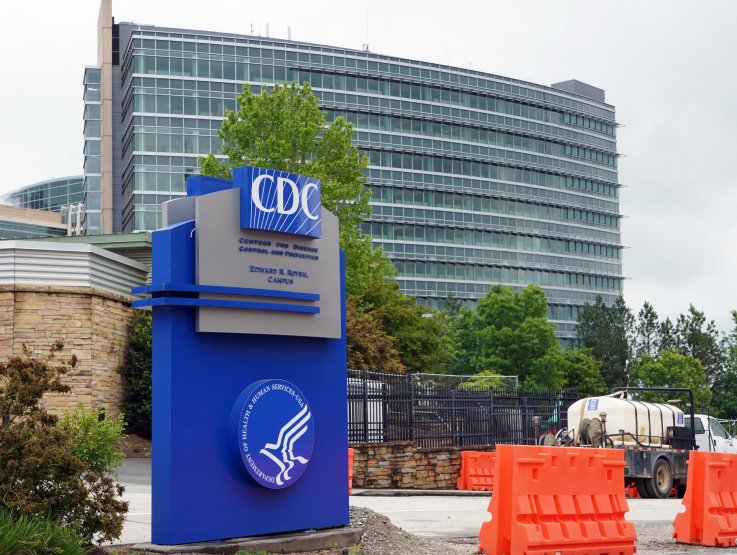 A general view of the Centers for Disease Control and Prevention (CDC) Edward R. Roybal campus in Atlanta, Georgia on April 23, 2020.
Tami Chappell/AFP/Getty
For a country that's only surpassed by Russia and Estonia in its share of population with an alcohol or drug addiction, America's addiction epidemic stands as a threat to national security.
The U.S. lost $2.5 trillion between 2015 and 2018 as a result of the opioid crisis, a White House report revealed. Before the pandemic began carving away at the life expectancy of Americans in 2020, the opioid crises had been fueling this drop since 2015.
An estimated 456,000 American are serving jail time with their only offense being drug abuse. The nation spends about $107 billion each year in its efforts to enforce drug laws.
"There's a real strategic risk for the country in terms of life expectancy and productivity on a scale we haven't experienced here since the end of World War One during the Spanish Flu pandemic," Kevin Roy, chief public policy officer for Shatterproof, a national nonprofit dedicated to combating addiction, told Newsweek.
Roy says the emphasis on social isolation during the pandemic exacerbates the trend, especially as Americans find themselves facing the additional stress and pressure of economic distress. Roy said the key to breaking the chain lies in evidence-based treatment.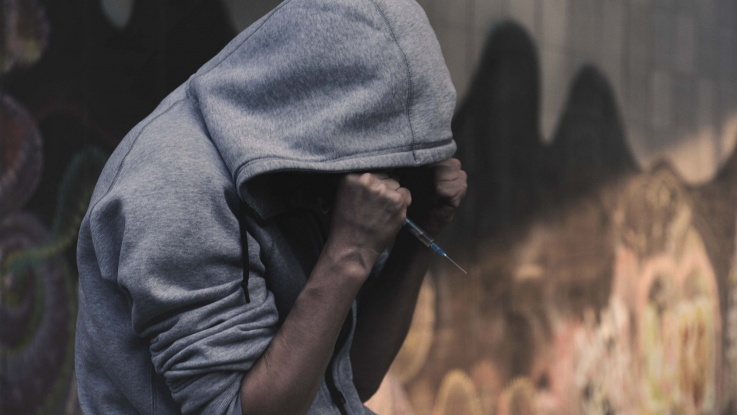 The Coronavirus pandemic has earned the United States a new record for annual drug overdose deaths at 81,000, the Centers for Disease Control reported this week.
The FDA-approved drugs methadone and buprenorphine help reduce opioid overdose fatalities by 50%. However, methadone can only be dispensed by federally certified opioid treatment providers. To prescribe buprenorphine, doctors must first receive a special waiver, which fewer than than 10% of primary care physicians have.
Roy says loosening these regulations and providing greater federal funding toward these drugs and other evidence-based treatments would be a major step in addressing the addiction epidemic. He added that resources must be invested in collecting more data about the effectiveness of these treatments.
An additional area where federal government intervention could help is in quality training for America's addiction workforce. Roy told Newsweek that addressing the problem requires development of greater understanding, which can be done through mandating addiction education in the nation's medical schools. A survey conducted by Shatterproof in the state of Massachusetts found that three out of four health care providers received no training in addiction during their time in medical school.
Roy said that investing in this area of education would bring new innovations to the field and help create new means or handling the problem. It would also lift the burden from the de-facto treatment provider for many Americans — the U.S. justice system.
"Police are not social workers," Jason Williamson, deputy director of the criminal law reform project at the ACLU, told Newsweek. "They're not people who are equipped to deal effectively with these sorts of problems."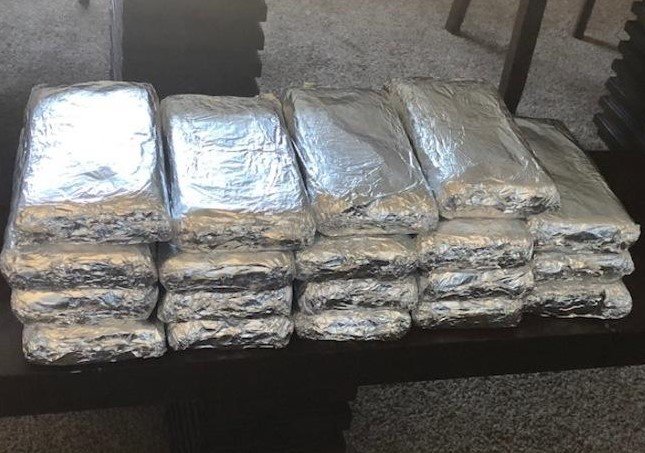 Authorities seized more than 40 pounds of fentanyl from a house in Dayton, Ohio. Officers said the amount of the drug was enough to kill the population of Ohio.
Montgomery County Sheriff's Office
Williamson said the increased policing of marijuana and methamphetamine highlights the continued issue of the U.S. justice system's disproportionate policing of communities of color.
Black Americans are five to seven more times likely to be incarcerated for a drug offense than white Americans. Ninety-five percent of incarcerated addicts will return to substance abuse after their release from prison, and 60% to 80% of them will commit new crimes.
The lack of addiction and mental health training provided to police and correctional officers makes them ill-equipped to be the force behind ameliorating America's addiction problem, Williamson said. He suggests the government divest a portion the funding it spends on drug incarceration and policing and reinvest it in addiction prevention services.
"People who are trying to fight back against addiction are not violating the law just for the sake of violating the law," Williamson told Newsweek. "They're violating the law because of the addiction."
Enforcing drug laws, Williamson says, does not address the true problem at hand. Instead, it puts people in a state of crisis, adding a new level of trauma to their lives, and puts them farther away from recovery. In rural communities, which face higher rates of methamphetamine use and limited access to treatment facilities, the policing of addiction can have even greater effect on lost economic productivity.
Hana Hinkle, associate director of the National Center for Rural Health Professions at the University of Illinois College of Medicine Rockford, said the pandemic has hit rural communities hard. She told Newsweek COVID-19 has contributed to increased rates of drug use in non-urban areas.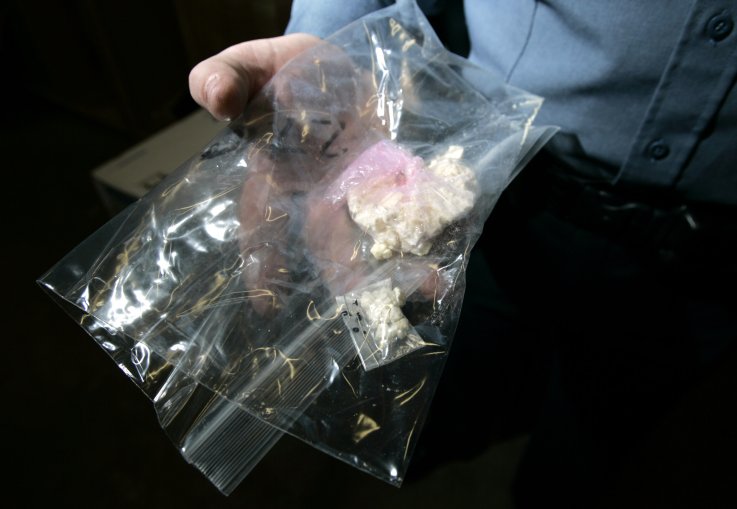 (File photo) Deputy Sheriff Kirk Ives holds two examples of methamphetamine taken on a bust in the evidence room on February 18, 2005 at the Pratt County Sheriffs office in Pratt, Kansas. Police have recovered more than $10 million worth of meth found in bags on the side of an Indiana highway.
Larry W. Smith/Getty
For tight-knit communities, drug addiction can have a major effect on the social ecosystem and one's sense of self-worth. Hinkle says this phenomenon can destabilize employment opportunities. When this happens, the economic drivers of the area can take a significant hit, affecting the nation as a whole.
"Rural America is a fabric of our nation's success and innovation in agricultural and manufacturing hubs," Hinkle told Newsweek. "When the economic drivers in these communities are taken away and then there's nothing to replace them, it's a concern not just for individuals living in rural America but certainly across the rest of the country as well."
Kat knows the potential scale of this phenomenon all too well. As she continues to support others in their paths to recovery, she's seen the pressures of the pandemic lead many people to lose their livelihoods and sobriety.
She believes addressing the problem requires a dismantling of the stigma surrounding addiction in order for the country to see meaningful legislative change. She sees hope for this change in the openness of President Joe Biden.
"I think it's incredible that our newly elected president is so open about his family's issues," she told Newsweek. "Addiction affects everybody. It might be by six degrees of separation, but there's still someone you know that has an issue, whether you're aware of it or not."