U.S. Seven-Day Average for New Coronavirus Cases Hits Record for 27th Straight Day
Another surge of new coronavirus cases over the Fourth of July weekend has
governors and other elected officials acknowledging they may have reopened their economies too soon, as cases spiked for the 27th consecutive day, The Washington Post reported.
"We don't have room to experiment, we don't have room for incrementalism when we're seeing these kinds of numbers," said Judge Lina Hidalgo, the top elected official in Harris County, Texas, which includes the Houston metro area, where 35,913 cases of the virus have been confirmed as of July 6. "Nor should we wait for all the hospital beds to fill and all these people to die before we take drastic action."
As of July 5, there were nearly 2.9 million confirmed virus cases in the U.S. and 11.4 million cases worldwide, according to the Johns Hopkins University tracker.
States such as Arizona, Florida, California and Texas have experienced record-high case numbers in recent weeks, with some governors pausing their phased reopening plans.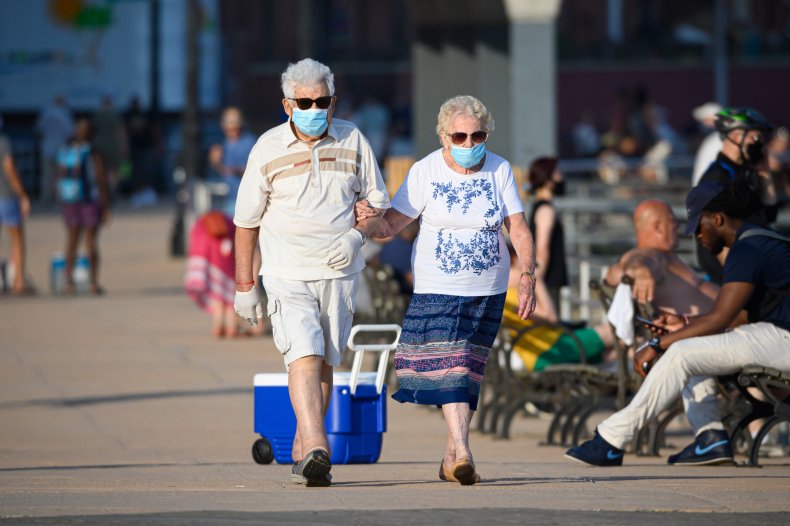 On June 26, Texas Governor Greg Abbott scaled back reopening plans by closing bars and limiting restaurant capacity to 50 percent. (Newsweek reached out to Abbott's office for comment but did not hear back before publication.)
Three days later, Arizona Governor Doug Ducey said that gyms, water parks, movie theaters and bars would close for at least 30 days, as virus cases of continued to rise in his state, CNBC reported.
"We can't be under any illusion that this virus is going to go away on its own," Ducey said. "Our expectation is that next week our numbers will be worse. It will take several weeks for the mitigation that we have put in place and are putting in place to take effect."
Meanwhile, Florida Governor Ron DeSantis said on July 2 that despite the surge in virus cases in the state, it would continue on its path to reopen.
"We're not going back, closing things," DeSantis said on Tuesday, according to Axios. "I don't think that that's really what's driving it. People going to a business is not what's driving it. I think when you see the younger folks, I think a lot of it is more just social interactions."
The number of new coronavirus cases in Florida exceeded 10,000 in a single day on Sunday for the third time in a week, according to The Washington Post.
President Donald Trump, however, continues to assert that the spikes in case numbers are due to increased testing capabilities. But according to former Food and Drug Administration Commissioner Scott Gottlieb, the surge has little to do with expanded testing.
"When the virus is under control, testing doesn't uncover more cases. It's a tool for keeping the epidemic at bay," he said.