The U.S. Should Change Course and Support True Democracy in Haiti | Opinion
When I was growing up in Haiti under the regime of Jean-Claude "Baby Doc" Duvalier, people couldn't speak freely. We had limited access to the news, which was heavily censored. Friends of my family were tortured in prison because they opposed the regime.
As a high school student, I started discussing our situation with other young people. We knew what was happening wasn't right. But our access to information was so restricted—we had no clear idea of a remedy.
When we had the opportunity to meet people from the United States and Europe—missionaries and Haitians who lived abroad—they explained there could be another way.
I understood what democracy meant because Americans and others told me. I understood the rule of law because I heard about it from Americans. Since then, I have spent my career fighting for human rights, democracy and the rule of law in Haiti.
It hurts to see the deportation of Haitians seeking asylum in the United States, which goes counter to all these ideals. People escaping violence have the right to enter the United States and ask for shelter. The law recognizes that people fleeing for their lives might be forced to cross a border illegally, and protects their right to tell their stories. It flouts international and U.S. law to deport them without granting that right.
And it also feels like a betrayal, because the reason they fled their home—and why others continue to flee now—is a decade of American policy in Haiti that has led to the destruction of our democratic institutions.
Daniel Foote, the U.S. envoy to Haiti who recently resigned, was interested in the effort by Haitian civil society to lay groundwork to build democracy.
I met with him last week in Washington and he told me he was impressed by the work of nongovernmental groups to establish a broad-based transitional commission. He said he wanted the Biden administration to support the people of Haiti to decide their own democratic fate.
But Foote said he was thwarted in his effort to support our process. Unlike most of the Biden administration, Foote was willing to meet with Haitian civil society, listen to our concerns and consider our solutions. However, he apparently did not have the full support of the Biden administration, whose ambassador continues to openly support the unelected interim president, Ariel Henry and his party.
The United States continues to bolster a Haitian regime that has dismantled democratic institutions and has not held elections, leaving only 11 elected representatives in office throughout a country of 11 million people. The police and judiciary no longer have any ability to apprehend criminals or deliver justice. This follows a pattern that the U.S. has pursued in Haiti for a long time. The U.S. chooses to support people in power, no matter how corrupt or incompetent, in the name of stability. But the result is that such support destabilizes Haiti and leads to migration.
Many of the Haitians now seeking to enter the U.S. left Haiti a decade ago under the same regime now in power, the regime that has continued to destroy Haitian institutions, our economy, our security and our lives. The horrific scenes at the Texas border that we all witnessed did not occur in a vacuum. They are a result of failed U.S. policies toward the Haitian people inside and outside of the country, policies that President Joe Biden has shown no sign of changing.
My country has been gutted. Over the last year, tens of thousands of Haitians have fled, including much of the middle class—doctors, lawyers, business owners—people who have no desire to live outside of Haiti and would return if the situation stabilized.
But in Haiti today, you have to check the radio news and WhatsApp to figure out which route to take to the market—because gangs empowered by the government commit many rapes, killings, kidnappings and arson attacks. There is rarely electricity and you have to wait in line to get fuel to power a generator or drive a car. Hospitals, clinics and schools have closed because of the danger.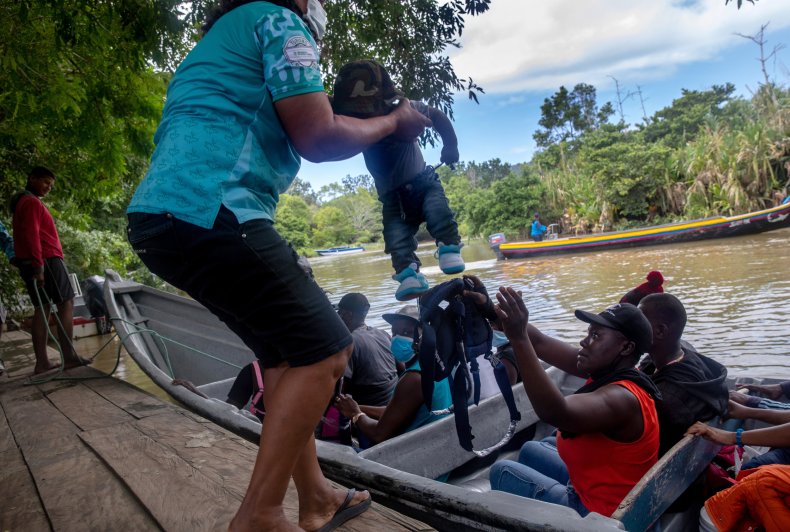 My group, the National Human Rights Defense Network, has documented massacres by gangs the government supports with funding, arms and ammunition. One of the worst was in November 2018 in La Saline, a Port-au-Prince neighborhood that was planning a mass protest against the government, where gang leaders over the course of 14 hours killed at least 71 people, including children and a 10-month-old infant. Some wore police uniforms. The police did not interfere.
Gangs currently control more than half of the territory of Haiti, according to an analysis by staff of my organization, which has offices throughout the country. If the U.S. and other countries cut off the ruling party, the Haitian Tèt Kale Party, or PHTK, the gangs would lose considerable power.
Yet today, the United States continues to support the regime by cherry picking an interim head of state and other leaders among those affiliated with PHTK.
The U.S. support for this party undermines the transparent, credible, inclusive and democratic processes begun by Haitian civil society groups to build a transition process that can lead to credible elections.
The commission does not represent the opposition to the government—it represents a broad swath of Haitians working together to establish democratic norms. They are facilitating a legitimate and democratic process to allow Haitians to choose their own leaders in this moment when fair and free elections are not possible. U.S. officials should stop stacking the cards against the only credible process for a transition government in Haiti.
And now the U.S. is deporting thousands of people to a country no one views as safe.
The country is in no position to receive thousands of deportees from the United States—many of whom come with nothing and have nowhere to go.
While this criminal government remains in power, Haitians will not stop leaving our country to seek a livable life elsewhere. To fix our country's problems, we must build a government that can provide services that can begin to build people's trust and develop the capacity of the police to fight crime. The way out of this crisis is to enable a process of real leadership and to withhold support for the corrupt, the criminal, the abusers of human rights.
As a young man, I was inspired by international law, democratic institutions and rule of law I learned existed in countries like the United States.
I still am—I just hope that American officials don't see these ideals as reserved only for their own people. I hope they foster these ideals when they set foreign policy in my country, too—and when people from my devastated country come pleading at the U.S. border for protection.
Pierre Espérance is the executive director of Haiti's National Human Rights Defense Network (RNDDH). He has received numerous awards for his human rights work, including from the U.S. Embassy in Haiti.
The views expressed in this article are the writer's own.