The U.S. Should Do More to Counter Putin's Propaganda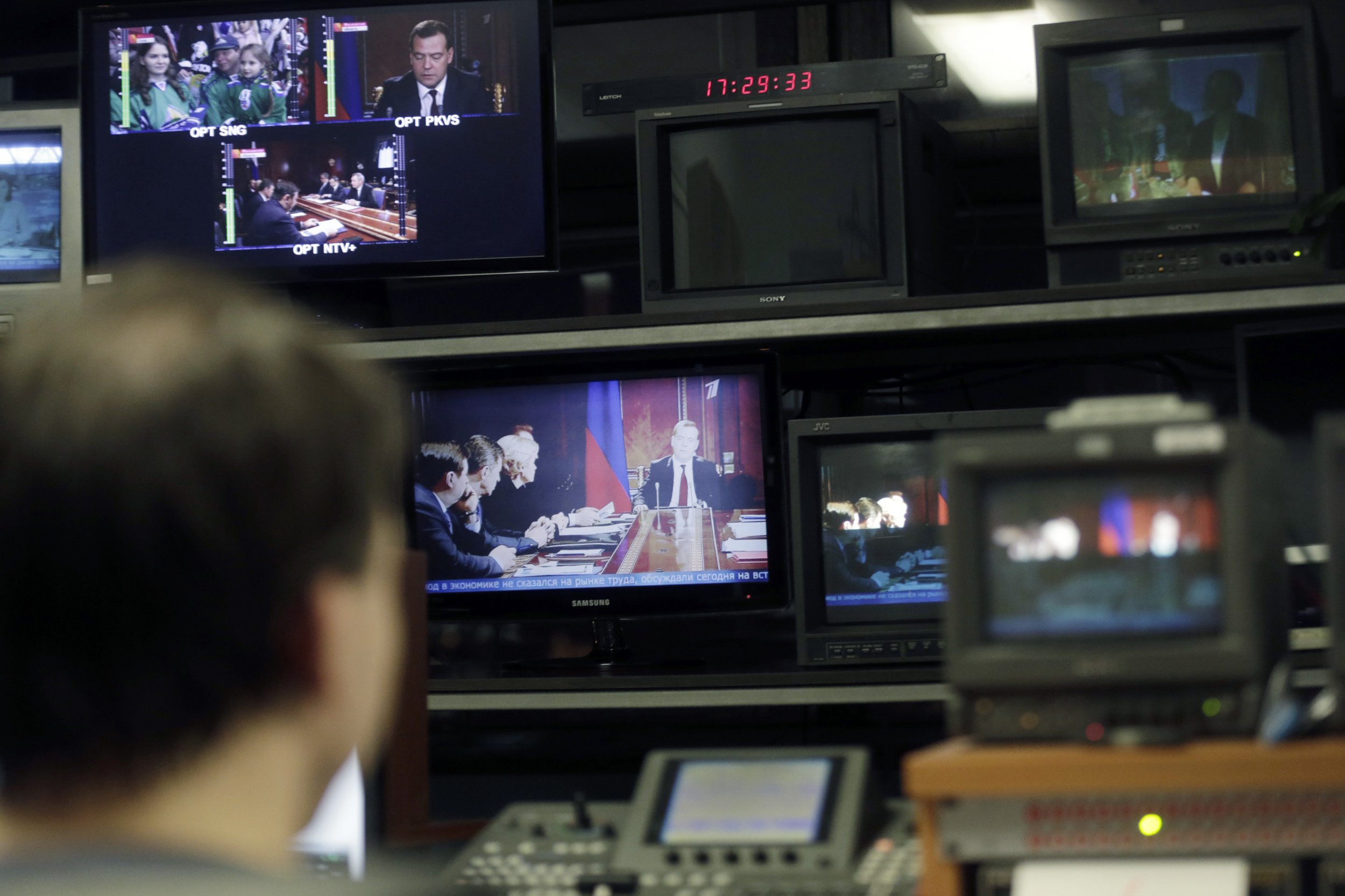 Three Russian television stations interviewed Andrei Petkov from a hospital bed in Nikolaev, Ukraine, in April 2014.
Rossia 1 described him, with a bandage on his nose, as an ordinary citizen attacked by neo-Nazis and nationalists. NTV called him a German spy for a secret European organization. And the National Independent News of Crimea identified him as a pediatric surgeon who had saved the lives of more than 200 infants before getting caught in the crossfire.
Similarly, Russian TV has interviewed the same blond woman as a native of five different cities in Ukraine. She has been a housewife, the mother of a soldier and an exile living in Russia.
In 2014, Russian state TV showed a video depicting the murder of a pro-Russian fighter in eastern Ukraine by nationalists. But the video was a fabrication; it was made in the North Caucasus in 2012. The lies on Russian TV have become so numerous and egregious that one news outlet compiled a list of Russia's top 100 lies about Ukraine.
Russian propaganda, sometimes comically inept by Western standards, wants to convince the Russian public, Russian-speaking populations in Crimea and the Donbass, and elites in Western Europe that it's right about Ukraine. They are the targets of Russian President Vladimir Putin's "weaponization of propaganda," according to Russian author Peter Pomerantsev and his colleague Michael Weiss.
Its primary international outlet is RT (formerly Russia Today), a Kremlin-financed cable news network resembling CNN or Fox News that reaches 644 million viewers in Arabic, English and Spanish. Its message is remarkably consistent, and predictably boring: Putin is a strong leader who is protecting ethnic Russians from sinister Western forces. "We're something along the lines of Russia's Information Defense Ministry," RT employees told Spiegel Online.
In addition to RT, the news agency has created seven YouTube channels aimed at specific countries and linguistic areas: RT America, RT UK, RT France, RT Spanish, RT Russian, RT German and RT Arabic.
Researchers at the George Washington University reviewed RT videos posted for a month in 2015 and found that 27 percent of videos on RT's main channel highlighted Russia's views on Ukraine. On RT German, 43 percent of its videos centered on Ukraine. RT Russia posted 34 percent of its videos on Ukraine, and these videos received 52 percent of views.
RT also owns the Ruptly video news agency in Berlin. According to Ruptly newscaster Ivan Rodionov, the agency has 14 subscribers and over 200 customers, including public and private German broadcasters. The agency offers almost exclusively videos that are favorable toward pro-Russian supporters of the People's Republic of Donetsk.
The propaganda can be heavy-handed. Russians are told that Ukrainian nationalists shot down Malaysia Airlines Flight MH17 and that the Kiev government is composed of neo-Nazis. Putin has repeatedly denied that Russian soldiers are fighting in Ukraine, despite a growing number of reports of secret funerals and prisoners of war turning up in Kiev hospitals.
Even if Russian television can be crude and propagandistic, it shapes opinion in Russia. Only 3 percent of Russians get their news on Ukraine from domestic television networks. Only 3 percent of Russians believe Donbass separatists shot down Flight MH17.
And Russian speakers who live outside the country rely on Russian television. In Estonia, where there is a large Russian-speaking minority, 72 percent of non-Estonians prefer Russian television, and this is reflected in their views. About two weeks after Flight MH17 crashed, 38 percent of non-Estonians living in Estonia told pollsters that the Ukrainian government was responsible.
One can understand Putin's desire to maintain domestic support in Russia and to build support for his efforts in the killing fields of Ukraine. His goal in Europe is more elusive but of higher strategic importance. "Putin's ultimate objective is to fracture NATO," Chairman of the Joint Chiefs of Staff Martin E. Dempsey said. His words were echoed by Vice President Joseph Biden, who said Putin was seeking "to create cracks in the European body politic which he can then exploit."
To halt Putin's ideological offensive, European policymakers have begun to beef up their public diplomacy efforts. Denmark is offering broadcast rights to popular television crime dramas that can be dubbed into Russian, Germany is providing Russian-language news and documentaries, and U.S. diplomats are reaching out to Hollywood. Estonia will launch a new Russian-language channel with 20 hours of original programming a week in September.
In the United States, however, supporters of Radio Free Europe/Radio Liberty are fending off funding cuts. As the Cold War experience demonstrated, news programs from this venerable outlet reach decision makers and other elites.
The West should also take advantage of already existing commercial outlets with worldwide distribution, such as CNN and Sky News. With cutbacks of their own, these broadcasters could use video feeds and experts that expose Russian lies. The truth will set you free, if you actually broadcast the truth.
James J. Coyle is a research fellow at the Atlantic Council and the director of global education at Chapman University. This article first appeared on the Atlantic Council site.