The U.S. Should Shift From the Nuclear Issue to Re-engage Iran | Opinion
Growing up in Tehran and becoming an American citizen, I've always been closely aware of the mistrust that dominates U.S.-Iran relations. This peaked when Donald Trump's administration made it a high priority to exit the Iran nuclear deal, which severely eroded the credibility of U.S. agreements and commitments.
Trump's ongoing "maximum pressure" strategy used unilateral economic sanctions, provocative rhetoric and military force, which soured trust and moved both countries closer to sustained conflict. When the majority of United Nations Security Council members vocally opposed the U.S.' decision to reimpose all pre-nuclear deal sanctions on Iran, American influence on its allies officially diminished. Leading Middle East and foreign policy experts such as Vali Nasr emphasized, "there is no easy path to a larger nuclear deal." Beyond restoring the 2015 JCPOA (Joint Comprehensive Plan of Action), the U.S. will need to "work with Europe, China, and Russia" to rebuild "trust and momentum for a new deal," Nasr wrote.
How can the U.S. regain the support of its allies and rebuild consensus with Iran to not only resolve the nuclear issue but also form new ground for overcoming common future challenges? It's perhaps time to take a pause from the prevalent nuclear dispute and instead direct focus on joining forces to combat the globally critical and economically detrimental shared threat of climate change.
Iran recently announced that it is re-establishing its oil output to levels prior to Trump's sanctions, as it is getting ready to flood the market with its crude oil and prompt its economic recovery.
The Biden administration in parallel has been asking Tehran to get back to compliance with JCPOA in order to re-start negotiations and provide sanctions relief as Treasury Secretary Janet Yellen stated on January 21. But Iran has been pushing for the opposite, which is first lifting sanctions affecting its international petroleum sales. The U.S. and Iran can switch diplomatic gears in this current dilemma and start a new dialog under the umbrella of climate change. The nuclear issue can also be prioritized but negotiated from a different lens, as part of a wider energy agenda discussion. This can be an opportunity for both sides to find common ground and set long-term objectives more easily.
A strategy of green diplomacy, one that prioritizes economic collaboration for the production of "trusted" clean energies such as wind and solar, can lead both countries to reach consensus and diminish further conflict by triggering a much-needed migration away from polluting energy sources.
The Islamic Republic has repeatedly stated that its fundamental intent for pursuing a nuclear agenda is to use it as an energy source, not to develop a bomb. The international perception, however, is that the Iranian regime has been pursuing the agenda as a hidden geopolitical deterrent and economic power hedge. Green diplomacy would focus on three priorities to fully eliminate Iran's dependence on nuclear energy as an energy source.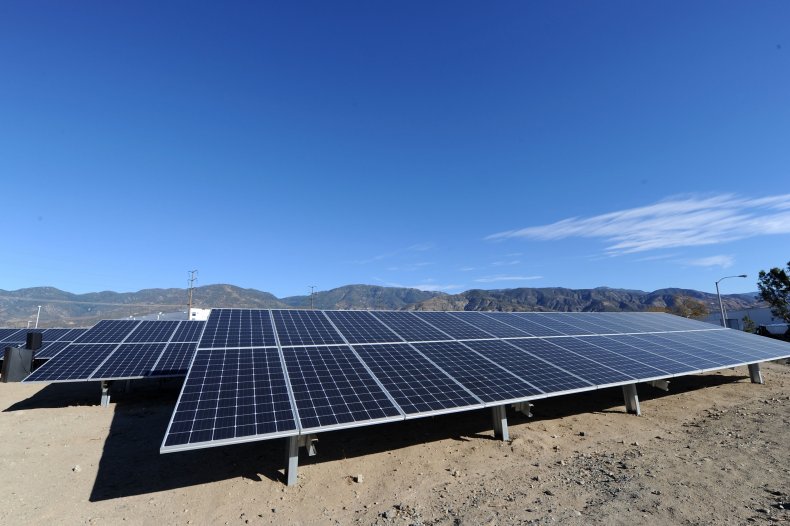 First, the U.S. and its allies will need to lift sanctions that block the import of fuel additives into Iran. The country's air quality has deteriorated drastically as U.S. sanctions force the Iranian government to produce low-grade fuel with pollutants. These chemicals have contributed to rising rates of various diseases, costing the capital Tehran close to $3 billion in health expenses each year. By rejoining the Iran nuclear deal and immediately lifting such sanctions, the U.S. will not only generate goodwill among the Iranian people but also bolster support for future international investments in clean energy.
Second, the U.S. will need to engage and prompt Iran to ratify the Paris climate agreement. Iran is the seventh-largest carbon dioxide emitting country in the world and has to this day not ratified the agreement.
The Iranian government has shown interest in foreign investments and technology to increase clean energy production. This drove the reduction in tariffs in 2016 on renewable energy sources, which was then announced by Iran's Ministry of Energy. If the U.S. can convince Iran to join the climate agreement and in return provide them the right set of economic incentives, the two countries could enter a new chapter of committed collaboration on an urgent common global problem: the joint fight against climate change. The U.S. would also start gaining back its diplomatic credibility among the international community.
Third, the U.S. could rally for multilateral clean energy joint ventures and consortiums with Iran through strong participation from the public and private sectors.
Iran has the world's fourth-largest oil and the second-largest natural gas reserves. The majority of its economic wealth depends on the monetization of these two resources. Without offering them the right economic incentives, technology investments and modern infrastructure funding, the U.S. will not witness Iran agree to move away from its dominant wealth in fossil fuels. Nor will it see Iran shift from the current political power hedge hidden in its nuclear agenda to instead pursue compliance, cooperation and a green future.
The new Biden administration and its allies can incentivize American and foreign investments into the production of clean energies in Iran. This can be achieved by co-creating plans and setting multi-year targets with Iran, overseen by a governing body and open to global institutional investors for financing.
Former President Trump's "maximum pressure" strategy relied on creating immense economic turmoil so that the Iranian government would eventually give in to U.S. requests, yet this did not happen. The U.S. and Iran have a new unique opportunity under Biden to move forward more effectively with an alternative green diplomacy strategy. They have a chance to rebuild a new foundation of trust and collaboration by prioritizing the shared threat of climate change as a focus of new engagements and by committing to co-invest in a cleaner and safer future for both Americans and Iranians.
Yasaman Hadjibashi is a foreign policy advisor who served for Julián Castro and Joe Biden's 2020 presidential campaigns. She is also a global business executive in financial services, working across the U.S., U.K., Mexico, Asia Pacific and Africa.
The views expressed in this article are the writer's own.