U.S. Should Support Insurgency in Ukraine if Russia Invades: Mitt Romney
Senator Mitt Romney said Sunday the U.S. should back an insurgency in Ukraine if Russian President Vladimir Putin invades the country, as some fear is likely.
Meet the Press host Chuck Todd asked whether Romney, if Russia invades Ukraine, backed the idea "of us supporting an insurgency, basically what we did to the Soviets in Afghanistan?"
"Absolutely," the Utah Republican replied. "I think [Putin] has to understand that the consequences are going to be significant. And will there be insurgency there? Yeah, the Ukraine people are proud and they know how to fight for the things they believe in and for their independence."
Romney said that the U.S. should make sure that Putin "doesn't have the Nord Stream 2 pipeline," which bypasses Ukraine, providing "extraordinary wealth" to Putin and Russia.
"The big mistake we made is to allow him to build that, to bypass Ukraine. We should let him know that the Nord Stream 2 pipeline is not going to operate. He is not going to have that wealth. If he does any action to overthrow the government in Ukraine, that's getting shut down. I'd shut it down now, as a matter of fact—a huge error not to have done so already."
Also on Sunday, U.S. National Security Advisor Jake Sullivan said that the U.S. is ready whether Putin decides to invade Ukraine or not.
"If Russia wants to move forward with diplomacy, we are absolutely ready to do that in lockstep with our allies and partners," he said on Face The Nation. "If Russia wants to go down the path of invasion and escalation, we're ready for that too, with a robust response that will cut off their strategic position."
Romney said on Sunday that Putin should understand that the U.S., Germany, the U.K. and France, among others, will come together "on a collective basis" amid the ongoing Russia-Ukraine tensions.
"We recognize Vladimir Putin wants to reestablish a type of the Soviet Union," Romney said. "He's trying to reestablish what he had before. That can't be allowed to happen."
On Friday, Romney made similar remarks and warned of consequences if Putin goes into Ukraine.
"Putin invaded Ukraine to take Crimea. Inadequate consequences—including President Biden lifting Nord Stream 2 sanctions—beget further aggression. Now is the time for us and our allies to tell Putin precisely what severe consequences will follow further aggression or another invasion," he wrote on Facebook.
The Utah senator also noted on Sunday that the U.S. should explore different types of sanctions for Russia than those of the past.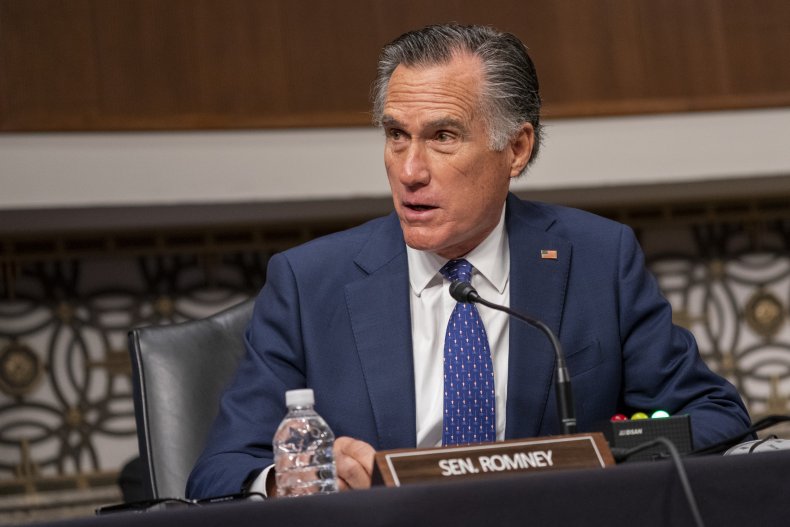 Democrats and Republicans in the Senate proposed bills sanctioning Russia in relevance to the Nord Stream 2 pipeline, built but not yet operational.
On Wednesday, Democrats introduced legislation that would sanction Russia if it invades Ukraine.
"This legislation makes it absolutely clear that the U.S. Senate will not stand idly by as the Kremlin threatens a re-invasion of Ukraine," said Robert Menendez, chairman of the Senate Foreign Relations Committee.
A rival GOP bill proposed by Senator Ted Cruz would sanction the operators of Nord Stream 2 pipeline whether or not an invasion happens. Cruz's bill failed to pass in Senate on Thursday.
The Biden administration argued that Cruz's bill would risk relations with Germany, one of the European countries that rely on imported natural gas. Meanwhile, the bill introduced by the Democrats would target leading Russian financial institutions, Putin, and his military.
Newsweek contacted the White House for comments.