The U.S. Shouldn't Give up Too Soon on Iran Nuclear Talks | Opinion
Much-anticipated nuclear talks with Iran resumed last week after a five-month hiatus. Unfortunately, the first round of discussions ended with universal disappointment and a foreboding sense of failure.
The U.S. and its European allies left the negotiating table frustrated by Tehran's attempts to rewrite the 2015 nuclear deal and openly doubtful the new administration under President Ebrahim Raisi is serious about fulfilling its nuclear commitments. "What we've seen in the last couple of days is that Iran right now does not seem to be serious about doing what's necessary to return to compliance, which is why we ended this round of talks in Vienna," Secretary of State Antony Blinken told reporters on December 3. This dark prognosis was echoed by British, French and German diplomats. Senior U.S. officials are already discussing other options—including slapping more sanctions on the Iranian economy and targeting networks that allow Tehran to export crude oil to China—in the event that talks fall apart.
Abandoning diplomacy now, however, would be premature. While there may come a point in time when U.S. and European officials conclude Iran is unwilling to budge from its maximalist position, now is not that time—particularly since the alternatives on offer, namely increased pressure, have a demonstrated record of failure.
It's important to remember why the U.S. is currently in the position of negotiating an accord that has, in fact, already been negotiated. Judging the terms insufficient, former president Donald Trump withdrew the U.S. from the original 2015 accord and imposed comprehensive economic sanctions on Tehran. The purpose of his so-called maximum pressure campaign was to weaken the Iranian economy to such an extent that Tehran's political elite would enter into a new negotiation and sue for relief. That relief, however, would only come if Iran provided major foreign policy concessions, including ending all uranium enrichment on Iranian soil, stopping ballistic missile development, cutting ties to proxies in the Middle East, demobilizing the Iraqi Shia militias it supports and withdrawing ground troops from Syria.
The logic behind maximum pressure, however, was fatally flawed. Tehran responded to the strategy not with accommodation, but with pressure of its own. The fact that Iran's exports of crude oil declined by nearly 80 percent between 2017 and 2020 was overshadowed by Tehran's propensity to escalate in other areas. The Iranians waited only a year before breaking their nuclear compliance, enriching and stockpiling more uranium than the deal allowed while enhancing enrichment to higher purity. Their foreign policy became noticeably more aggressive; no longer able to export crude due to U.S. sanctions, Iran's Islamic Revolutionary Guard Corps began sabotaging civilian vessels in the Persian Gulf and targeting Saudi Arabia's oil infrastructure with cruise missiles.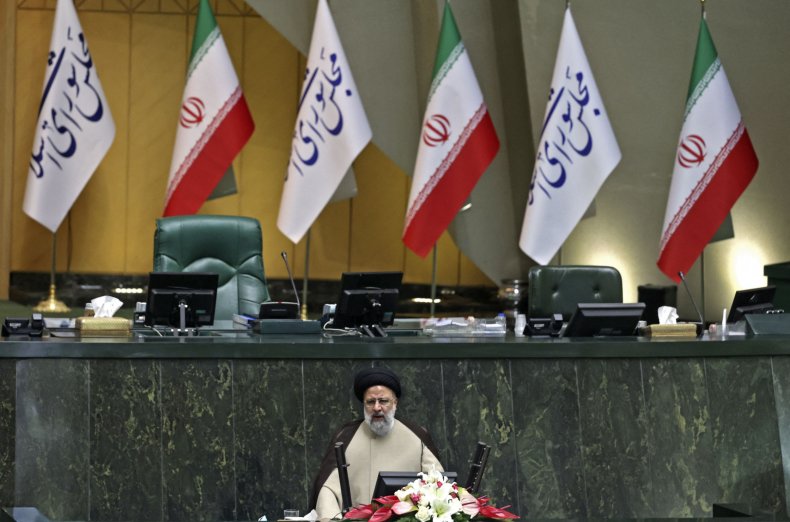 Today, Iran is enriching uranium to 60 percent, blocking IAEA inspectors from accessing a key centrifuge manufacturing facility and insisting the U.S. lift all economic sanctions before it starts complying with nuclear restrictions. The U.S. maximum pressure campaign brought about a more bellicose Iran with a more uncompromising position.
The question, of course, is where the U.S. goes from here. While U.S. officials are tired of what they perceive to be Iranian stonewalling, the negotiations have yet to run their course. The Raisi administration's attempts to renegotiate the previous six rounds of talks is disappointing but not surprising given the new team's composition, which is stocked with Iranian officials who have an inherent distrust of the U.S. Anyone who was expecting immediate results in the first week, particularly after a nearly half-year delay, was asking for too much.
Diplomacy often moves in yards. With the Iranians, it moves in inches. Yet the record shows that diplomacy—not sanctions, military posturing or covert operations—is the most effective way to put Tehran's nuclear program in a box. Because the U.S. is the stronger party, it will likely need to make some initial concessions to move Iran towards a more pliable negotiating position. One could be to unfreeze a portion of the Iranian reserves held in foreign bank accounts to finance basic, non-military imports or humanitarian items. This would be a low-cost and relatively straightforward concession; the U.S. would be doing nothing more than making some of Iran's own funds available.
U.S. officials are preparing for the day in which the current discussions with Iran collapse. This is prudent policy planning. But there is one option that should not be on the table: a preemptive or preventive war against Iran.
The Biden administration remains unequivocal in its public statements: Iran will not be allowed to acquire a nuclear weapon. We simply don't know whether Iran has made that decision one way or the other. But no action would spur decision-makers in Tehran to speed towards the development of a nuclear deterrent faster than a military strike. If such an attack were to take place, Iran wouldn't be content with hardening its nuclear infrastructure. Its retaliation would be assured, and the tens of thousands of U.S. troops presently stationed in the Middle East would have targets on their backs. This is especially the case for the roughly 3,500 U.S. troops deployed in Iraq and Syria, who have already been subjected to rocket and drone attacks from Iranian-backed militias.
Whatever the U.S. decides to do, its Iran policy should be based on facts, not hype. And here is a baseline fact: with an economy the size of Nevada's, an air force struggling to fly and ground forces that haven't fought a large-scale war since the 1980s, Iran is hardly the regional power that many claim it to be.
Daniel R. DePetris is a fellow at Defense Priorities and a foreign affairs columnist at Newsweek.
The views expressed in this article are the writer's own.