U.S. Slaps Sanctions on Human Rights Abusers on International Human Rights Day
Economic sanctions were levied today against human rights abusers in six different countries by the U.S. in an action corresponding with International Human Rights Day.
A statement from the U.S. Department of the Treasury listed individuals and entities from six different countries including South Sudan, Libya, Pakistan, Slovakia, the Democratic Republic of the Congo and Myanmar as being affected by the sanctions.
"The United States will not tolerate torture, kidnapping, sexual violence, murder or brutality against innocent civilians," said Secretary of the Treasury Steven T. Mnuchin. "America is the world leader in combating human rights abuse and we will hold perpetrators and enablers accountable wherever they operate."
Those named on the list of sanctions are barred from doing business with Americans. Assets held in the U.S. by those who have been sanctioned have been frozen.
Mentioned on the list is Commander in Chief Min Aung Hlaing, leader of Myanmar's armed forces. Under his orders in 2017, Myanmar's military began operations against the Muslim Rohingya people, forcing over 700,000 Rohingya to seek refuge in neighboring country Bangladesh. Myanmar is a predominantly Buddhist country that has designated the Rohingya as illegal immigrants.
"During this time, members of ethnic minority groups were killed or injured by gunshot, often while fleeing, or by soldiers using large-bladed weapons; others were burned to death in their own houses," read the Treasury Department's statement. "There are credible claims of mass-scale rape and other forms of sexual violence committed by soldiers under Min Aung Hlaing's command."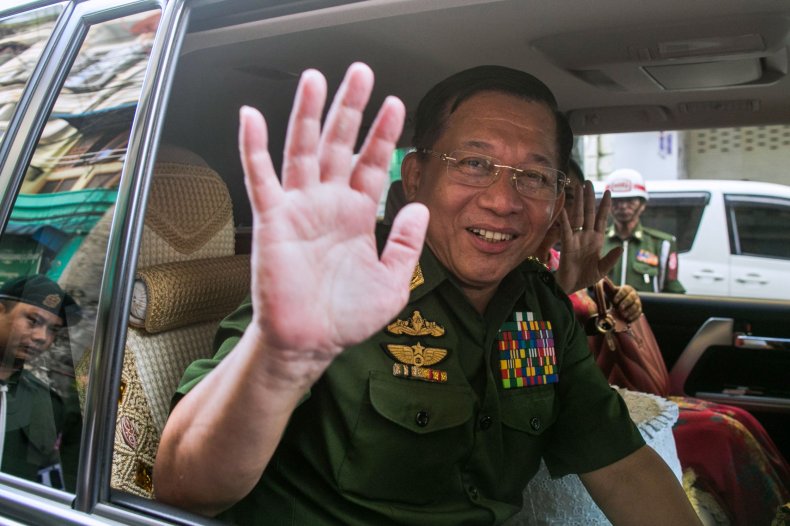 Three other members of the Myanmar military faced sanctions including the Deputy Commander in Chief Soe Win, 99th Light Infantry Division leader Than Oo and 33rd Light Infantry leader Aung Aung. Oo allegedly oversaw a military operation in Tula Toli where "hundreds of men, women and children were reportedly forced to the nearby riverbank." At that point, many of the men were executed while women and girls were sexually assaulted.
"A number of these women and children were later stabbed and beaten, with the house set fire while they were inside," the statement said.
"It is unfortunate the decision took so long," Human Rights Watch Asia advocacy director John Sifton told Reuters. "The crimes in question were incredibly serious. If the E.U. follows suit with similar measures and works with the U.S. to press other jurisdictions to crack down, soon the Myanmar military will find that their world is geographically and financially shrinking."
Newsweek reached out to the Embassy of the Republic of the Union of Myanmar in Washington D.C. for a comment, but none was received in time for publication.
These sanctions were issued under the Global Magnitsky Human Rights Accountability Act which is designed to place economic pressure on human rights abusers.
"The United States seeks to impose tangible and significant consequences on those who commit serious human rights abuse or engage in corruption," read the statement, "as well as to protect the financial system of the United States from abuse by these same persons."