U.S. Soccer Bans Kneeling During the Anthem Like Donald Trump Wants for the NFL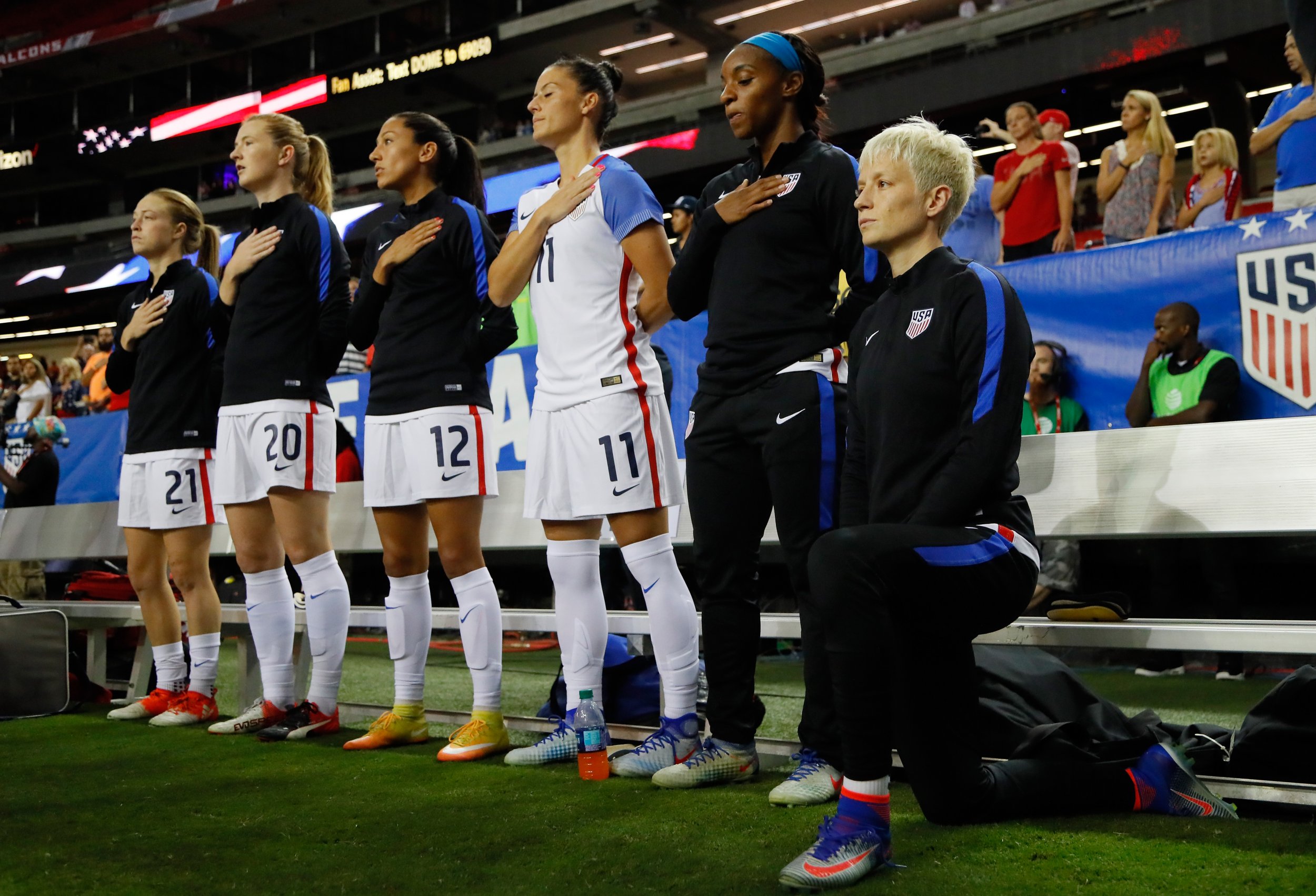 President Donald Trump, who over the last few days has repeatedly inserted himself into the country's most popular sport, tweeted Tuesday that he wants the NFL to create rules against football players kneeling in protest during the national anthem. He has a pretty good example for such a move in the U.S. Soccer Federation.
"The NFL has all sorts of rules and regulations. The only way out for them is to set a rule that you can't kneel during our National Anthem!" Trump tweeted Tuesday morning.
The president has slammed players who kneel during the anthem to protest the oppression of black Americans. (It should be noted that the protests, sparked by Colin Kaepernick, have never been aimed at the anthem or the flag, as some have claimed. Rather, they're a peaceful demonstration during a quiet moment when folks are paying attention.) Trump even yelled at a rally that the league should fire any "son of a bitch" who kneeled.
After much of the league, including owners, coaches and players, banded together last weekend over the issue, it seems unlikely the NFL will create new rules against demonstrations. But U.S. Soccer has already done so.
After the women's national team participated in protests last year, U.S. Soccer in March created a new bylaw that decreed: "All persons representing a Federation national team shall stand respectfully during the playing of national anthems at any event in which the Federation is represented." That's a slight but vastly important difference from the NFL regulation that "encourages" players to stand but does not require it.
Star player Megan Rapinoe largely inspired the new rule. She had demonstrated in league games, and she sparked backlash after she kneeled before the U.S. team took on Thailand last September.
"I'm very proud to pull on this shirt and play for this country, and also represent my country in a different way in speaking out for people that are oppressed," she said during the ESPN broadcast, according to the Los Angeles Times.
Rapinoe indicated at the time that she had planned to continue her protest. "As of now I plan to keep kneeling," she said, according to the Times. "I'm trying to kind of formulate a better plan and an action step moving forward. But until then, this is how I can help."
But the bylaw stopped the star in her tracks. After the new rule from U.S. Soccer banning kneeling was adopted, Rapinoe said she would accept the decision. "I will respect the new bylaw the leadership at USSF has put forward," she said in a statement, via Fox Sports. "That said, I believe we should always value the use of our voice and platform to fight for equality of every kind."
It's unclear what the punishment for a player might be, should she or he disobey the rule, but it would reportedly be decided on a case-by-case basis.