U.S. Soccer Captain Megan Rapinoe Stands by White House Comments, Apologizes for Profanity
On the eve of a quarterfinal World Cup elimination game against one of the best soccer teams in the world, U.S. Women's National Team captain Megan Rapinoe stood by an earlier statement she had made, preemptively (and profanely) turning down a visit to the White House.
"I stand by the comments I made about not wanting to go to the White House, with the exception of the expletive," explained Rapinoe at a news conference Thursday in France. "My mom would be very upset about that."
In January, Rapinoe made an offhand comment that she was "not going to the f...ing White House if we win."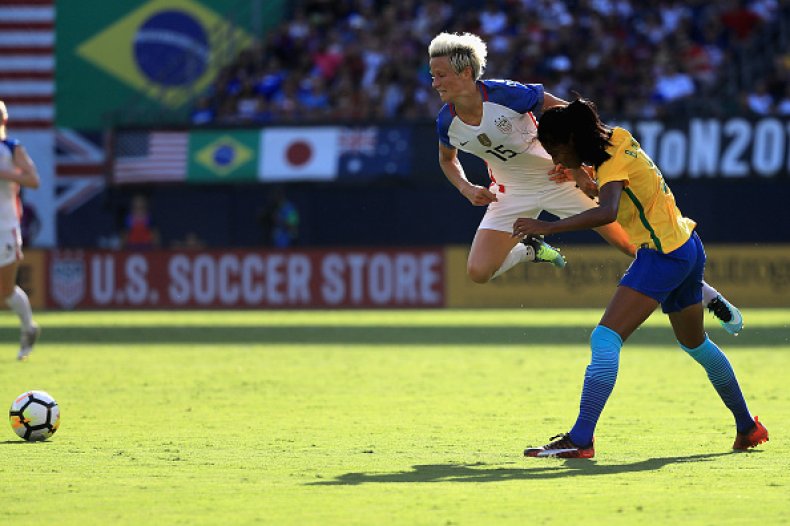 With the U.S. team attempting to win their second World Cup title in a row, and their fourth in total — which would have almost certainly meant an invite to the White House — that quote was resurrected earlier this week.
On Wednesday, President Donald Trump responded with a tweet (initially sent to the wrong Megan) of his own: "Women's soccer player, @mPinoe, just stated that she is "not going to the F...ing White House if we win." Other than the NBA, which now refuses to call owners, owners (please explain that I just got Criminal Justice Reform passed, Black unemployment is at the lowest level..."
The president went on to say he was a "big fan of the American Team, and Women's Soccer, but Megan should WIN first before she TALKS! Finish the job!"
Trump said he now was going to invite the team to the White House "win or lose."
However, some team members have already said they would not accept that invitation.
"I know women who you cannot control or grope anger you, but I stand by [Megan Rapinoe] & will sit this one out as well," wrote teammate Ali Krieger. "I don't support this administration nor their fight against LGBTQ+ citizens, immigrants & our most vulnerable."
Similarly, team co-captain Alex Morgan said she would not attend an event at the Trump White House, explaining: "I don't stand for a lot of things the current office stands for."
The Americans play France on Friday at 3 p.m. ET in the quarterfinals of the knockout round. France and the U.S. were the top two teams entering the 2019 World Cup, and now only one can advance to the medal rounds — or final four in the tournament.
The report on CBS News went on to show Rapinoe explain her comments.
"You know, time and effort and pride we take in the platform that we have, and using it for good and leaving the game in a better place and hopefully the world in a better place," Rapinoe said.
Rapinoe, who scored both U.S. goals Tuesday — each on penalty kicks in regulation — in a 2-1 win over Spain in the round of 16, said the Trump administration "doesn't fight for some of the same things that we fight for, and I'll just leave it at that."
"We're very open with each other, obviously everyone knows who I am. I didn't make the comments at a press conference here. They were made months ago, just kind of resurfacing," Rapinoe said. "I think, if anything, it just fires everybody up a little bit more."
Neither Rapinoe nor U.S. team coach Jill Ellis believe controversy surrounding the comments will have any effects on the team for their showdown with France, which was the last team to beat the Americans in the last three years.
"I think this team has a remarkable focus. We all support Megan. She knows that. We know we have each other's backs in there," Ellis said. "I think for our players, there's only one purpose, one mission, why we're here. Comments, media, whatever, it has always been something I think we can block out pretty easily."
Rapinoe in the past has used her status as a soccer star to bring awareness to social issues and has protested the national anthem by kneeling. Ellis said in the past she respects Rapinoe's grit in standing up for social issues, but doesn't support a player kneeling during the national anthem while playing for the national team.