U.S. Soda 'Putin Punch' Created to Support Ukraine
An independent soda-maker based in New Britain, Connecticut, launched a special edition new soda on Tuesday as a response to the Russian invasion of Ukraine. The flavor is called "Putin Punch," and a portion of the proceeds will go to the Ukrainian Red Cross.
Avery's Beverages is the company behind the new fruit punch line, which features a label illustration of Russian President Vladimir Putin being punched in the face by a boxing glove that is blue and yellow, the colors of the Ukrainian flag. Above the flavor's title is the hashtag #standwithukraine.
The soda-maker has delved into news-related flavors before, including ones based on past presidential elections and a "Coronavirus Cocktail." But Avery's General Manager Rob Metz told Newsweek that "Putin Punch" was born out of a desire to help the people of Ukraine.
"This one's less frivolous than some of the other ones we've done," Metz said. "It made sense to do something that we can use as a vehicle to donate to a worthy cause that can help the folks over there."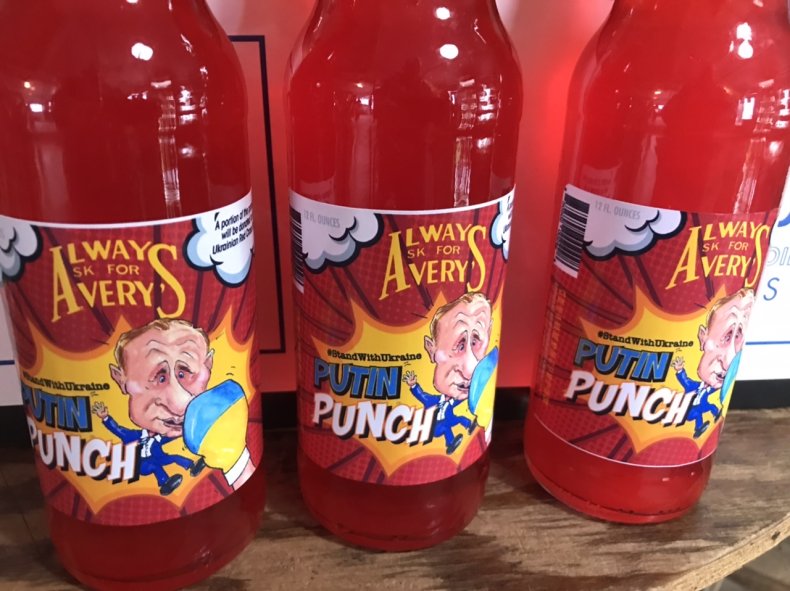 Metz described the quick process of conceiving the project to producing an actual product. He said the team at Avery's came up with the name first, and they knew right away they needed an image of "Putin getting punched in the head" for the label.
After not being able to find a suitable image themselves, the team went to a local caricature artist who had created label images before for the company. The artist came up with a couple of options, and an Avery's graphic artist put the final touches on the image that ended up on "Putin Punch."
Metz said they had the picture of Putin getting punched on Tuesday morning, and by later that day, they had their first bottles up for sale.
"It was less than a week from inception to having a product on the shelf," he said.
"Putin Punch" immediately proved to be a bestseller for Avery's Beverages since the company introduced it. The independent bottler is already working at its maximum rate to keep the bottles available.
"On a good day, we can make 2,500 to 3,500 bottles a day, when the machines are running happy and everybody shows up," Metz said. "But we're gonna crank it out as it's been dominating our production capacity since we started this a couple days ago."
As for coming up with the actual flavor so quickly, Metz said Avery's leaned on an old recipe.
"We already had a fruit punch flavor. We just tweaked it a bit," Metz said. "It's a less sweet than our regular flavors and a little more tart."
Follow our live blog for updates on the Russia-Ukraine conflict.