American Soldier at Base Hit by Iran Says Troops Were 'Beyond Lucky' to Avoid Casualties As Damage Footage Emerges
American soldiers at a military base in western Iraq have said they were lucky to escape harm when Iran bombarded the facility with missiles last week amid high tensions between Washington and Tehran.
The Ain al-Asad air base in Iraq's western Anbar province was one of two military facilities hit by Iranian ballistic missiles last week, as Tehran retaliated for the U.S. assassination of Major General Qassem Soleimani.
The attack appeared designed to avoid American casualties that would invite retaliation. In the days before, President Donald Trump warned that any Iranian response could prompt a massive wave of American counter-strikes, targeting key political and even cultural sites in a "disproportionate" manner.
Such a move would have constituted a war crime, and the threat raised fears of uncontrollable military escalation of the simmering conflict.
Iraqi Prime Minister Adil Abd al-Mahdi said he was pre-warned him of the impending attack, allowing him to send notice to American and Iraqi troops at the two targeted bases.
U.S. intelligence is also reported to have given pre-warning of the planned strikes, The Washington Post reported. This allowed troops to move vehicles and other equipment to fortified bunkers before they were hit.
Footage has emerged from inside the Ain al-Asad base, showing the charred remnants of living quarters and other buildings used by American troops.
Though many soldiers took cover in bunkers, others remained outside to guard against possible attempts to overrun the base, according to NBC News.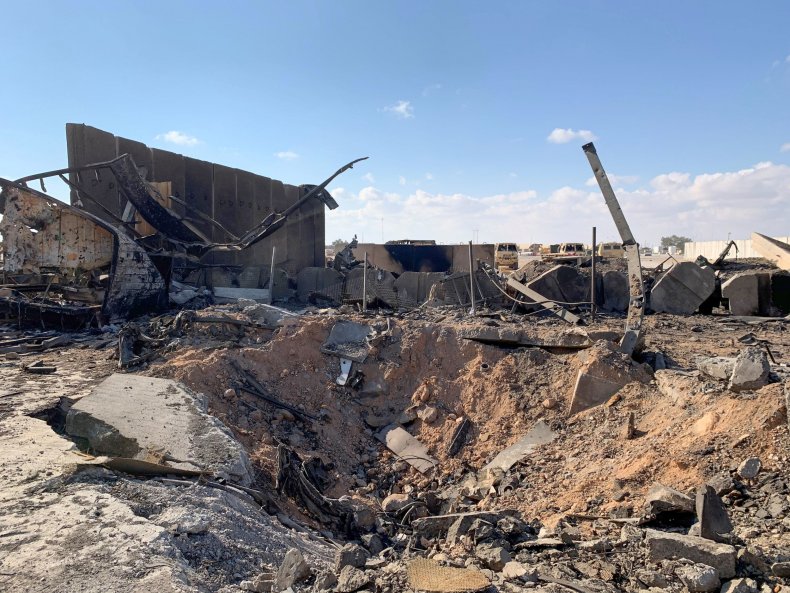 NBC correspondent Richard Engel spoke to two soldiers at the facility, who explained that the situation could have been much worse had they not vacated the areas hit. One—named by NBC as Captain Jeffrey Hansen—said he was knocked to the ground by the explosions and took cover under a nearby truck.
"I went back to the shelter, and knew that whatever was coming, it was much worse than we thought," he recalled. "We were beyond lucky" to escape casualties, he added.
Another soldier, Sergeant Dan Kvasager, told Engle, "A lot of people would have died if we hadn't moved." Part of NBC's footage showed a totally destroyed living space that housed 39 soldiers with dozens more stationed nearby.
Though the Iranian strikes did not inflict any casualties, Chairman of the Joint Chiefs of Staff Mark Milley told reporters last week, "I believe, based on what I saw and what I know, that [the strikes] were intended to cause structural damage, destroy vehicles and equipment and aircraft and to kill personnel. That's my own personal assessment."
The Ain al-Asad base is home to some 1,500 U.S. and Coalition personnel, deployed there to support operations against the Islamic State militant group. The huge facility is around 110 miles west of Baghdad in Iraqi's Sunni-majority region.
The Statista graphic below shows that those U.S. service members deployed to the Ain al-Asad airbase are among some 6,000 American troops currently in Iraq.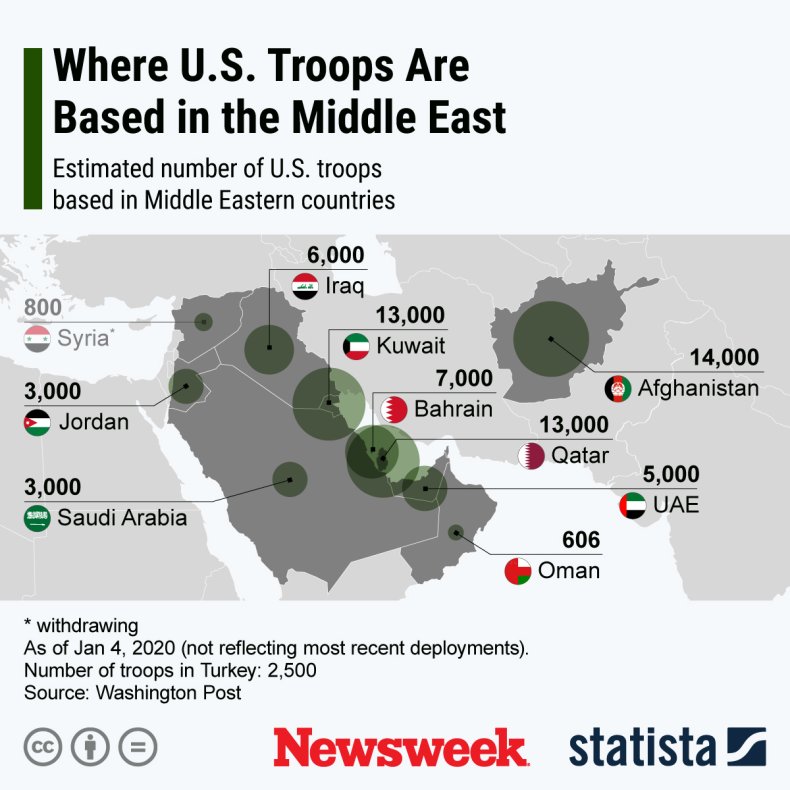 This article has been updated to include an infographic.