U.S. Soldier Found Dead At South Korea Army Base
A U.S. soldier has been found dead at a military base in South Korea.
The dead soldier was based at Camp Carroll, which is close to the South Korean city of Daegu and around 150 miles from the capital Seoul, Stars and Stripes reported.
The U.S. military said that the death at Camp Carroll is being investigated. The soldier's name will not be released for 24 hours to allow time for the family to be notified.
The soldier was a member of the 35th Air Defense Artillery Brigade, which is part of the Eighth U.S. Army. No other details were provided.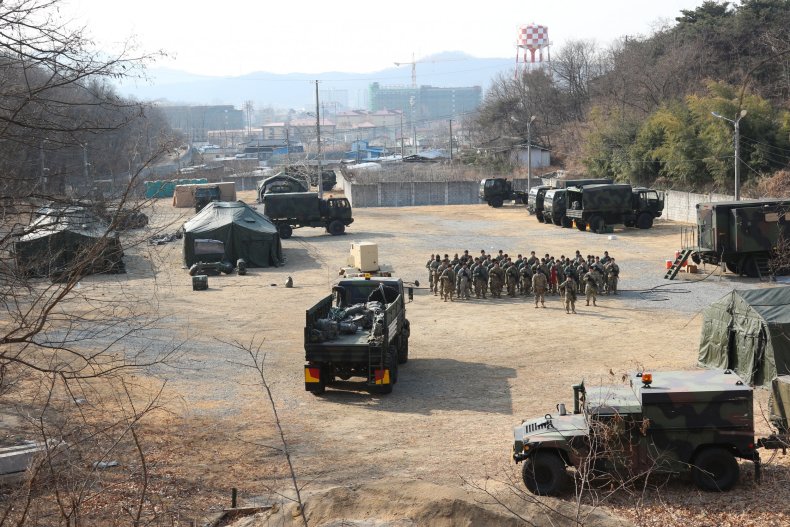 In December 2017, another U.S. soldier died at the base. Sgt. Eric Schenck, 33, was killed when he was hit by a passing truck after getting out of his vehicle following a minor road accident.
Around 28,500 U.S. service members are based across South Korea, which remains at war with the North having never signed a peace treaty to end the 1950-53 Korean War.
Camp Carroll was built in 1959 and named for Charles Carroll, a posthumous recipient of the Distinguished Service Cross for acts of heroism during the Korean War.
The camp is located close to the site of the Hill 303 Massacre, where North Korean forces captured hundreds of American soldiers during the Battle of Pusan Perimeter, executing 41 of them using machine guns. The bodies were found with their hands still tied behind their backs.
In 2011, it was revealed that hundreds of drums of military chemicals were buried at Camp Carroll. The drums were believed to contain Agent Orange, the infamous herbicide that was used during the Vietnam War to deny North Vietnamese forces the cover of jungle canopies.
It was later found to cause a host of serious health problems, including birth defects in children whose parents had been exposed, and long-term psychological and neurological issues. Millions of Vietnamese and Americans have suffered from health problems associated with Agent Orange.
The Eighth Army eventually admitted that chemicals, pesticides, herbicides and solvents had all been buried at Camp Carroll in 1978, but said that the materials were removed in 1980 along with 60 tons of dirt.