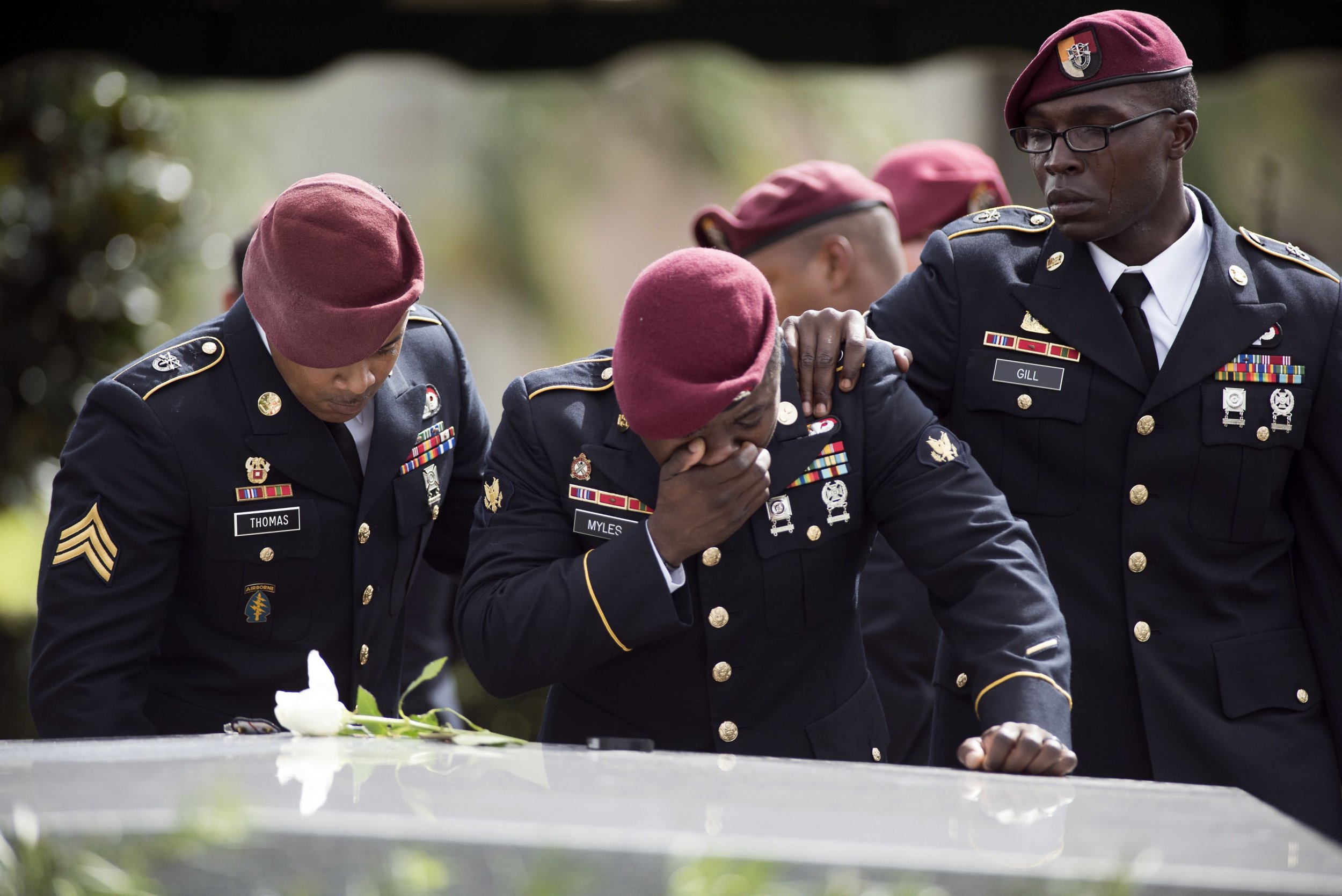 U.S. special forces Sgt. La David T. Johnson died in a bold last stand, continuing to fire on his ISIS ambushers in Niger despite being shot 18 times, an army report has shown.
Johnson, 25, of Miami Gardens, Florida, was killed in the line of duty with three other soldiers on October 4 when he and a 12-member special forces unit were ambushed by 50 militants linked to the Islamic State Militant group (ISIS).
Related: After ISIS Defeat, Millions of Shiite Muslims Make World's Largest Pilgrimage in Iraq
The U.S. Green Berets were accompanying a force of some 30 Niger nationals as they hunted an ISIS leader also tied to Al-Qaeda in the Islamic Maghreb, the Associated Press reported.
A military investigation into the events of the deadly ambush about 120 miles north of Niamey, Niger's capital, revealed that Johnson died under heavy fire, taking cover in undergrowth rather than taken in captivity or through close-range execution, as some media reports had suggested.
Johnson became separated from the rest of his team and made for an escape vehicle with two Niger troops. Pinned down, they were shot as they tried to reach safety.
A number of shell casings found near Johnson's body showed that apparently he died fighting to the end. He had been hit by fire from Soviet-made M-4 rifles; the heavy machine guns were likely stolen by the insurgents. Johnson's equipment and boots were taken from him. He was still wearing his uniform.
The four U.S. troops and four Niger soldiers were killed as they stopped in a village to gather food and water. The area, where the U.S.-Niger patrol had been searching for the senior militant figure and gathering intelligence, was very accessible to Islamist groups. The U.S. military said it was likely someone tipped off the attackers to the presence of the U.S. forces there.
The three other Americans killed were Staff Sgt. Bryan C. Black, 35, of Puyallup, Washington; Staff Sgt. Jeremiah W. Johnson, 39, of Springboro, Ohio; and Staff Sgt. Dustin M. Wright, 29, of Lyons, Georgia.
Johnson's death became the subject of a political disagreement between President Donald Trump and Florida Congresswoman Frederica Wilson, who overheard the president telling Johnson's pregnant widow in a call that her husband knew "what he signed up for."