The first U.S. soldiers arrived Thursday in Poland as part of NATO's international initiative to secure Europe's borders with Russia amid recent escalations between the West and Moscow.
The NATO battalion consisted of more than 1,100 soldiers with 900 coming from the U.S., 150 from the U.K. and 120 from Romania. Upon their arrival in the small town of Orzysz, only 35 miles south of Russia's militarized Baltic enclave of Kaliningrad, Polish President Andrzej Duda greeted the troops and praised NATO's efforts to bolster the nation's defenses. Duda said the event was a "historic moment" that would answer Warsaw's recent calls for greater security in light of Moscow's expanding political influence in the region.
Related: Russian Military Plane Flies Over U.S. For Spy Mission, Canada Is Next
"Generations of Polish people have waited for this moment since the end of the Second World War, dreaming about Poland's return to membership in the just, solidary, democratic and truly free West," Duda said at a ceremony, according to Deutsche Welle.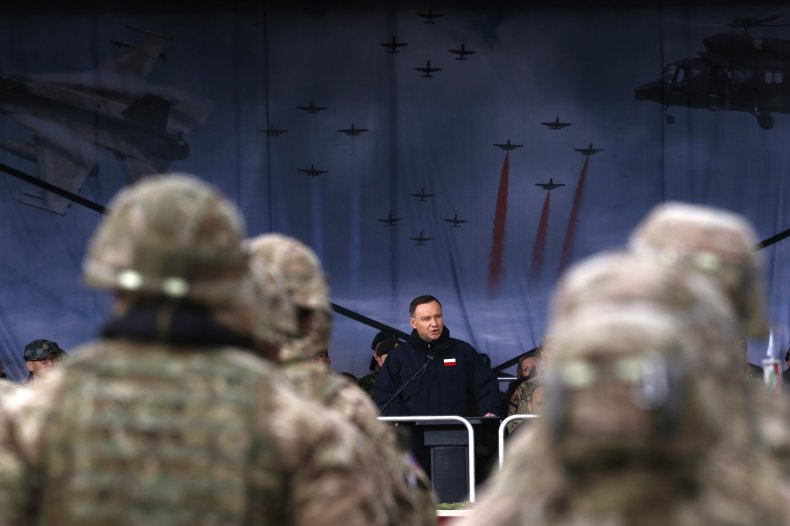 Poland's eagerness to welcome NATO troops was partially due to its sensitive World War II-era history of being occupied by Nazi Germany and subsequently taken over by the former Soviet Union. Poland, along with the nearby Western and Baltic European nation, watched closely as Russia annexed the former Ukrainian territory of Crimea in 2014 and sponsored separatist forces in eastern Ukraine. Both Russia and NATO have embarked on dueling military escalations along their borders and have accused one another of instigation. Thursday's arrival of the multinational battalion close to Kaliningrad, where Russia has deployed nuclear-capable Iskander missiles, was NATO's latest move.
"Deploying of these troops to Poland is a clear demonstration of NATO's unity and resolve and sends a clear message to any potential aggressor," NATO Supreme Allied Commander Europe General Curtis Scaparrotti said at the event, according to Reuters.
Poland and the Baltic states of Estonia, Latvia and Lithuania were designated as venues for four major NATO battle groups. The plan, which was devised last year, entailed 4,000 troops be sent to each group with support from armored infantry, drones and an additional 40,000-soldier rapid reaction force. NATO's member states became concerned about the future of this strategy after the election of President Donald Trump in November.
One day before the majority-U.S. battalion arrived in Poland, Trump met with NATO Secretary General Jens Stoltenberg at the White House. The meeting followed a major fallout between Trump and his desired political ally, Russian President Vladimir Putin, over Moscow's foreign policy. Trump at one time praised Russia's role in battling the Islamic State militant group (ISIS) and other jihadists in Syria and criticized former President Barack Obama for supporting Syrian rebel groups. After blaming the Russian-backed Syrian government for an alleged chemical weapons attack on civilians earlier this month near the rebel-held city of Idlib in northwestern Syria, however, Trump and his administration have openly defied Russia's stances. After Wednesday's meeting with Stoltenberg, he appeared to also reverse his previous view of NATO as "obsolete."
"I said it was obsolete," Trump said at a press conference with Stoltenberg, according to The New York Times. "It's no longer obsolete."