U.S., South Korea, Look to Diplomacy to Tame Kim Jong Un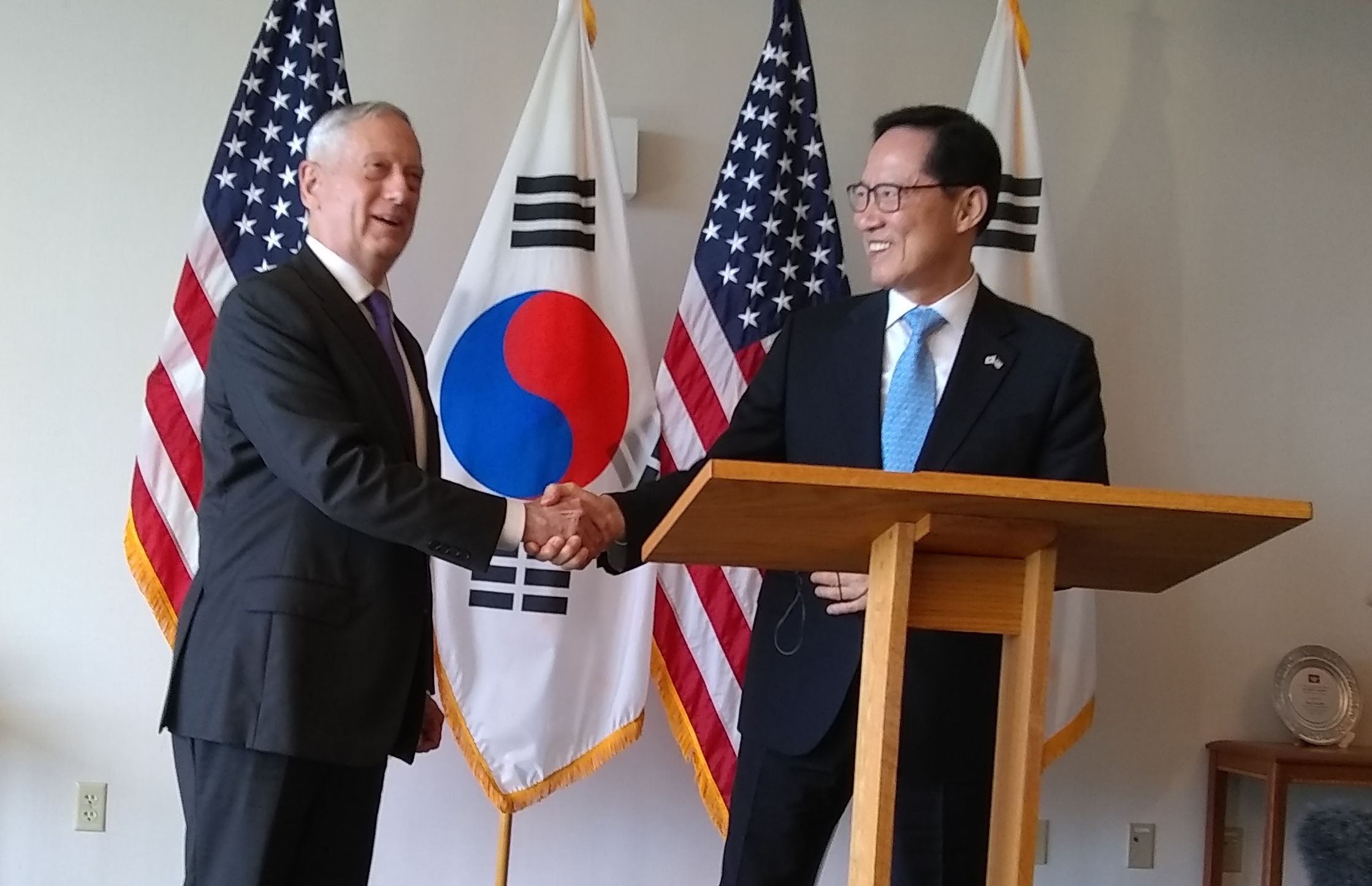 South Korean and U.S. defense chiefs met Friday to discuss North Korea, issuing a statement that continued diplomacy-backed sanctions can drive the rogue state to the negotiating table and tamp down the escalating threats between Pyongyang and Washington.
U.S. Secretary of Defense James Mattis said that he is bolstering military options so that negotiators will have leverage in talks with North Korea over its nuclear program, talks that have yet to be scheduled but continue to be the goal of U.S. and South Korean officials.
"Diplomacy should impose reason on Kim's reckless rhetoric and dangerous provocations," Mattis said, at a press conference immediately before his meeting with South Korean Minister of National Defense Song Yong-moo held at U.S. Pacific Command headquarters in Hawaii. "Our response to this threat remains diplomacy led, backed up with military options available to ensure that our diplomats are understood to be speaking from a position of strength."
Mattis has repeatedly insisted that U.S. efforts to disarm North Korean leader Kim Jong Un are "diplomatically led," while also saying that he has developed military options for any potential war.
The U.S. did not take part in recent talks between North Korea and South Korea that have centered on participation in the upcoming Winter Olympics in February, but U.S. officials insisted that the two sides would not negotiate any details of the north's nuclear program without the U.S. present.
Song said that the goal of the talks between North and South Korea is "ultimately to draw out North Korea to a common dialogue with the United States."
Although past administrations have been hesitant to hold direct talks with North Korea unless the country agreed to comply with U.N. sanctions, President Donald Trump and Secretary of State Rex Tillerson have said that they would be willing to directly negotiate with Kim.
Some analysts have argued that the recent dialogue, brought on by a New Year's Day proclamation by Kim that encouraged talks, is a tactic to try to separate South Korea from the U.S., its security guarantor.
A joint press release by Song and Mattis issued after their meeting addressed that criticism insisting that the two countries cannot be separated.
"Any efforts to drive a wedge in the U.S.-ROK Alliance would fail," it said.
Mattis was meeting with Song during an overnight stop at Pearl Harbor in Hawaii on his way back from a swing through Southeast Asia where the continued tensions with North Korea was a hot topic.
He thanked U.S. allies in the region for their support in upholding ongoing sanctions against North Korean products that have been ratcheted up in response to a slew of missile tests in 2017. Russia and China, both critical votes on the U.N. Security Council that backed the sanctions, stand accused of helping North Korea smuggle shipments out, with President Trump telling Reuters that Russia was violating sanctions and the U.S. filing a report with the U.N. accusing Chinese ships of aiding the North Korean regime.