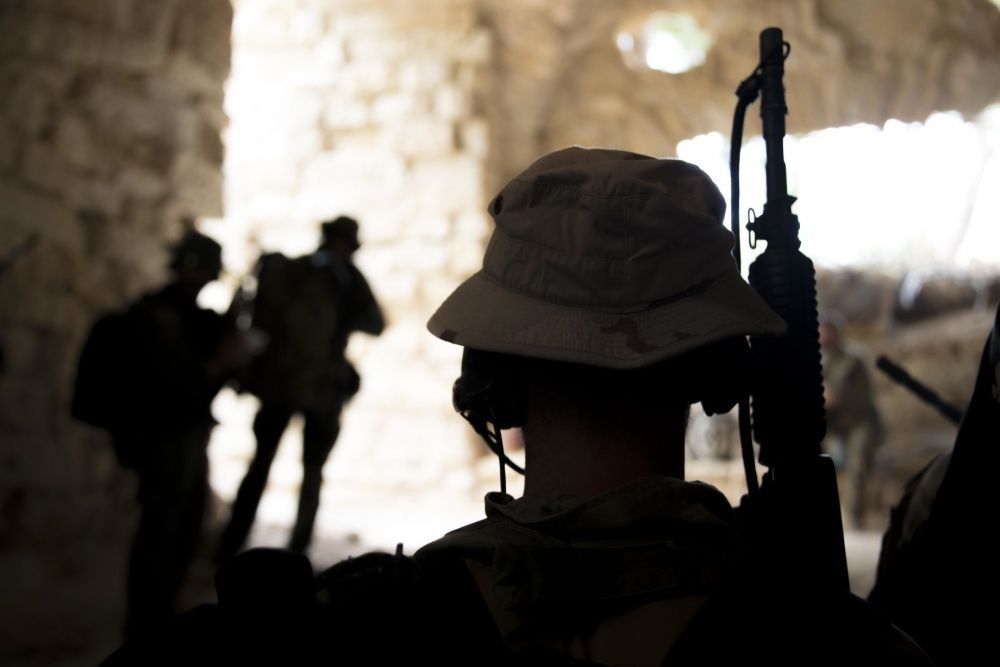 The U.S. Army officer at the helm of U.S. Special Operations Command is calling for change inside the special operations community amid a wave of severe criminal allegations and an erosion of trust by its members, according to an email obtained by Newsweek Wednesday.
The email follows a series of high-profile scandals involving members of the special operations community over the past few months, ranging from alleged war crimes and murder to drug smuggling and sexual assault. (You can read the email and the attached ethics memorandum at the bottom of this article).
"Trust—among teammates and especially with our Nation—is our currency in Special Operations...we trade on it every day," General Raymond Thomas III wrote. "We have strived long and hard over many years of combat to earn it. We will not allow inexcusable and reprehensible violations of that trust to erode decades of honorable service, teamwork, and progress by the members of USSOCOM.
"But a broader review of events across USSOCOM make this guidance timely and give it greater urgency. A survey of allegations of serious misconduct across our formations over the last year indicate that USSOCOM faces a deeper challenge of a disordered view of the Team and the Individual in our SOF culture."
Thomas fired off the email Wednesday to all personnel in U.S. Special Operations Command with the subject line, "Ethics and Our SOF Culture - A Call To Action."
U.S. Special Operations Command is headquartered out of MacDill Air Force Base in Florida and is the umbrella unit for all special operations forces within the various branches of the armed forces, including, the Joint Special Operations Command, known for groups such as SEAL Team Six and Delta Force.
Among the allegations of serious misconduct are two U.S. Navy SEALs and two U.S. Marine Raiders facing murder charges in the death of U.S. Army Green Beret, Staff Sergeant Logan Melgar, in Mali last year.
Another case involves an investigation into alleged war crimes perpetrated by Chief Special Warfare Operator Edward "Eddie" Gallagher, a highly decorated U.S. Navy SEAL.
Gallagher is accused of fatally stabbing an Islamic State group (ISIS) detainee in Iraq last year. U.S. Navy SEAL officer, Lieutenant Jacob "Jake" Portier, Gallagher platoon commander, is accused of attempting to cover up the war crimes by not reporting the murder to the chain of command.
Thomas, along with Owen West, a former U.S. Marine reconnaissance officer and the Pentagon's assistant secretary of defense for special operations and low-intensity conflict sent out the co-signed guidance on ethics, which focus on the dynamic culture of the special operations community and input provided by Defense Secretary James Mattis, the former U.S. Marine general.
Attached to the email was a memo dated November 10, 2018. The memo directs service members to, "Remain vigilant. Do not allow a sense of personal entitlement or the desire for privilege or benefit to cloud your judgment. As Secretary Mattis has said, 'play the ethical midfield.' Do not run the ethical sidelines where one misstep will put you out of bounds."
Thomas and West signed the November memo obtained by Newsweek as well.
U.S. Special Operations Command said in the email on Wednesday that they plan to execute a 90-day focus period on core values and their role in the culture of the special operations community beginning on January 1, 2019, according to the email.
All components of the special operations community, "review programs of instruction for opportunities to address core values in SOF culture in ways that will impact our formations, to include values-based decision-making and reinforcement of moral courage." The review includes assessment and selection programs for those attempting to enter the special operations community as well as training designed for service members that support special operation forces.
A Congressional Research Service report published this past October said there is a "growing congressional concern with misconduct, ethics, and professionalism," in U.S. special operations forces.
The most recent National Defense Authorization Act directs the office of the secretary of defense to study professionalism and ethics standards for U.S. Special Operations Command. Wednesday's email from Thomas said his guidance is in addition to the actions required in the latest NDAA.
Thomas said the command would review all command climate survey results over the past year to identify trends that are contributing to the erosion of professionalism within the special operations community.
Commanders and senior enlisted advisers above the rank of lieutenant colonel or commander in the U.S. Navy are required to conduct, "personal and direct engagement with their personnel," on the cultural climate and report back their observations.
Additionally, U.S. Special Operations Command said they would pursue research into "the connection and correlation between operational trauma and behavioral health."
Thomas addressed the intimate loyalties that are forged through adversity in his email Wednesday. "The Team exists to serve a higher purpose—to support and defend the Constitution of the United States of America," he said. "When the Team becomes ultimate in our values system, our identity becomes distorted and ultimately corrosive to everything we hold dear."
The letter also addressed the actions of individuals within the special operations community. Thomas said: "Left unchecked, a disordered value system threatens to erode the trust of our fellow comrades, our senior leaders, and ultimately the American people. Correcting this trend will take committed leadership at all levels of our command and personal moral courage by all.
"With respect to individual cases, if substantiated through our military justice system, these allegations represent a violation of the trust and standards required of all service members, but most especially special operations forces," Thomas wrote. "Furthermore, the serious allegations concerning our personnel are being discussed in the media, Congress, and the American public. The distraction, speculation, and divisiveness created by these allegations increase the Ask to our colleagues and the mission. As SOF professionals, we must all see this as a call to self-reflection, to consider who we are, what we stand for, and what we represent."
The Military Times this year reported on three individual cases involving members from the 7th Special Forces Group out of Eglin Air Force Base in Florida.
Master Sergeant Daniel J. Gould, a U.S. Army special forces soldier, was arrested after attempting to smuggle 90 pounds of cocaine from Colombia to Eglin Air Force Base in Florida this past August. Staff Sergeant Derek McKinney was arrested in April and charged with the murder of his estranged wife, Natasha McKinney.
And Staff Sergeant William Mrozek was accused of raping two young girls, ages 7 and 11, while they visited his home for two weeks last summer.
"It is tough to keep control of small units all over the world doing distinct missions and operating in gray areas," a recently retired U.S. Marine Raider, who asked for anonymity for security purposes, told Newsweek. "While there are control measures and screenings that attempt to keep bad elements out of the forces, maintenance of a high level of ethics will always be hard. As of late USSOCOM has been bombarded by terrible cases, and I expect many units and commanders will be feeling the eyes of USSOCOM and the service chiefs on them."