U.S. Stands Alone on Israel Annexation Plan As China Backs Palestinians
China has echoed the rest of the United Nations Security Council (UNSC) in expressing support for the Palestinians and tacit condemnation of Israel's plan to annex a large portion of the West Bank, alongside President Donald Trump's Middle East peace plan.
President Xi Jinping spoke with Palestinian Authority President Mahmoud Abbas on Monday, according to China's Xinhua news agency, expressing Beijing's continued support for the demands of the Palestinian people as the world waits for Israel to begin its annexations.
The Israeli coalition government—led by Prime Minister Benjamin Netanyahu until 2021, after which he will hand power to rival and former Israel Defense Forces general Benny Gantz—has said it plans to annex Israeli settlements in the Palestinian West Bank.
The settlements are widely considered to be illegal under international law—including by the United Nations—though some in Israel and the U.S., including Secretary of State Mike Pomepo, dispute this.
The settlements have grown over the years to become home to some 427,000 people, as shown in the Statista infographic below. Netanyahu plans to extend Israeli sovereignty to the settlements as well as parts of the Jordan Valley, comprising some 30 percent of all West Bank land.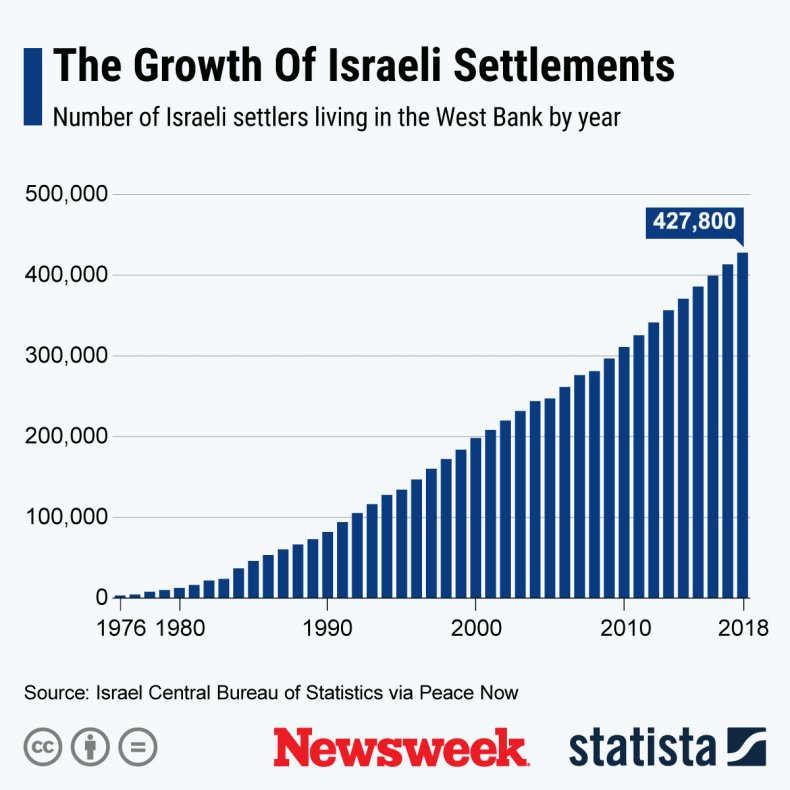 The plan has U.S. backing under Trump's peace deal, which was widely panned by the international community and Palestinian leaders as a pro-Israeli blueprint for continued hostile occupation.
If the plan and annexation go ahead, they will leave a demilitarized, non-contiguous Palestinian state split up by Israeli land, checkpoints and strategic areas occupied by the military.
Netanyahu wished to begin the process on July 1, but was hampered by a second wave of the COVID-19 coronavirus and Gantz's insistence that the pandemic was addressed before annexation began. Talks were also still continuing with U.S. officials, who reportedly said they wanted both Netanyahu and Gantz to agree on a timeline before final American backing.
Xi told Abbas Monday that China remains committed to the "two-state solution," which would establish an independent Palestinian state.
Observers have warned that the annexation plan would effectively kill any hope of a two state solution, though experts have argued that Israel's current occupation of Palestinian areas means the two-state proposal is already de facto defunct.
Xi said China will continue to promote a "comprehensive, fair and sustainable" settlement of the Palestinian issue at the earliest possible date, and called for negotiations between the relevant parties on an equal footing. Xi described the two nations as "good brothers, good friends and good partners."
The Palestinians were not involved in Trump's peace plan, withdrawing from all discussions because of concerns about the White House's impartiality and anger over the president's decision to defund Palestinian aid organizations and move the U.S. embassy in Israel from Tel Aviv to the contested city of Jerusalem.
China has long opposed any annexations in the West Bank and maintained its support for the establishment of an independent Palestinian state on the basis of the 1967 border, with East Jerusalem as its capital.
The other UNSC members—Russia, the U.K., France—have all expressed concern over Israel's plans and urged a return to negotiations. Israel has thus far dismissed all international condemnation.
Russia has warned that the Israeli plan risks a "sharp escalation of tensions in the region," while French President Emmanual Macron said the move would "contravene international law" and jeopardize peace efforts.
British Prime Minister Boris Johnson recently penned an op-ed for the Israeli Yedioth Ahronoth newspaper in which he said annexation would run "contrary to Israel's own long-term interests."
In Monday's call, Abbas reportedly thanked Xi for Chinese assistance during the coronavirus pandemic, and expressed Palestinian support for China's controversial policies in Hong Kong and Xinjiang, where much of the international community has accused Beijing of widespread human rights abuses.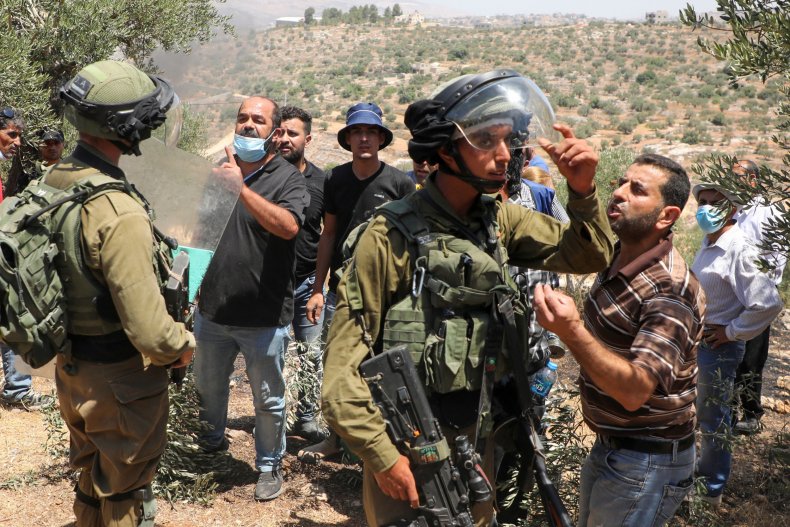 This article has been updated to no longer refer to Tel Aviv as shorthand for the Israeli government. This article has also been updated to clarify the debate on the illegality of settlements in the West Bank.