With the presidential election looming in November 2020, many Americans are worrying about how they can vote safely without risking falling prey to the coronavirus (COVID-19). According to Stanford University, many policymakers and scholars are advising that a nationwide mail-in ballot system be implemented to ensure the pandemic doesn't interfere with democracy.
This is because, according to the Brookings Institution, mail-in voting is one of the safest ways to vote in the 2020 presidential election. In a bid to help citizens understand whether they can vote via this method, it has created a scorecard for all the 50 states and for Washington, D.C., on requesting, completing and submitting a mail-in ballot.
However, it is important to note that absentee ballot voting and mail-in voting are not necessarily the same thing. It varies state to state and so it is worth always checking the local laws ahead of election day.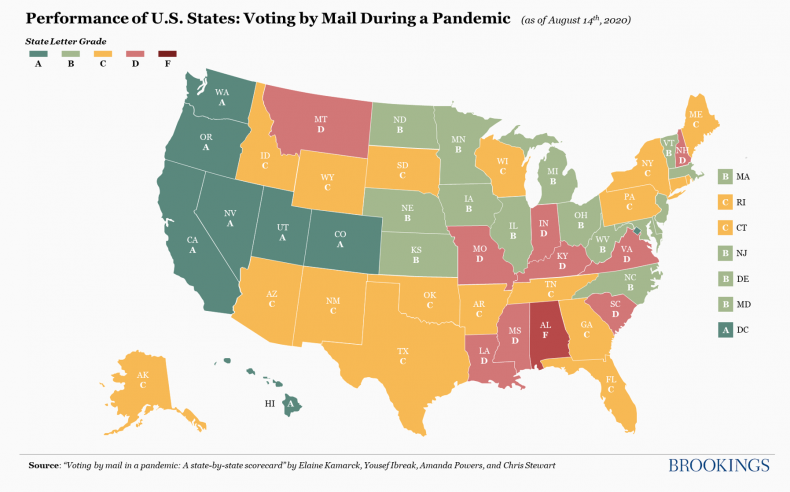 Which States Allow Mail-In Voting?
Prior to the COVID-19 outbreak, six U.S. states had or were implementing a state-wide mail-in ballot system. Oregon was the first to roll out in 2000, followed by Washington (2006), Utah (2012), Colorado (2014), California (2018) and Hawaii (2020).
In these States, every registered voter will receive a ballot in the post for primary and general elections. To register to vote, visit your State website or access via Vote.gov.
In states such as Nebraska and North Dakota, some counties conduct all-mail elections, according to Stanford University. Others allow some counties to conduct special or local elections by mail.
According to Brooking's scorecard, the aforementioned six states which have rolled out national mail-in ballot systems are the most prepared for elections in a pandemic. In addition to those, Nevada and Washington, D.C. are also graded as an "A". Great news for voters in those areas.
All U.S. states allow for what is known as an absentee ballot, which means a ballot can be requested by a registered voter if they cannot attend in person on election day. Reasons for this sort of vote include:
Being out of the county where they are registered to vote
Being a student living outside of the county
Having an illness or disability
Working or being on jury duty during voting hours
Serving as an election worker or poll watcher
Having religious beliefs or practices that prevent them from going to a voting center
Being in prison but still able to vote
Some states allow for these types of ballots without a reason, known as a no-excuse absentee ballot. These are:
Alaska
Arizona
California
Washington, D.C.
Florida
Georgia
Idaho
Illinois
Iowa
Kansas
Maine
Maryland
Michigan
Minnesota
Montana
Nebraska
Nevada
New Jersey
New Mexico
North Carolina
North Dakota
Ohio
Oklahoma
Pennsylvania
Rhode Island
South Dakota
Vermont
Virginia
Wisconsin
Wyoming
If you're unsure of whether you need a reason to request an absentee ballot, visit your state's website or USA.gov.