As a United Nations agency reports that more than a million people have fled Ukraine, U.S. governors say they will welcome Ukrainians, directing state agencies to prepare for their arrival and asking federal officials for help.
Support for Ukraine remains high among U.S. officials and the public a week into Russia's invasion of the country. Now, state governors are preparing for the arrival of Ukrainians who will need shelter and jobs after escaping violence in their home country.
New Jersey Governor Phil Murphy said on Twitter Wednesday he sent a letter to President Joe Biden following his State of the Union address affirming his state would take in Ukrainian refugees.
"New Jerseyans watched in sadness and horror as Ukraine was invaded by Russia," Murphy said in his tweet. "We stand ready to provide safe harbor and support to Ukrainian refugees."
Murphy wrote in his letter that New Jersey is already home to nearly 75,000 residents of Ukrainian decent, many of whom fled the former Soviet Union. Now, Murphy wrote that the state will "be proud to do our part in welcoming" Ukrainians who have left their homes in the face of "Russia's cruel and illegitimate invasion."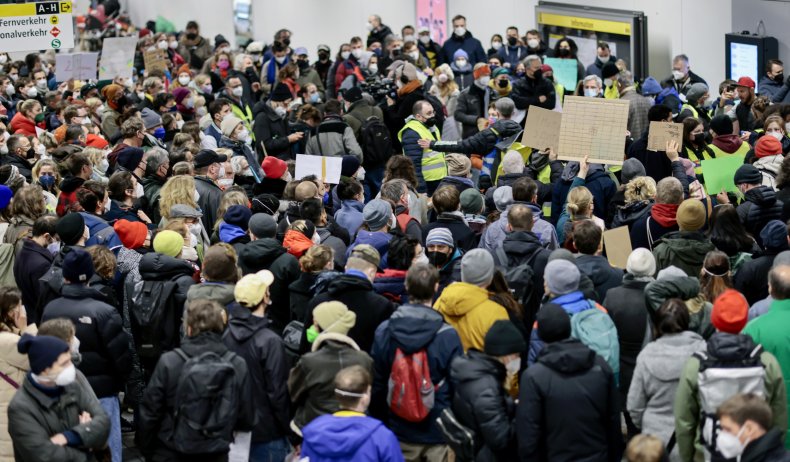 The Democratic governor asked the Biden administration for safeguards that would protect Ukrainians already in the country from deportation. He also asked for work permits to those in the country on student visas or those covered by a special program for immigrants taken to the U.S. as children.
New York Governor Kathy Hochul said during a speech Wednesday at St. George Ukrainian Catholic Church in New York City that her state is already home to the country's largest population of people of Ukrainian descent. New York is ready to take more, she said.
"We stand together to open up the arms of our Statue of Liberty to all Ukrainians who want to come here for refuge as we work to rebuild the country after driving the Russians out, because that will be what happens," Hochul said to applause.
Colorado Governor Jared Polis last week signed an executive order directing his state's Office of New Americans to look into housing, employment and other resources of Ukrainians. Polis also said his administration would no longer recognize the Russian Embassy and Consulate.
"Colorado will welcome Ukrainian refugees. Colorado is home to approximately 11,000 Ukrainian Americans who can help us support Ukrainian refuges," Polis said in a letter to U.S. Secretary of State Antony Blinken. "Our state has a long history of resettling refugees."
Indiana Governor Eric Holcomb on Monday signed an executive order directing a review of state contracts or investments with any Russian entity. The order also said the state was ready to support Ukrainian people affected by the invasion "should a federal police, program, or initiative be implemented that requires or includes, for example, access to locations" in Indiana.
Rhode Island Governor Daniel McKee wrote to Biden earlier this week saying that his state was prepared to welcome Ukrainian refugees.
"Ukrainian refugees should know that they can find solace and safety in our state," he wrote.
Washington Governor Jay Inslee ordered state agencies to review contracts to find out if the state is doing business with Russian entities, reports KOMO 4 TV. Additionally, legislative leaders are seeking an additional $19 million to provide services to Ukrainian refugees, reports the state.
Officials in California, New York and Colorado said they would also evaluate state contracts with the goal of not supporting Russian businesses.
In Utah, Governor Spencer Cox ordered all Russian vodka to be pulled from state-run liquor stores, reports Deseret News.
"Utah stands in solidarity with Ukraine and will not support Russian enterprises, no matter how small the exchange," he said.
However, it's not clear just what the impact Ukrainian refugees will have.
"The reality of us getting Ukrainian refugees at this time is probably pretty low," said Natalie El-Deiry, executive director of the International Rescue Committee in Salt Lake City, told the paper.