After more than a year in office, President Joe Biden has still not nominated someone to be the U.S. Ambassador to Ukraine.
The leadership gap has been highlighted amid growing concerns of a Russian invasion of the U.S. ally, but experts told Newsweek that not having a Senate-confirmed ambassador is more of a perception issue than a significant problem for the administration.
"Of course, we all agree there should be a full-time diplomat," said Rajan Menon, the director of the grand strategy program at Defense Priorities, a think tank focused on U.S. security. "But I'm not of the opinion that this is somehow some catastrophic error. There are many bigger things that are going to decide this crisis and having an ambassador there or not is not going to be one of them."
Menon said Ukraine has still been adequately supported by the Biden administration even without an ambassador, with the U.S. providing training for soldiers, supplies, economic aid and consistent conversations between Ukraine's Volodymyr Zelenskyy and President Joe Biden as well as Secretary of State Antony Blinken.
"You have people there now who know what's going on and are able to report on the situation," explained Howard Stoffer, a University of New Haven professor of national security. "I think whoever is there now is going to be doing as good a job as anybody who might otherwise have gone through the Senate process that goes out as an appointed ambassador."
The White House has said Biden plans to offer a name soon but "like any position, he's always looking to find the right person to nominate to fill the role—an important one." No one has been Senate-confirmed in the role since Marie Yavonich was removed by Donald Trump in 2019.
Steven Pifer, a former ambassador to Ukraine and senior fellow at the Brookings Institution's Center on the United States and Europe, said it's a "mystery" why the position has yet to be filled but said it doesn't have much of a "practical impact."
Press secretary Jen Psaki told reporters Monday that she had no update on when Biden will appoint someone to be the Ukraine ambassador. Right now, Kristina Kvien is the top U.S. diplomat in Ukraine as the embassy's chargé d'affaires.
Pifer said he believes there is enough bipartisan support for Ukraine in the Senate that there's potential for a nominee to be confirmed relatively quickly. Some of Biden's political appointees have faced lengthy deliberations in the chamber. Pifer also floated the possibility of nominating Kvien to fill the role, stating she's done a "superb job."
Newsweek reached out to the White House for comment but didn't receive a response before publication.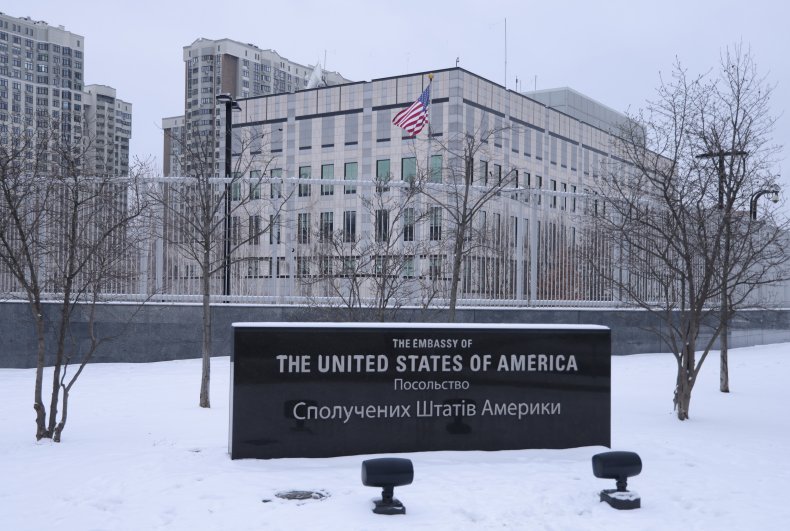 The Biden administration is urging American citizens to leave Ukraine now as tensions escalate between the Eastern European country and Russia. Russia has amassed an estimated 100,000 troops along its border with Ukraine, and Biden has predicted an attack is imminent.
The U.S. Embassy in Kyiv has already ordered diplomats' family members to leave the country, and the State Department has also already warned Americans not to travel to Ukraine or Russia because of potential conflict.
Biden consulted with European allies on the situation in Ukraine on Monday. He said after the call that there was "total unanimity" among the leaders.
"The leaders underscored their shared desire for a diplomatic resolution to the current tensions and reviewed recent engagements with Russia in multiple formats," the White House said in a readout of the 80-minute discussion. "The leaders also discussed their joint efforts to deter further Russian aggression against Ukraine, including preparations to impose massive consequences and severe economic costs on Russia for such actions as well as to reinforce security on NATO's eastern flank."
Biden has warned Russia's Vladimir Putin that the consequences will be "disastrous" if he decides to invade.
While Ukrainian officials urge residents to stay calm and state the situation is under control, the White House on Tuesday stood by its assessment that an invasion "remains imminent."