Why the U.S. Still Struggles With Car Crash Fatalities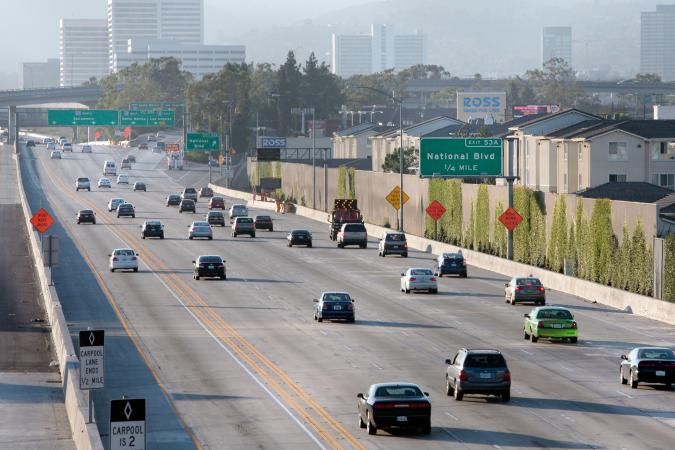 On a Saturday afternoon in December 2013, The Fast and the Furious star Paul Walker got into the passenger seat of a 2005 Porsche Carrera GT after attending a charity toy drive. The car later crashed into a light pole and went up in flames, killing both Walker and the driver. Though Walker's death is more high-profile than most, roughly 32,000 people were killed in motor vehicle crashes in the United States that same year.
Though that figure represents a decline compared with a decade or two ago, a report released by the Centers for Disease Control and Prevention on Wednesday shows that the U.S. is still struggling with auto fatalities—especially compared with other countries.
From 2000 to 2013 (the most recent data available for all countries), the U.S. saw its motor vehicle crash death rate decrease by a seemingly impressive 31 percent—to 10.3 per 100,000 people. That rate, however, is still the highest by far among 20 countries compared in the CDC's report, including France, Germany, Ireland, Sweden and the United Kingdom, along with Israel, Japan, Canada and Australia. The countries included saw car crash fatalities fall by an average of 56 percent during the same period. If the U.S. fatality rate matched the 20-country average in 2013, the report found, "at least 18,000 fewer lives would have been lost and an estimated $210 million in direct medical costs would have been averted."
"It is important to compare us not to our past but to our potential," says Debra Houry, director of CDC's National Center for Injury Prevention and Control. "Seeing that other high-income countries are doing better, we know we can do better too."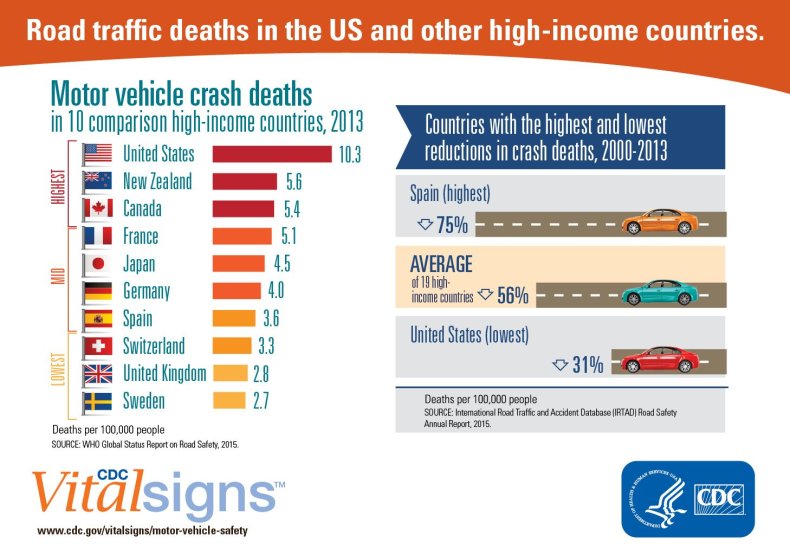 Three major factors contribute to the high auto-related death rates in the U.S., Houry says: speeding (a factor in 29 percent of crash deaths in the U.S.), alcohol (a factor in 31 percent of American crash deaths) and not using seat belts, car seats and boosters (a factor that contributed to 9,500 crash deaths).
"It's unacceptable for 90 people to die on our roads each day, especially when we know what works to prevent crashes, injuries and deaths," says the CDC's Erin Sauber-Schatz. "About 3,000 lives could be saved each year by increasing seat belt use to 100 percent, and up to 10,000 lives could be saved each year by eliminating alcohol-impaired driving."
The CDC's slew of solutions includes encouraging drivers and passengers to "use a seat belt in every seat, on every trip, no matter how short"; to make sure children are properly secured in car or booster seats; to avoid drinking and driving; and to obey speed limits and avoid distractions like texting and talking on the phone. The CDC also suggests a variety of legal means to encourage this behavior—from new state laws mandating that all passengers wear seat belts to requiring ignition interlock technology—which won't let drivers start the car without passing a Breathalyzer test—for those who have been convicted of drinking and driving.
The report also cites the "Vision Zero" approach to traffic safety that originated in Sweden, variants of which have already been adopted by several cities in the U.S., including New York. In Sweden, for instance, changes include wider use of speed camera technology, an increase in random Breathalyzer tests and installing crash-protective barriers on rural roads.
Ken Kolosh, manager of statistics at the National Safety Council, tells Newsweek the CDC's report is consistent with other recent research that suggests the U.S. is lagging behind other countries in traffic safety.
"The U.S. is bigger and hard to compare to other countries. But because we're so big, small improvements we make will [lead to] huge decreases in lives lost," Kolosh says.
"This should be a wake-up call," he adds. "The U.S. is not always the best at everything, and we need to get better."