U.S. Stocks Tumble At Close After Earlier Rebound; China Rate Cut Fails to Calm Nerves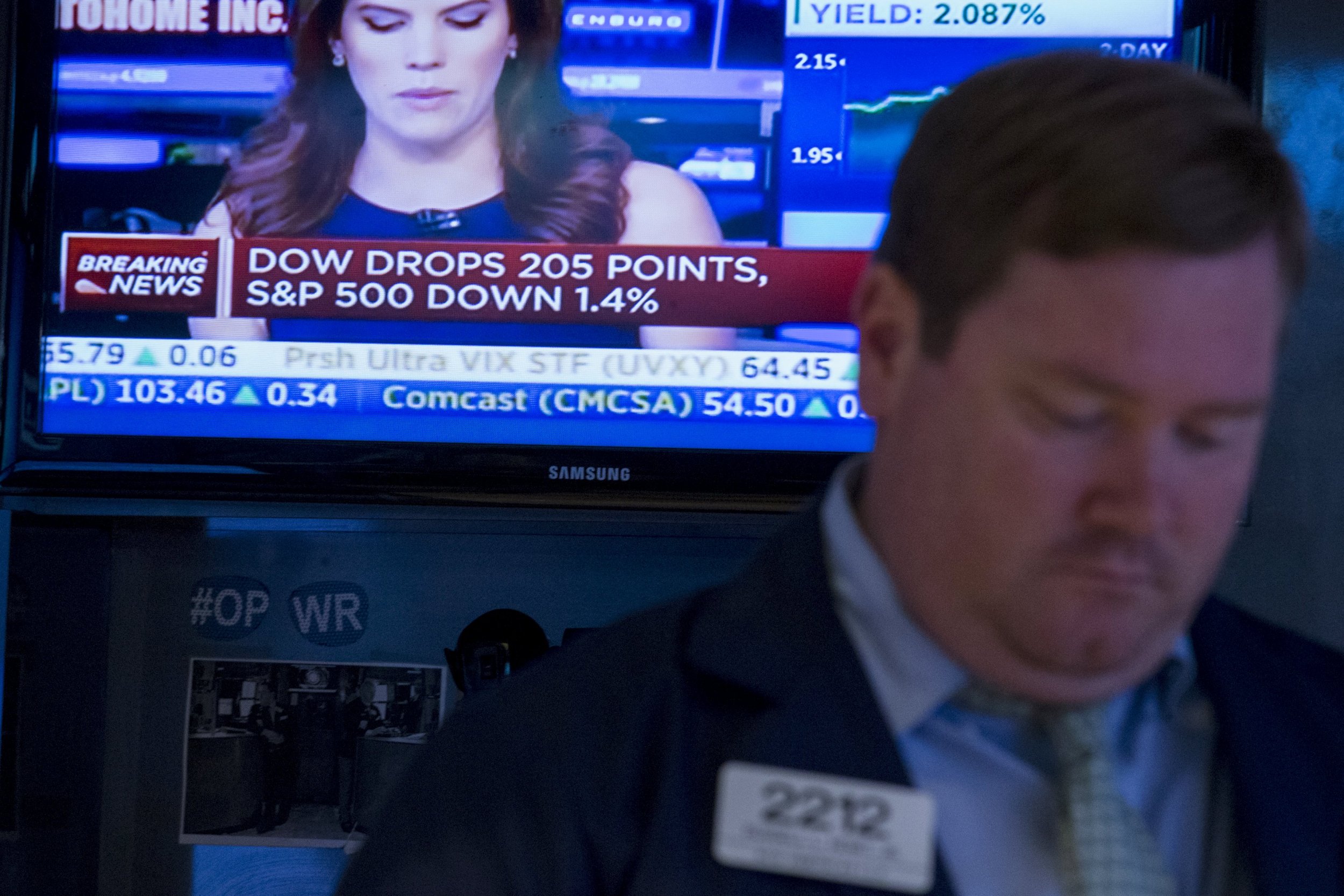 NEW YORK (Reuters) - U.S. stocks ended down on Tuesday after sharply reversing early gains late in the session as investors were unconvinced China's move to cut to interest rates and banks' reserve requirements could ease global growth concerns.
The dollar also gave up much of its gains from earlier in the day. Wall Street trading was volatile and the S&P 500 ended down 1.4 percent after a late selloff following a gain of as much as 2.9 percent earlier in the day.
Global stocks, oil and currencies initially appeared to recover after markets were pummeled on Monday when Chinese shares fell almost 9 percent. Beijing heeded investor calls for intervention after theShanghai Composite Index slumped again on Tuesday, but the index still ended down 7.6 percent.
After Monday's Wall Street selloff—its steepest in four years—some investors bought on the dip. But others did not want to hold stocks overnight for fear of bad news from China.
"You didn't have the snap back you would have expected to reverse a move like yesterday's. People are still nervous about overseas and what might happen tonight. Nobody wants to sit around and see what happens," said Paul Nolte, portfolio manager at Kingsview Asset Management in Chicago. "Our fundamentals are not nearly as bad as those in China, so it would be logical to see us rally. But we're still beholden to events in China."
The Dow Jones industrial average fell 204.91 points, or 1.29 percent, to 15,666.44, the S&P 500 lost 25.59 points, or 1.35 percent, to 1,867.62 and the Nasdaq Composite dropped 19.76 points, or 0.44 percent, to 4,506.49.
Trading volume was high, with about 10.4 billion shares changing hands during the session, compared with the month-to-date average of 7.5 billion, according to BATS Global Markets. But it was lower than Monday's 14 billion shares.
The CBOE Market Volatility Index, at 36, was still elevated, indicating significant uncertainty, though it was below the previous day's peak of 53.3, which was the highest level since January 2009.
"You saw a knee-jerk drop and a knee-jerk recovery and now people are thinking about it," said Brad McMillan, chief investment officer for Commonwealth Financial in Waltham, Mass.
Economists said Tuesday's Chinese response—a 25-basis-point cut in key rates and 50 bps off the reserve requirement rate for large commercial banks—sent a clear signal that Beijing, which has stepped in several times this year to keep China's growth on track, was still willing to intervene.
U.S. Treasuries prices sagged as China's lowering of interest rates and required bank reserves reduced some investor anxiety and sparked selling of U.S. government bonds and other safe-haven assets.
The dollar index, which measures the greenback against a basket of major currencies, was up 0.8 percent at 94.1 in late afternoon after losing ground from its high of 94.7 earlier in the day.
MSCI's benchmark emerging stocks index rose 2.2 percent, its biggest jump in just over two years after seven days of back-to-back falls. The MSCI all world stock index was down 0.12 percent.
The pan-European FTSEurofirst 300 index had its biggest one-day gain in almost four years, recouping much of the previous day's loss when around 450 billion euros ($520 billion) was wiped off the FTSEurofirst 300's value.
Oil rose but global oversupply and worries over the severity of the slowdown in China kept prices near the 6-1/2-year lows they fell to on Monday. U.S. crude futures settled up 2.8 percent at $39.31 per barrel, while Brent ended up 1.2 percent at $43.21.
Copper, often considered a proxy for global economic activity, rose 2.3 percent.