U.S. Strikes Kill ISIS Spokesperson One Day After Baghdadi's Death in Syria Raid
The CIA has targeted Islamic State militant group (ISIS) spokesperson Abu al-Hassan al-Muhajir in a new operation that comes one day after the organization's leader was killed in a Joint Special Operations Command raid, Newsweek has learned.
President Donald Trump confirmed Sunday that Baghdadi had died during the Delta Team raid first reported by Newsweek the night before. The jihadi leader was detonated a suicide vest as U.S. forces sought to kill or capture one of the world's most wanted men and, as the president announced it to the world, Hellfire missiles targeted Muhajir by Ayn al-Bayda, near Jarablus in Aleppo province.
Syrian Democratic Forces commander Mazloum Abdi, also known as Mazloum Kobane, also reported on the news Sunday.
"Continuing the previous operation, terrorist Abu al-Hassan al-Muhajir, the right-hand man of Abu Bakr al-Baghdadi and an ISIS spokesman, was targeted in the village of Ayn al-Bayda, near Jarablus, in direct coordination between SDF intelligence and the U.S. military," Kobane said.
Muhajir was named ISIS spokesperson in 2016 after his predecessor, Abu Mohammad al-Adnani, was killed in a U.S. airstrike, also in Aleppo. Unlike Baghdadi and Adnani, who were known to be Iraqi and Syrian nationals, respectively, and were openly active in Al-Qaeda in Iraq, Muhajir's identity was publicly unknown, though his nickname⁠—meaning "emigrant"⁠—suggested he may be a foreigner.
The anonymous militant has offered occasional sermons released via audio messages, and was most recently heard in March, breaking nearly six months of silence as the group's final strongholds in eastern Syria collapsed. Less than a week after his latest message, Trump claimed victory over ISIS.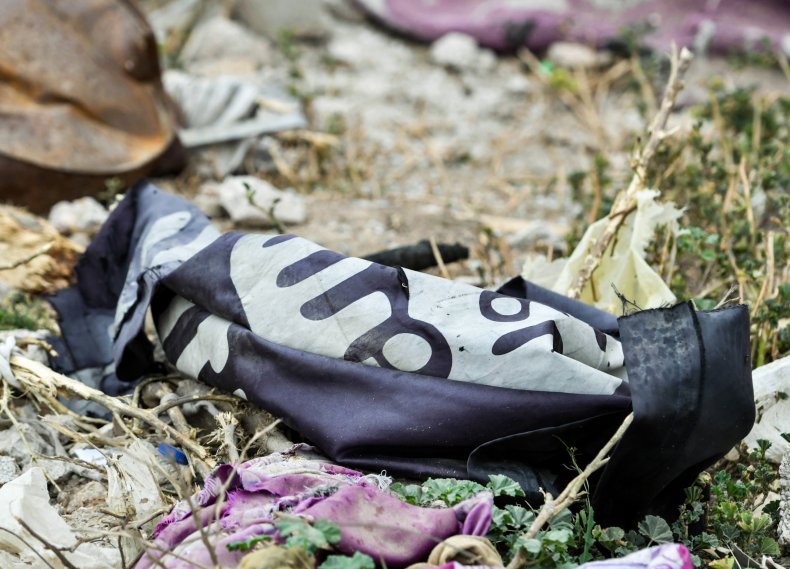 The moment marked an effective end in the so-called "physical caliphate" phase in the U.S.-led war on ISIS, which lost ground to both the Pentagon-backed Syrian Democratic Forces and a rival campaign waged by the Syrian President Bashar al-Assad, supported by Iran and Russia. Assad was initially the target of CIA intervention in Syria stemming from the early days of the 2011 rebel and jihadi uprising against his rule, but this assistance dwindled as the opposition grew increasingly Islamist and ISIS became a U.S. priority.
Losing international support and facing rival ISIS gains, Syria's insurgency fractured into various factions, including the former Al-Qaeda-linked Hayat Tahrir al-Sham and an array of groups operating with Turkey's ongoing support. Both sides claim territory in Idlib and Aleppo, where they have faced frequent Syrian and Russian assaults.
Ankara and Moscow have sought to avoid such violence by striking ceasefire deals, first last year in Idlib, and then again earlier this month across the border in an effort to halt a Turkish military and allied Syrian insurgent incursion against the Kurdish People's Protection Units (YPG), the main component of the Syrian Democratic Forces.
The agreement, which established a "safe zone" in areas of Turkish-led forces control between Ras al-Ayn and Tal Abyad, and mandated the withdrawal of YPG fighters from the rest of the border. The site in which Muhajir was targeted Sunday appeared to be located in territory taken by a previous Turkish anti-YPG operation, just north of Manbij, where Syrian and Russian forces have taken positions in the wake of a U.S. withdrawal.
Trump announced that he would be pulling forces out of areas under Kurdish-led control in northeastern Syria in order to avoid the looming fight between anti-ISIS partner Syrian Democratic Forces and NATO ally Turkey, leading the former to broker a security agreement with the Syrian government. He has, however, sent additional forces to secure oil fields in eastern Syria.
During his remarks Sunday, Trump said he did not inform Russia and Turkey of the operation's details ahead of time, but sought their cooperation over airspace, and then thanked them for their cooperation.
Kobane referred to the raid that ended in the death of Baghdadi as a "Successful& historical operation due to a joint intelligence work with the United States of America." Trump also expressed gratitude Syrian Kurds, noting they provided "useful" information, while Iraq appears to have played a major role in intelligence-gathering in the leadup to the operation.
James LaPorta reports on national security and the Defense Department for Newsweek. He is a former U.S Marine infantryman and a veteran of the Afghanistan War. You can follow him on Twitter at @JimLaPorta
Tom O'Connor is a staff writer focusing on foreign conflicts and politics. Prior to joining Newsweek, he formerly reported for the International Business Times and the New York Post. You can follow him on twitter at @ShaolinTom